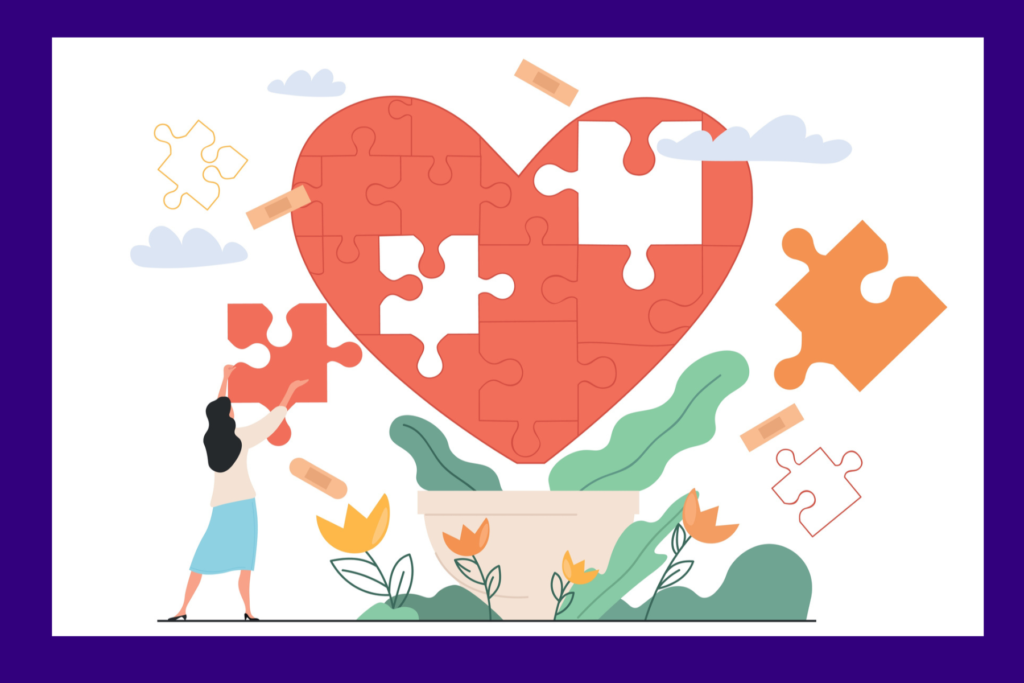 I was voted, "Most likely to get married first" during the senior superlative awards ceremony at our annual Indian club banquet, one month before my college graduation. Seems a little antiquated, I know, but this was back in 2007. At UC Berkeley.
Fast forward nearly 15 years, and I found myself–one month before my 36th birthday–dressed in a crop top and vegan leather high-waisted shorts, heading to a third date with a guy I had met on Bumble. We had tickets to an EDM show and were going first to a pre-party at his friend's house.
You're probably asking the same question I asked myself repeatedly that night: How the fuck did I get here?
Let me take a few steps back, to where my journey of self-realization as an Indian-American woman first began, before I went through a whirlwind romance and then a divorce in my mid-30s.
I had a fairly privileged Bay Area, Indian-American upbringing. Stereotypical gender roles were maintained in our home particularly for my brother and me, even though my parents were progressive in many ways. We were both expected to help around the house but ultimately the enforcement of this expectation was disparate. I was shy, quiet and people-pleasing by nature. Growing up, I routinely made my own needs secondary to the needs of those around me.
In high school, I embraced my identity as a nerd. Dating was out of the question as a result of my singular focus on getting into a good college, my unparalleled awkwardness and my mom's iron rule. I did have the ambitions of a fairy-tale romance though, fueled entirely by Bollywood. I would meet the man of my dreams during freshman year, date him through college, get married by the age of 22, and finish having kids by 28 (the senior superlative award is probably making a little more sense now).
I met my first boyfriend right before the start of my senior year, a few months before I turned 21. I was young and inexperienced, and didn't how to assert myself or maintain a sense of self while being with someone else. He was pushy and despite my numerous attempts to end things, he would convince me to stay together. Each time I would acquiesce, even though I had a distinct feeling that I was losing not only my voice, but also my passion and spark. The relationship lasted for three years. Thankfully, I had the drive to stay focused on my academic and professional goals, and it was my cross-country move to UPenn for grad school that finally gave me the space and courage to end things.
My first year of law school was revelatory. It was the first time in my life I was far from home and truly on my own. Being at an Ivy League university was an intimidating and constantly humbling experience, but I slowly found my footing and came into my own. At Berkeley, I had participated in countless activities and explored my passion for social justice. After a two-year interlude, I continued this at Penn. I initially focused on environmental law, taking all the relevant classes I could, joining the environmental moot court team and securing my 2L internship with the EPA.
And for the first time in my life, I dated casually. I had promised myself I would take at least a year to simply be on my own and not jump into another serious relationship, and I stuck to it. I regained much of the confidence I had lost and I felt like myself again.
The fairy tale whirlwind romance
It was then that my actual fairy-tale romance began. Raj[1] was one year behind me at Penn and when we first met, I was in an 'it's complicated' situation with another guy and unsure whether it would materialize in an actual relationship. Undeterred, Raj kept pursuing me and even told me that he was dating an older woman in case his age was an issue for me. That's right—in trying to come across as mature and sophisticated, his nerves got the better of him and he told me he had a girlfriend (he did not). This led to a comedy of errors that we eventually resolved.
Raj and I hung out first as friends over a subpar Indian lunch at a restaurant near campus. The food was forgettable, but our conversation was anything but. We connected over our idealism, shared love of India, and aspirations of writing and traveling. We chatted on Gchat for hours at a time and discussed everything from our views on religion to our experiences of growing up in divorced households in the Indian American community in the 90s. Raj finally asked me out by writing and recording a rap song, and in the days leading up to our first date, we stayed up all night talking on the phone.
Our first date was the stuff of Bollywood (and Hollywood) movies. Together, we walked for miles through Philly: talking, laughing and taking pictures. We ruined our appetites for the 9 p.m. dinner reservation Raj had made by stopping at a hole-in-the-wall gyro joint in Old City. We sat there for two hours before making our way to Dave & Busters to play arcade games and win silly knick-knacks. At some point in the night, strolling along hand-in-hand, we kissed under a streetlamp. An older lady riding by on a bicycle stopped and asked us how long we had been married. We told her we were on our first date and she laughed knowingly before handing me two tiny plastic doves. It felt very much like a divine blessing.
The night ended with us heading back to my apartment, listening to music and making M&M pancakes, but our date continued on into the next day and the next. Our connection was electric. A week later, Raj told me he loved me, and I told him I felt the same way. It felt like the most natural thing in the world.
In many respects, Raj made me a better version of myself. He was a rebel, a dreamer and endlessly curious about the world. His magnetism drew out and nurtured these qualities in me. After graduating from Penn, we both eschewed the traditional Big Law route most of our classmates had taken. We began carving out our own professional paths with the shared personal goal of living abroad. International human rights had become my passion, and with Raj's support, three years after graduation, I finally took the leap and applied for jobs abroad.
Two months later, I secured a position with a women's rights NGO in Malaysia and we got engaged, were married in a civil ceremony at San Francisco City Hall, and moved to Kuala Lumpur a few days later. We stayed in KL for almost four years, pursuing our respective dreams, building a life and community, and traveling extensively.
The slow yet swift end to the marriage
The end of my almost five-year marriage and 10-year relationship with Raj was somehow both slow and swift. Raj nurtured my growth in many ways and helped me understand the need to set boundaries. Ironically though, I found myself in a position of submission in our relationship.
The cultural gender norms consciously and subconsciously inculcated in each of us during our childhoods and adolescence melded in the worst ways possible. Once again, I was constantly putting someone else's needs first and relegating my own to a secondary position. I was criticized for being subservient in striving to maintain the other important relationships in my life, whether with family or friends. Raj and I had discussions and fights about this,  but I never felt heard. Raj moved out after things came to a head several weeks into the pandemic. He blamed me for not being vocal and clear enough about how unhappy I had been.
Reflecting back, I realize that a whirlwind romance at a young age can be blinding. The excitement and buzz can hamper our ability to objectively view practical realities. Great chemistry and a deep emotional and intellectual connection are important ingredients for a healthy marriage, but not the only critical ones. To sustain, a marriage needs real partnership and true recognition of and respect for each other's values, including those that may not be shared.
By the time Raj and I reached the beginning of the end of our relationship, I had clarity. The decision to file for divorce was devastating, but I didn't see myself sharing a life with Raj where I could both be true to myself and have a happy marriage.
The beginning of the healing journey
The period after my separation was one of the hardest of my life. I relied more than ever on the people closest to me and spent hours dissecting what had transpired with my best friends. In the weeks and months that followed, I cried openly, journaled, sought the help of a counselor, and got a puppy. I allowed myself to go through all the emotions, as uncomfortable as they sometimes were. In the immediate aftermath of my separation, being around my best friends with their spouses and children sometimes felt like a stab in the gut. I absolutely hated feeling like that, but I gave myself the space to do so anyway.
And I talked. I have probably never talked as much about myself as I did in the months following my separation. I didn't want my divorce to be a taboo topic, so I decided to be open and vocal about my experiences. I reached out to all my close friends and extended family to tell them individually. This process was draining, yes, but it was also cathartic. Ours is still a culture where divorce isn't that common and secrecy and saving face remain pervasive. Talking openly about my experience was one of the most powerful and healing things I could do.
I'm grateful that I have always been an independent, social person who enjoys her own company, yet cherishes the people in her life. Even still, like anyone coming out of a marriage or long-term relationship, I've had my own share of insecurities. They have ranged from something as seemingly trivial as wondering how I would ever be able to watch dark or gritty TV shows on my own, to being unable to imagine socializing without my ex's effervescent energy and intellect to bounce off of, to being unsure of whether having children was in my future.
I realized how far I've come on the first two fronts when I binge-watched Squid Game by myself in one weekend, and when I went to that EDM show pre-party at an apartment full of strangers. On the issue of children, I know that I want them, whether I have them biologically or adopt and whether with a partner or on my own. With the encouragement and support of my family and friends, I went through the process of freezing my eggs earlier this year, just to keep my options open.
I'm not sure what my future holds, but I'm an eternal optimist. I still firmly believe in love and romance, though I like to think that I'm wiser now and more aware of both myself and of what I'm seeking in a partner. I also know that I'll be just fine on my own and that my life is full and happy, so if I bring someone into it, it will only be someone who makes it fuller and happier, and for whom I do the same.
[Read Related: Finding Eternal Love After a Divorce]
Ultimately, what I have learned is that there is something to learn from every experience we have, and often the most to learn from the most difficult experiences. If there is one lesson I have taken away from my divorce and reconstructing my life in the aftermath, it is that there are countless things that are out of our control, but for those that aren't, we should be the only ones determining our destiny.
[1] Name has been changed. Why "Raj?"— I did mention my romantic ambitions were fueled by Bollywood, right?
The opinions expressed by the writer of this piece, and those providing comments thereon (collectively, the "Writers"), are theirs alone and do not necessarily reflect the opinions of Brown Girl Magazine, Inc., or any of its employees, directors, officers, affiliates, or assigns (collectively, "BGM"). BGM is not responsible for the accuracy of any of the information supplied by the Writers. It is not the intention of Brown Girl Magazine to malign any religion, ethnic group, club, organization, company, or individual. If you have a complaint about this content, please email us at hello@browngirlmagazine.com. This post is subject to our Terms of Use and Privacy Policy. If you'd like to submit a guest post, please follow the guidelines we've set forth here.