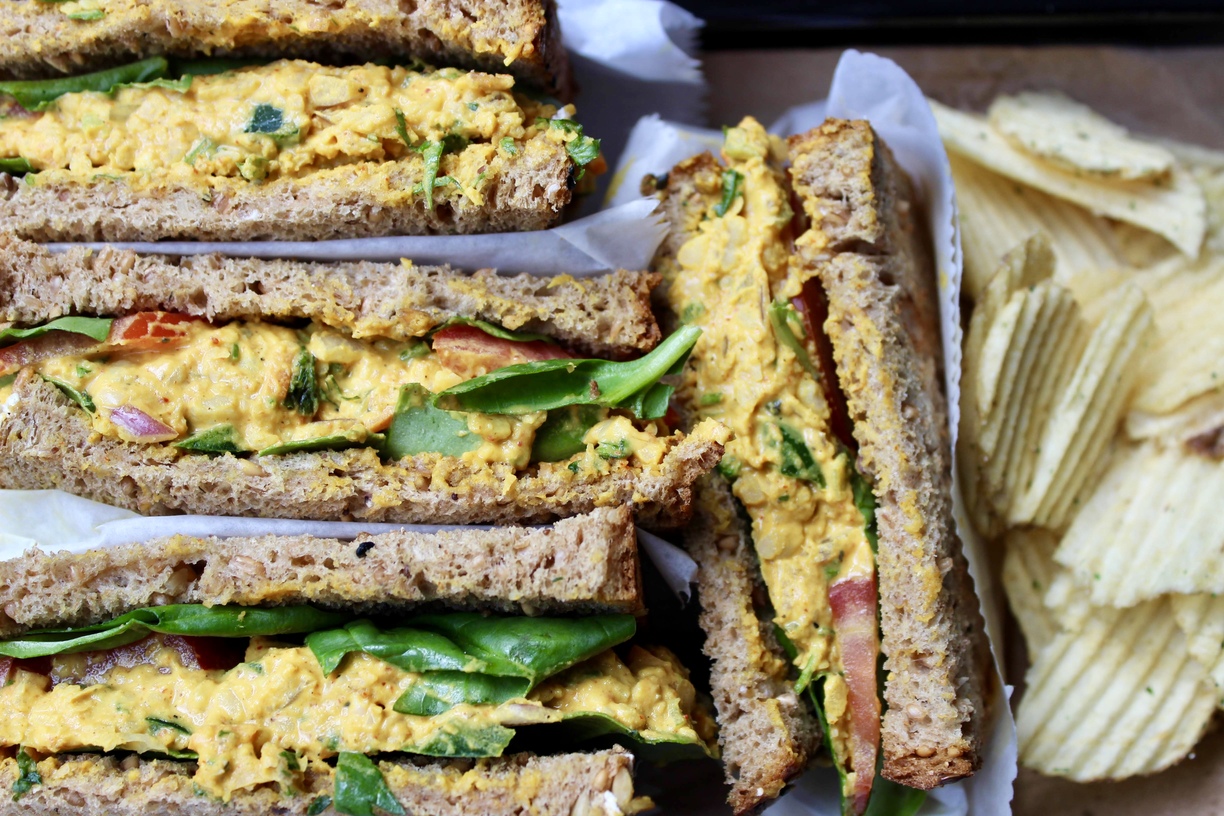 Get back to school ready with Chickpea Curry Salad Sandwiches. Back to school is right around the corner, I know how difficult it is to think of lunches. I got just the sandwich for you for when you and your kids get tired of the PB&J.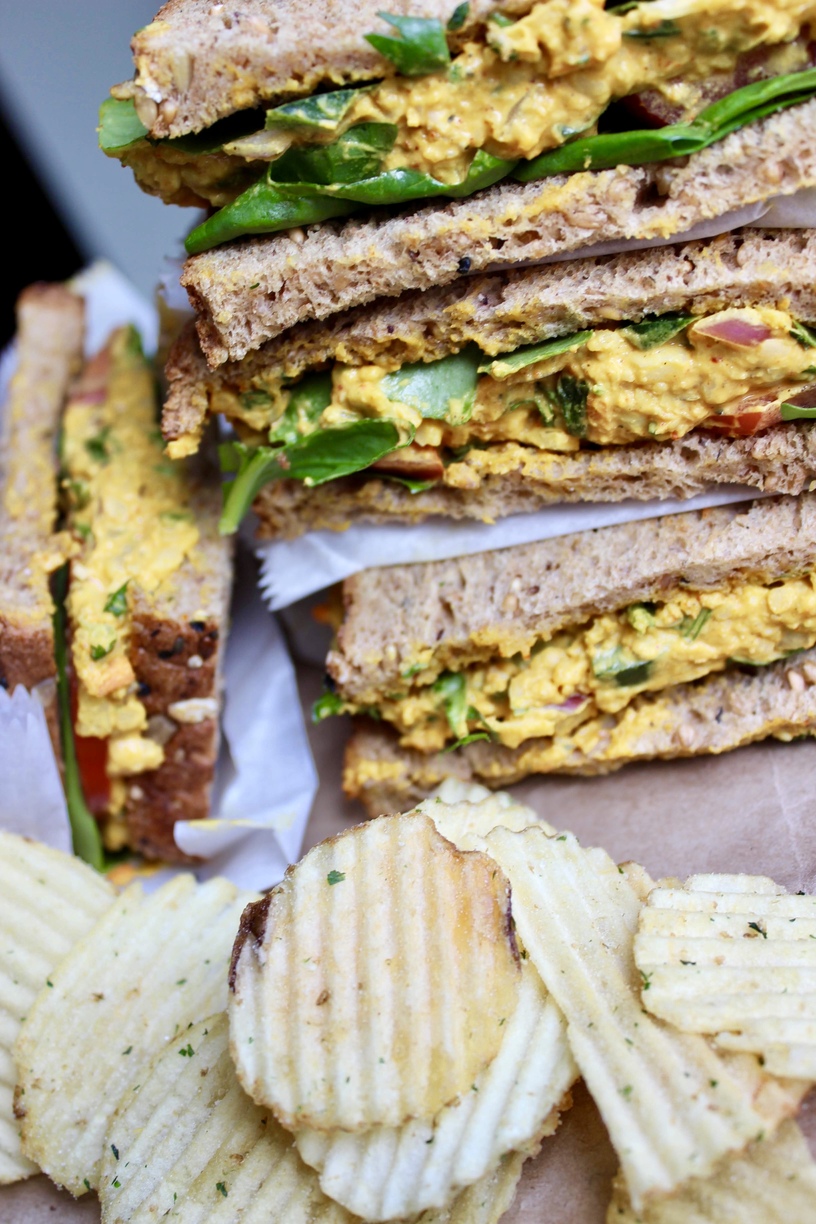 In my case I always have trouble thinking about what I'm going to pack my husband for lunch. This sandwich is good for adults and kids!!! It is really simple and easy, you can prep for it the night before and assemble the sandwiches the morning of. I place baby spinach leaves on top of each slice of bread to prevent sogginess. You can add more vegetables to this or switch out the vegetables I used for veggies of your choice. I would've added slices of avocados, but my avocados didn't ripen in time. I use Dave's killer bread because of the fiber and protein content. Sourdough bread or pumpernickel bread would work really well this sandwich. You can even just eat this as salad and skip the bread altogether. I hope you and your kids will enjoy this delicious sandwich!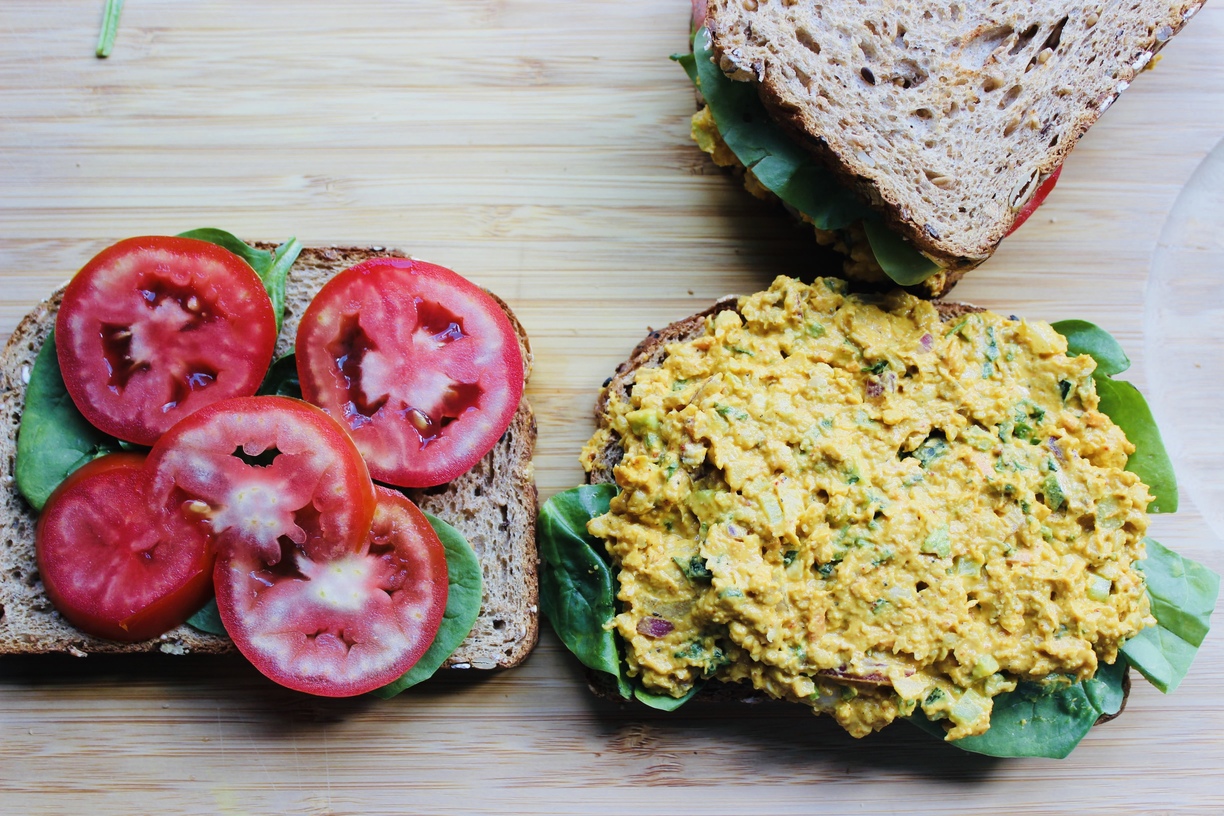 Stay happy, Stay hungry!
Prep time: 10 minutes
Total time: 10 minutes
Serving size: 4 sandwiches 
Ingredients:
8 slices of bread of your choice 

1 can chickpeas, drained and skinned (optional)

2 tbsp carrots, finely chopped

2 tbsp celery, finely chopped

½ onion, finely chopped 

½ jalapeno, finely chopped (optional) 

1 tomato, sliced

Handful of spinach 

3 tbsp mayonnaise 

1 tbsp dijon mustard 

1 tsp agave nectar or honey

1 tsp red chili powder

1 tsp cumin-coriander powder

½ tsp turmeric powder

½ tsp garam masala powder or curry powder

½ lemon, juiced

Salt and pepper to taste 

Cilantro, chopped (optional)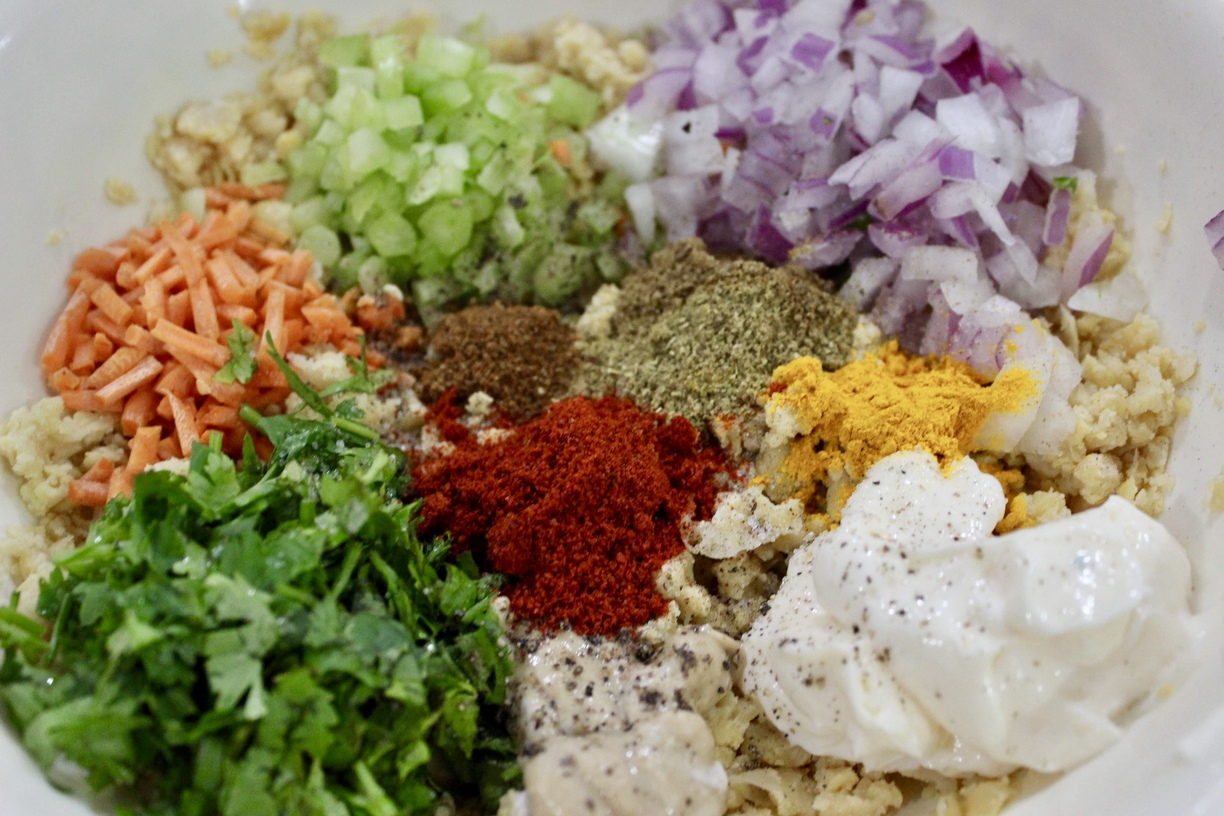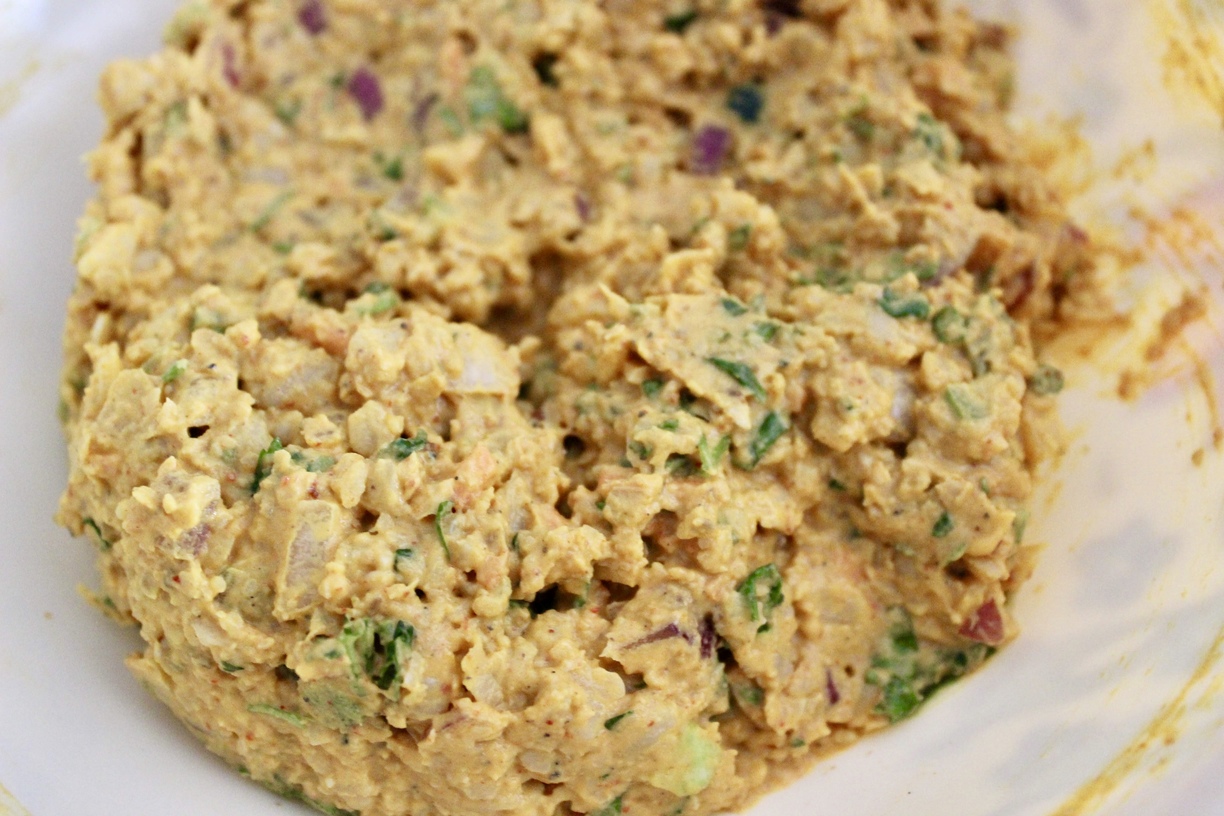 Directions: 
In a large bowl smash the chickpeas, then add carrots, celery, onions, jalapeno, mayonnaise, dijon mustard, red chili powder, cumin-coriander powder, garam masala, lemon juice, salt, pepper, and cilantro. Mix everything really well until everything is incorporated.

Toast the bread to assemble the sandwiches. On toasted the bread slice lay the spinach top it with tomatoes, then put the chickpea curry salad mixture top it with more spinach. Close the sandwich with another slice of bread. Repeat until all the sandwiches are assembled.

Cut it in half and enjoy!!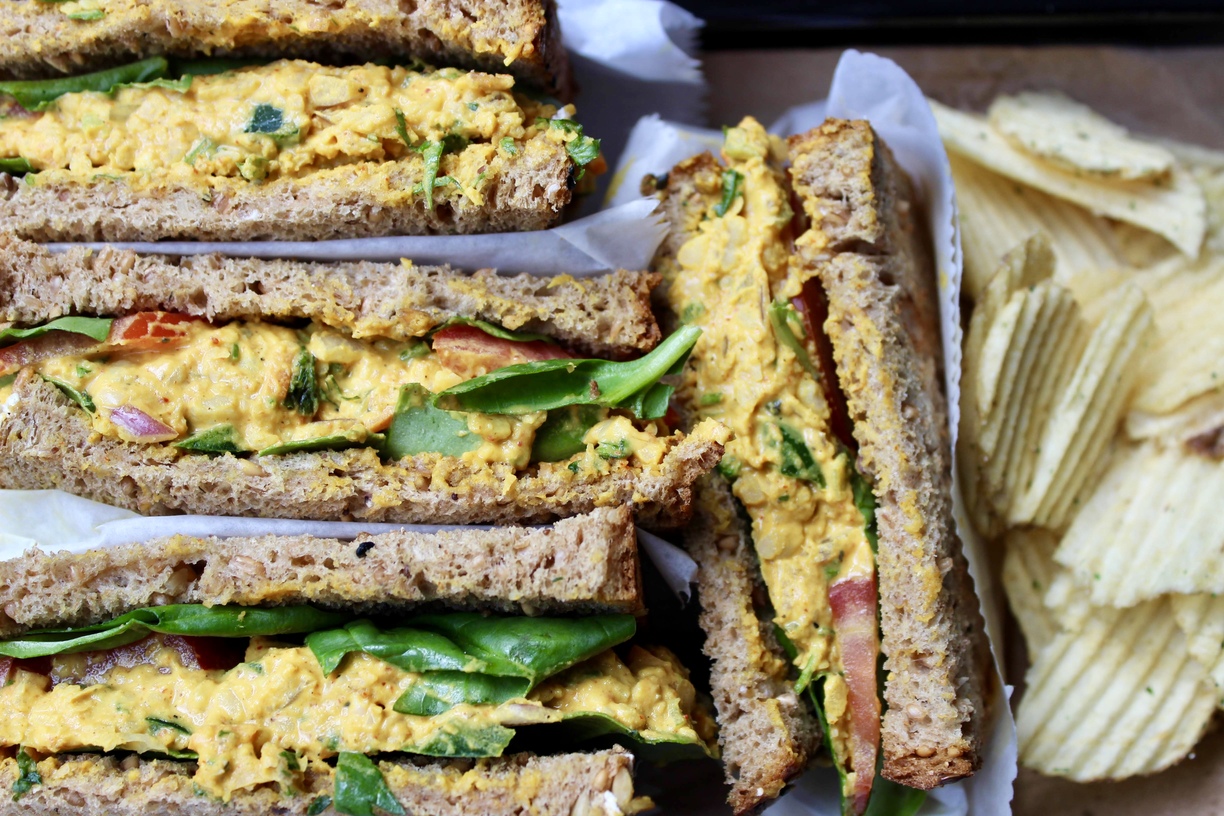 Notes:
I skinned the chickpeas, it's a tedious job. You can most definitely skip it if you want to. 

You can add more vegetables to this as well. Shredded beets, peppers, cucumbers, avocados are some vegetables that would be good in the sandwich. 

You can use butter lettuce or any other kind of lettuce instead of spinach. 

Skip the jalapeno and red chili if your child doesn't eat spicy food.