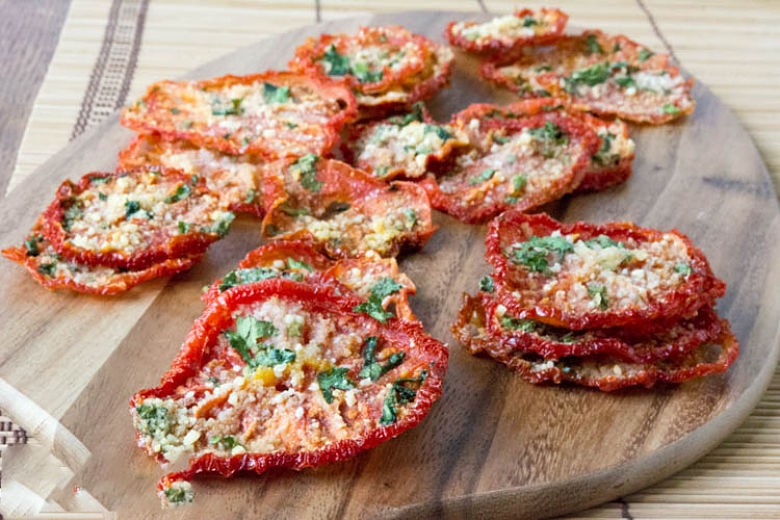 Man, how this year is flying by. I know I say this all the time, but I really can't believe it. I feel like the older I get, the quicker the time goes. Does anybody else feel like that?
I happen to like a lot of veggies, although there is nothing wrong with some steak from time to time. Am I right? This week I am sharing my salty, cheesy, slightly sour and sweet, PARMESAN TOMATO CRISPS!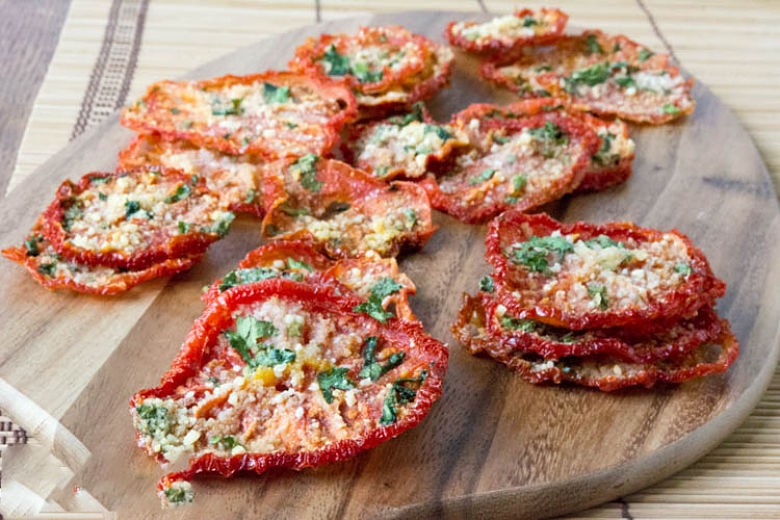 A few weeks ago I made some bomb vegan burgers, here with a side of asparagus fries, here. To keep the veggie meal theme going, I topped the burger with a fresh yogurt sauce, kale instead of regular lettuce (because regular lettuce is plain boring to me) and these juicy tomato crisps! I love crisps or chips in any form, but as you know the basic "Lays" kind isn't that good for you and sometimes lack in flavor.
These tomato crisps (or any crisp/chip you choose to make at home) give you the freedom to add any ingredients that you want to get the full flavor.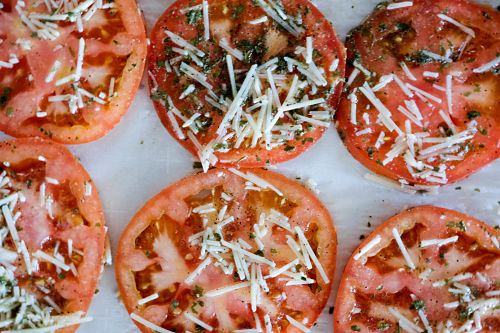 Tomatoes are in season right now, and I was able to find some meaty, juicy "Big Beef" ones at the market. The tomatoes are still on the vine and are fairly large and firm. The bigger the tomato, the better for this recipe. First, I start by slicing the tomato into large pieces. Keeping them nice and thick to begin with will help with the cooking process as they do cook down and become thin and shriveled. Simply top the tomatoes with toppings of your choice; olive oil, Parmesan cheese, sea salt and fresh herbs. Then cook low and slow in the oven until crispy and bursting with flavor. If you have a dehydrator at home this would be a great recipe to use in it. These are an excellent topping to any burger, pasta dish, or even just a snack.
Parmesan Tomato Crisps

INGREDIENTS
6 beefsteak tomatoes sliced
2 tbsp. olive oil
2 tbsp. sea salt
2–3 tbsp. Parmesan cheese grated or shredded
2 tbsp. Italian seasonings or fresh herbs of choice
2 tsp. garlic powder
2 tsp. onion powder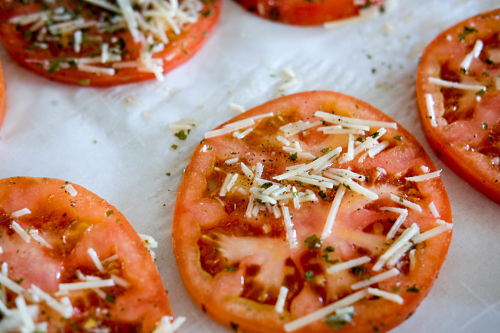 INSTRUCTIONS
Preheat oven to 200 degrees.
In a bowl carefully mix all ingredients together until tomatoes are evenly coated.
Line a baking sheet with parchment paper and place slices on sheet.
Put in oven for 2 to 4 hours checking periodically, and flipping halfway until edges are charred and tomato is crisp.