by Andrea Roy – Follow @andrearoy2901 
Passion. A single thought has the power to change the world around us. The 'Passion Project' is an initiative that gives students an academic outlet to explore their own dreams, and a shot at life that maybe they never had before.
At Passaic County Technical Institute, all sophomores in English II Honors work on a year-long endeavor to show amazing progress in any area of their choice. Students have done remarkable things from building robots, to learning languages, to raising thousands of dollars to support charitable causes. When the 'Passion Project' was first introduced, I, being a perpetually tired and chronically procrastinating individual, ran through a list of cliché ideas. I attempted to find something inside of a box, but the deep desires I held to make an impact on the world, however small, were brought forth to the surface. After watching a heartbreaking documentary "Girl Rising," I decided that I would devote my time to bring awareness to, and raise money for, the millions of girls who still remain out of school in this day.
As a girl of Indian descent, I have experienced the cultural beliefs (although not to the same extreme) that lead to millions of girls in my own country being married off as young as 13 or trapped in the sex trafficking mafias which run rampant in the nation. It is impossible to deny that India is still very much a patriarchy, as women's education is often viewed irrelevant in comparison to traits that make them a more suitable bride. Learning how to cook, clean, or take care of children is seen as superior to understanding calculus, physics, or reading classic literature. Although in urbanized areas of India we now see more women entering workforces, which had earlier been dominated by men, there is still a significant gap between the two genders. "Girl Rising" as a global campaign aims to change these attitudes towards girls' education and empower women to bring progress to the world around them.
"Girl Rising"  operates in coordination with the United Nations Children's Fund, the United Nations Foundation, Room to Read, and many other organizations, to spread one powerful message:
Investing in girls can transform societies, thrive communities, grow economies, and stabilize countries.
The goal of this campaign is to break vicious cycles of poverty by helping more girls access proper education. Education is a powerful weapon in the fight against terrorism, illiteracy, and practices like child marriage and sex trafficking, which plague developing countries. "Girl Rising" provides essential resources like school supplies, uniforms, and equipment that every classroom needs. With just $50, we can help pay a girl's school fees for an entire year. These small changes lead to a significant impact in the international community. Women are often undervalued in our society, yet education can unlock each's potential. By educating girls, we raise a future generation of doctors, engineers, lawyers, teachers, and leaders who will shape the world around us. They will become the role models for the next generation of women and remind them that gender should not determine one's value. By donating at least $1, you can help us get one step closer to living in a world where all girls will receive a proper education.
Andrea's Project Pitch:
https://www.youtube.com/watch?v=bGnVSEGGys0&feature=youtu.be
Support Andrea in this effort by donating to her fundraiser here. All proceeds will be donated directly to the Girl Rising Fund. Educate girls and change the world!
---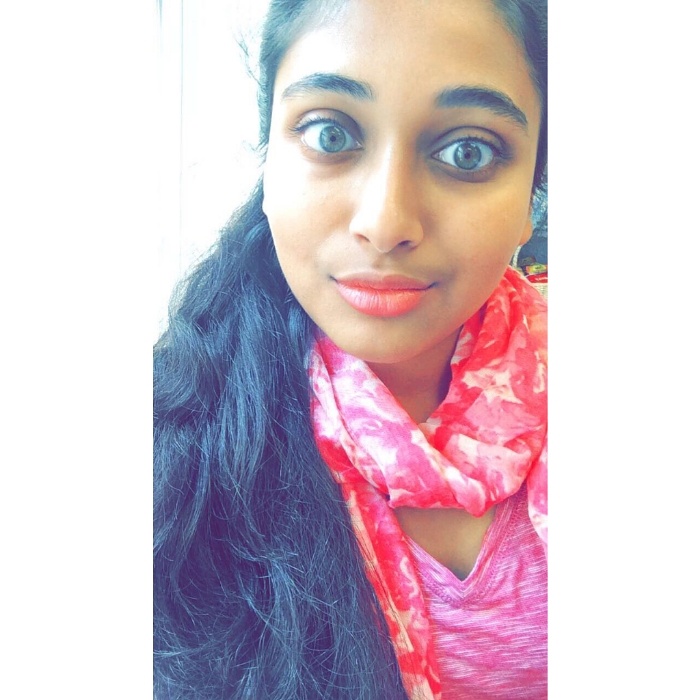 Andrea is a sophomore in Passaic County Technical Institute's medical arts program. She ranks in the top 1% of her class and, among her many community involvements, is dedicated to  her local assisted living facility, her church's youth group, her Student Council, a group called ERASE (End Racism and Sexism Everywhere), and her school's Asian Pacific Heritage assembly. As a native born Malayali, Andrea grew up in America dealing with a clash of two strikingly different cultures and has learned to embrace both sides of her identity. She hopes to pursue a field that can help her make a change in the world.