by Jessie Brar – Follow @jessieebrar
This year, for International Day of the Girl Child on Oct. 11, the international development organization, Plan International, took 500 young women from around the world and put them into their dream jobs for a day to prove that #GirlsBelongHere, whether it be in a law firm, politics, company executive teams, or any other profession.
I was lucky to sit down with Nirosha Balakumar, one of the young female leaders, who got to live out her dreams and prove that women can do any job we want.
About Nirosha Balakumar:
Balakumar is a third-year undergraduate student at Queen's University, pursuing a major in Global Development and a minor in Gender Studies.
In January, Balakumar will be attending the Bader International Study Centre in England to specialize in International Law and Politics. She also globalized her degree by attending the University of Havana this past summer to study Cuban culture and society.
Balakumar is an active advocate for two of her strongest passions, human rights and social justice. She strives to educate, empower, and engage others in conversation by raising awareness and fostering environments for constructive dialogue. As a minority student leader on campus, Balakumar has diligently strived to create a safer and more welcoming campus for students of color, while questioning the institutional racism that is present.
She takes pride in her heritage as a South Asian and Caribbean female, with her roots deriving from both Sri Lanka and Trinidad, and hopes to be a positive role model for other women of color.
Balakumar is also a spoken word artist and has performed at over 30 events, including the International College Union Poetry Slam Invitational hosted in Chicago last spring. She uses her art as a platform to provide a voice and educate others on the pressing social issues of our society. Her hope is to help reach and communicate her message of education and empowerment to the youth of this generation in a way that is accessible and engaging.
I was able to chat with Balakumar about her involvement with Plan International, her journey thus far, ideologies for the road ahead and her advice for fellow striving young woman.
How did you get involved with the "Because I Am a Girl" initiative?
I became involved with Plan International's "Because I Am a Girl" initiative about 5 years ago when I joined as a member of their Speaker Bureau. Through this program, I attended monthly meetings and gained an extensive amount of advocacy, communication, and presentation skills through a variety of workshops and trainings. The goal was to help foster and build youth activists by providing them with the necessary tools and platform. Through my years with the Speakers Bureau, I have had the opportunity to engage in media interviews with the press and, by far, one of my greatest achievements was being invited to a panel discussion with Princess Mabel of the Netherlands to discuss the detrimental impacts of child marriage and the steps being taken through grass-root movements. This year I was one of the 17 youth across Canada selected to participate in the international #GirlsBelongHere campaign. I had the incredible opportunity to join over 500 young girls across 60 countries in stepping into our dreams jobs for the day—challenging positions of leadership and engaging in spaces in which females are traditionally underrepresented, thus helping to 'bridge the gap.'
What does International Day of the Girl Child mean to you?
In 2012, October 11th was declared International Day of the Girl Child by the United Nations through a joint effort from Plan International's initiative, "Because I Am a Girl." To me, International Day of the Girl Child is a day for us to acknowledge and educate one another on the barriers that prevent young girls from thriving within their own societies. 62 million girls around the world are currently out of school and 15 million girls under the age of 18 will be married every year – that's 1 girl every 2 seconds. On International Day of the Girl Child and every day, we work towards providing a platform for these voices to be heard. We work towards improving our communities and advocating for our sisters across the globe and within our own homes. International Day of the Girl Child is about advocacy, awareness, and education. It is about coming together and challenging societal norms and structural barriers.
What was it like having your dream job for a day?
This year, through the #GirlsBelongHere initiative, Plan International worked towards bridging the "dream gap" — understanding and acknowledging that there are multiple barriers that prevent girls from fulfilling their dreams. Some of these include gender inequality, discrimination, and lack of access to rights such as education, health, and protection. I was honored to have the opportunity to share the office with Aboriginal Legal Services lawyer, Caitlyn Kasper. As an individual that hopes to pursue a career in human rights or international law, this was the ideal opportunity for me to learn first-hand from an inspiring and empowering woman in the field.

On October 4th, 2017, my day started off with attendance of a Sisters in Spirit Vigil that [Kasper] spoke at. This vigil was hosted by York Region Children's Aid Society to honor the lives of missing and murdered Indigenous women and girls. We were welcomed by the Georgian Island First Nation community and spent the morning in the presence of some the strongest and most resilient women I have met. This morning consisted of a lot of learning and appreciation for the Indigenous culture and traditions that were shared. It was an opportunity for me to learn about the pressing issue of missing and murdered Indigenous women and girls, that is constantly overlooked and dismissed by our institutions. We often talk about the challenges girls face around the world and especially in the Global South, yet there is so little conversation surrounding the discrimination and oppression faced many Indigenous girls within our own communities.

After a very emotional and moving morning, we spent the afternoon at the Aboriginal Legal Services office in Toronto. Here I had the opportunity to engage and interact personally with [Kasper], by asking her a variety of questions about the legal field, how Indigenous issues are treated in a court of law, as well as the barriers faced prior to court rulings. She also gave me the opportunity to pull some files that we looked through together to help me better understand the kind of cases they receive, as well as the procedural steps that they must take. In sharing the office with [Kasper],I was able to visualize myself in a field and occupation that is often dominated by white males and was met with nothing but encouragement and motivation to pursue a legal field. I learned first-hand from a strong and inspiring woman that is breaking the glass ceiling with every step she takes. Having my dream job for the day made it no longer feel like a dream, but rather an attainable and perfectly achievable goal.
?
What are some challenges you've faced as a young, female activist?
As a young female activist, I have struggled with being dismissed and disrespected because of my identity. As a woman of color who is involved in the social justice realm, I think there is immense pressure to fight for our existence within the conversation. We are often judged for speaking out and speaking up. Many women of color are looked at as being outspoken and loud and are, thus, not taken seriously when they try to voice their opinion or are rather seen as aggressive. I'm constantly questioning myself and unsure of how others may view me. As a woman of color, it is challenging to stand up for what you believe in and be met with negativity and at times, unfortunately, hate speech. People are waiting to see you fall and fail, and there is this constant pressure to uphold this image. Being an activist isn't easy. It's not something you can just turn on and off. When you care, when you're passionate, when it affects your everyday life, this is your full time job. Every day is taxing and a new battle. Every conversation in which you have to defend yourself and educate others or face ignorance is challenging. It isn't easy when you are fighting for people to respect you, when all you are asking is for others to care about the discrimination and oppression that is so deeply ingrained in our society. There have been multiple times when I've wanted to give up and just live a "normal life." I've wondered, would my life be different or easier if I just didn't care as much? But the truth is, I was born into this identity, I didn't choose to be living in a society that is structured to keep me marginalized. This is my reality, and if I don't fight and speak up for myself, who else will?
What does feminism mean to you?
Feminism to me is about choosing equity over equality. It's about acknowledging that we all come from different backgrounds and experiences that may present further barriers to attaining a certain goal or right. It's not about fairness and treating everyone equally, but rather ensuring that everyone has what they need to be successful – and what one may need can differ based on their identity. We need to acknowledge that there are multiple factors that impact the way people in our societies are marginalized, whether that be race, sex, gender, class, ability, etc. Feminism to me is about taking these into account and striving to create an environment where we can all thrive, by catering to the multiple oppressions faced rather than generalizing them to one larger issue. Hence the saying, "Your feminism isn't feminism unless its intersectional."
What message do you have for young girls out there?
My message for young girls is to be your own definition of a woman—not what society has shaped you out to be. Defy the societal structure and break down the boundaries and walls you have been entrapped in from the minute you were wrapped in that pink blanket. Choose you. Choose what makes you happy. You are going to face a multitude of barriers and obstacles, but you must always remember to own your identity and the space in which you take up – don't be afraid to claim that space. Be proud and be resilient, be unapologetically beautiful. Your mere existence is resistance.
Read more about Plan International's #GirlsBelongHere initiative here and all the girls who were chosen to take on their dream jobs for a day.
---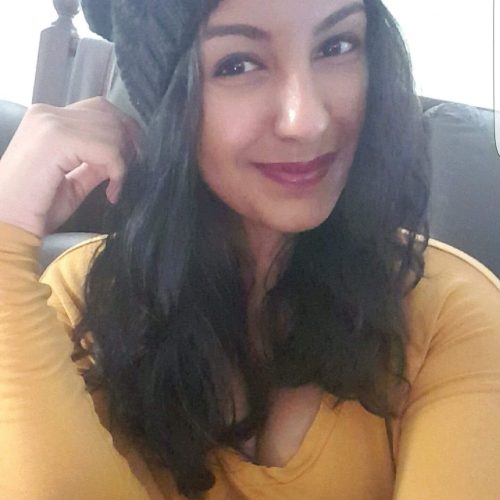 Chocolate Lover – Bollywood Dancer – Bhangra Enthusiast – Mental Health Advocate. Jessie Brar studied psychology at Queen's University and now works in youth mental health promotion with Jack.org in Toronto, Canada. Her spare time is dedicated to raising awareness about mental health in the South Asian community through The Mental Health Spotlight (@TheMHSpotlight). The Mental Health Spotlight is a project dedicated to erasing stigma around mental health and mental illness in South Asian communities through the power of storytelling. In her downtime, she can be found cuddled up watching/reading Harry Potter, eating Reese's Cups, or dancing to Bollywood and Bhangra tunes in front of a mirror. Check out more of her work on her website here.