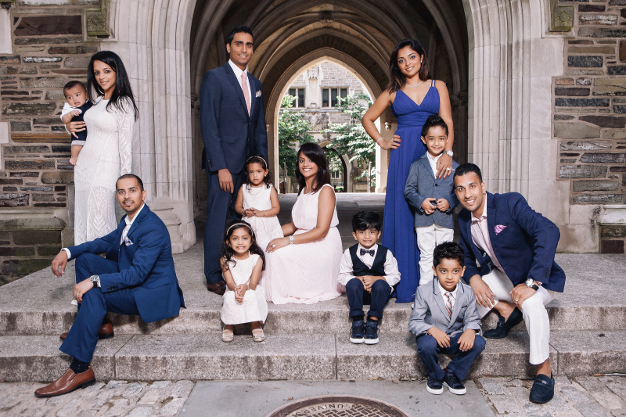 by Runway&Rattles – Follow @sheenad29
The following post is in partnership with MassMutual—a leading mutual life insurance company that offers practical tips for Asian Indians to better plan and help pay for college—and written by the three sisters of the lifestyle blog, Runway & Rattles, Sheena Dedhia, Dipti Vaid Dedhia and Nina Raoji. 
Growing up, our parents pushed one thing and one thing only—the importance of education. We grew up in Edison, New Jersey, so naturally, we were exposed to our culture, Bollywood, dancing, and singing very early on. However, no matter how much interest we had in those extracurricular activities, we were continuously pushed to focus attaining a higher degree.
Our parents came to this country to give us all the opportunities they didn't have, and to them, that meant graduating with master's degrees and excelling in our respective fields. Dad always knew that his three girls would go to college and then postgraduate school so he worked two jobs and eventually opened up his own clinic.
When Dipti was two years old, their mom opened up her own jewelry business, all with the intent that their income would go toward getting their girls the highest possible degrees that they could achieve. It was a one-track mind for them both—there was nothing else besides education.
Now that we have our own little ones to plan for, we take a lot of what our parents did and weigh the pros and cons. So, here's our take on higher education and how it directly impacts financial planning. 
Sheena Dedhia and Samir strive to make their three sons well-rounded.
As the eldest of the three, Sheena was the first one to step into the family business as early as 10 years old to help out in our retail jewelry business. She was always assisting customers, handling the finances and thinking about how to promote the business. With all that experience and training on her back, she knew her path would be in business and entrepreneurship. It was always her parent's dream that one of their girls would take over the family business and since Nina and Dipti chose different educational paths, that meant it would be Sheena.
Even though Sheena strongly believes in the importance of higher education, when it comes to her three sons, her outlook is a little different than her parents. She and her husband Samir firmly believe that a solid education is a backbone to a successful career, however, their main focus is to send their kids to schools that are well-rounded and will offer them a balance between academic excellence and extracurricular activities.
They want the boys to have exposure to sports, music, theater all while striving for their best in school. For them, having the kids grow up with both books smarts and street smarts is what they feel is most important in today's world. Neither Sheena nor Samir obtained the standard higher degrees like law, medicine or engineering but they believe their focus on learning and honing in on social skills and street smarts is what has made them excel in their fields. They know the boys are going to grow up to want to do completely different things from them and from each other, but Sheena and Samir want them to explore whatever those interests with the backbone of a college degree at a minimum.
Nina and Neal Raoji want to give their three daughters the right mindset.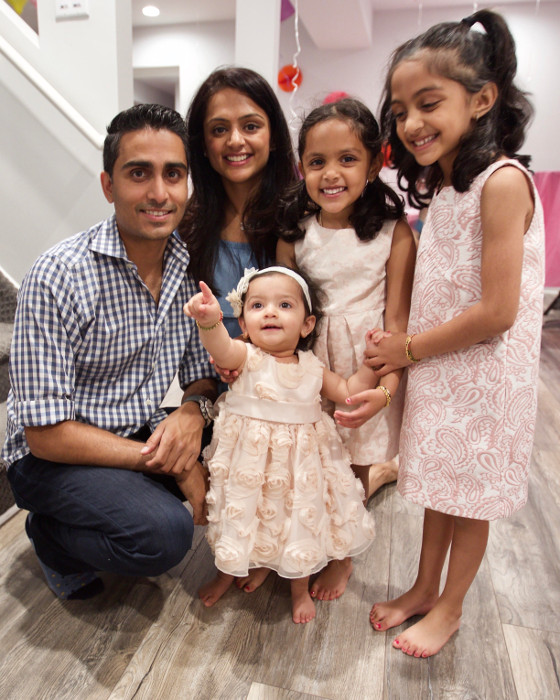 For Nina, education came naturally. She was and still is a nerd and perfectionist—she would be the one in her room writing and rewriting her notes. Dad always wanted her to go to medical school and Nina gave it a shot. She was a nursing and pre-med student in college and upon entering her junior year she realized that she loved nursing school way more than the medical school side of her education. So she went on to get her bachelors in psychology, bachelors in nursing, and eventually her masters in nursing with a minor in nursing administration. Now, she is thinking about getting her doctorate (of course she is).
Having three little girls and literally leading the same exact life as our parents BUT with social media and everything that comes with it, Nina has decided that she wants the girls to focus on all the skills they won't necessarily learn at school. Education is a given in any Indian household, but they are trying not to make it the center of their universe. Nina has been obsessed with "mindset," and having a growth mindset means that she teaches the girls that it's not about getting the A, but about trying your hardest and if that doesn't work, practice to make yourself better— there is always room to learn.
Nina and her husband Neal agree that if they can build self-resilience in their children, they will excel in any career, and will decide themselves if getting an advanced degree is needed in their path to their determined success.
But they believe as long as the girls pass college and have the skill set to succeed—both educationally and personally, they can choose whether or not they want to pursue a graduate degree at that time. 
Dipti Vaid Dedhia and Sachin want to give their kids the flexibility to choose their careers.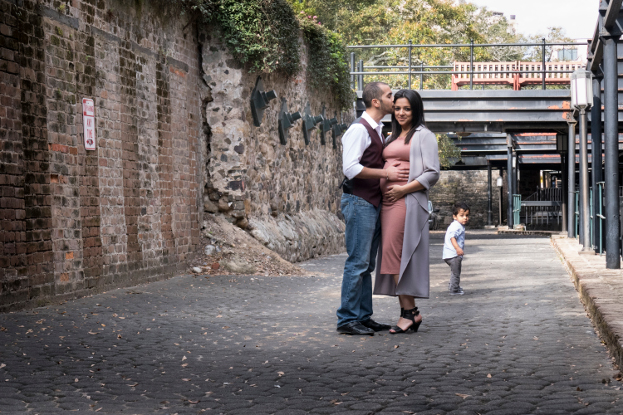 Growing up as the youngest in the house, Dipti had a rough path drawn for her. Sheena was in line to take over the family business and Nina was the superstar that went to nursing school at an Ivy League school (ya, thanks for that, Nin)! So when Dipti was in high school and started showing an interest in something other than college and post-college degrees, her dad put a quick halt to that and opened the doors for her at an internship with his friend's law firm. Dipti thought it would be cool to intern at a law firm and went ahead with her dad's plans. Twenty years later, she is still living her dad's plans. She started liking (not loving) those internships that her dad set her up with during high school summers and some even through college summers. She worked at legal clinics while at college in Washington, D.C. and then the natural course of action was law school and then a career as an attorney.
Now that Dipti has two little ones to shape and mold herself, she reflects on her own experience and can't help but think whether or not she will set up such a direct path for her own kids. Sachin and her agree that higher education is a must—college is required, and a higher degree would be encouraged should the kids want to go in that direction. However, the field in which they decide to go is still up for grabs.
We want the kids to be able to pick their career path and support those decisions with guidance instead of force. Going to college is something both Sachin and Dipti believe is invaluable in gaining an understanding of the world, living on your own, and experiencing life outside of your parents' home. However, anything beyond that will be something they'll have to learn and determine themselves.
The three of us have the same fundamentals when it comes to saving for their kids' futures. The parents have always taught us how important education is but also how expensive it can be. They never wanted to deprive their kids of how much they want to learn and have taught us the same. They also believe that life is unpredictable and income can be here one day and gone another, so saving for our children's education is the smart decision to make.
Since we can't bank on our children getting full scholarships like Nina and Sachin did, we all have our ways of saving for our children's best future. So while Dipti is currently a one income household, they save portions of their income to put toward the kids' education funds as well as in investments such as brokerage accounts. They also have life insurance plans for all the members of the family to secure their financial needs should anything happen to the parents.
Similarly, Sheena and Samir have set up monetary funds that they put all their gift money into as well as portions of their income. Nina and Neal have set aside 529 plans for their three girls and have also created savings accounts in each of their names. The savings accounts will not be released to them until they are out of college in order to secure their future plans, and the 529 savings will hopefully cover some of the costs of college, which is estimated to be well over $400k a year to go an Ivy League school (Nina's only wish is that they go to her alma mater!).
All of this combined give the parents some peace of mind that they will be able to afford whatever path the kids decide to take after college—whether it be a masters degree or exploring whatever their passions may be. They want to make sure that whatever they choose, they are financially secure to pick a future that they are passionate about and committed to—of course, once they have the backing of a college degree!
---
To learn more about establishing financial goals for your child's education, visit the MassMutual College Planning and Savings study page and sign up to connect with a financial advisor.
Asian Indian parents prepare in advance for their children's college education, but can they always afford it? 
When it comes to saving and funding their children's education, Asian Indians are among the best prepared, according to MassMutual's College Planning & Saving Study. Almost half (49 percent) of Indian parents started saving for college before their children turned five, the earliest compared to all other multicultural groups in the survey. In fact, by the time a child is ten, 79 percent of Indian parents are saving for college, and one in five has saved $50,000 or more.
MassMutual offers five practical tips for Asian Indians to better plan and help pay for college:
Start early. Start saving what you can at birth, and for parents with child care expenses, increase the savings rate at age 5 by putting child care money towards saving for college.

Make it automatic. Set up an automatic checking account or payroll deductions to an interest-

earning savings account earmarked for higher education.

Encourage monetary gifts (including 529 plan gift cards) from family members and friends 

for college savings at Diwali and other gift-giving events.

Know how much you need to save. Estimate college costs by using free online tools such as 

MassMutual's college savings calculator.

Protect your loved ones from unexpected events. Life and disability income insurance are solid 

considerations for parents.
Insurance products issued by Massachusetts Mutual Life Insurance Company, Springfield, MA 01111-0001. | CRN202010-220739