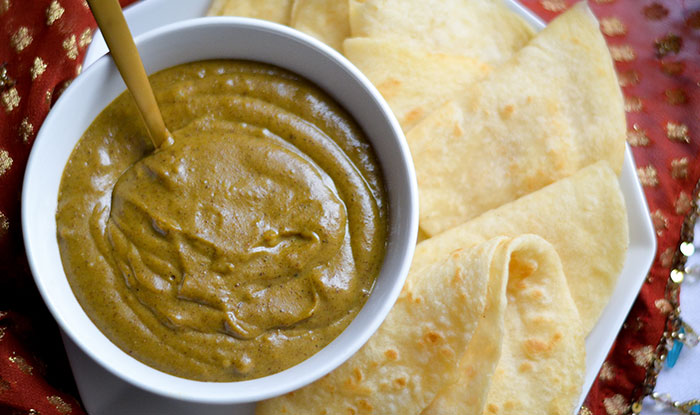 When a woman gives birth, there is a connection between her and the women who came before her — they understand her pain and the type of nourishment her body needs to heal. Some cultures feed their new moms specific foods to promote health and lactation. I cherish these type of foods — ones that are made for women, by women. And although that can be said for many dishes, this one, in particular, is unique because it has a special purpose.
In Indo-Caribbean culture, halwa is made after the birth of a baby and is served to the mother to help "clean out her insides" as well as aid in breast milk production. This sweet pudding starts with a robust blend of carefully selected spices (known as masala) which are ground then parched. A sweetened flour-milk mixture is added then simmered until the mixture thickens, resulting in a delicious spiced pudding. It's not the prettiest to look at and might be an acquired taste for some. But, this type of halwa is commonly served with dosti roti or plain paratha roti and enjoyed by both men and women on the ninth day after a baby is born; my grandmother made it for me to consume as soon as I was able to eat after having both of my kids.
[Read Related: Warm up With a Cup of Chai and This Besan ke Ladoo Recipe]
Halwa was not the first food on my mind after giving birth. To be honest, I really just wanted pizza (*shrugs shoulders*). However, after seeing the careful steps my grandmother took in preparing this dish for me, I realized the spiritual essence these type of foods serve to construct and sustain our community and authority as women. The preservation of indigenous culinary practices relies on the ability to make traditional foods such as halwa and as an Indo-Caribbean woman, I feel incredibly proud to share this special recipe with you all.
My grandmother's halwa is always smooth in texture and balanced in flavor. The spices were not overly strong and it had the right amount of sweetness. The condensed milk certainly helped with the creaminess. She also adds more ingredients to the masala mixture. She says it has to have a "zing," so she jazzes it up to her liking by adding fresh ginger, black pepper, and turmeric. I don't recognize some of the other spices in the masala mixture and she only knows them by appearance. The spices we don't recognize are peepar, mora, and havclay. If anyone knows another name for these spices or what they look like in the whole form, please let me know!
GRANDMA'S HALWA
INGREDIENTS
6 heaping tbsp halwa masala (I used Maywah brand)
2 tbsp freshly grated ginger (blended with 2 tbsp water)
1 tsp turmeric
1/2 tsp black pepper
1/2 cup water (to make loose halwa paste)
1 1/4 cup all-purpose flour
1 tbsp ghee for frying masala
1/4 cup condensed milk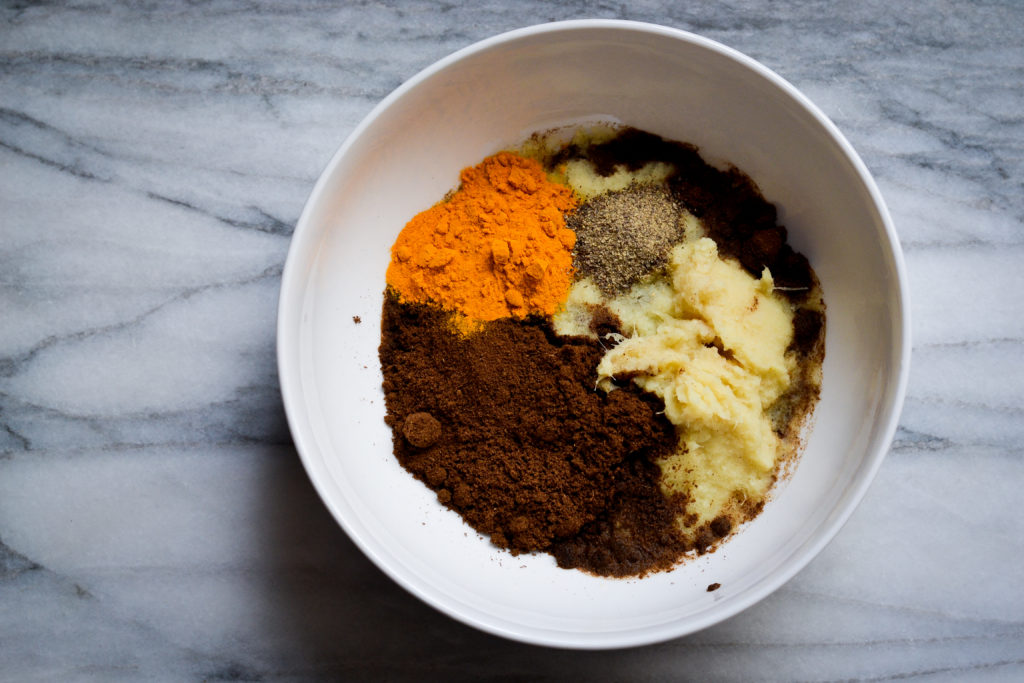 MILK MIXTURE
1 12oz tin evaporated milk
3/4 cup brown sugar
3 cups water
ADDITIONAL EQUIPMENT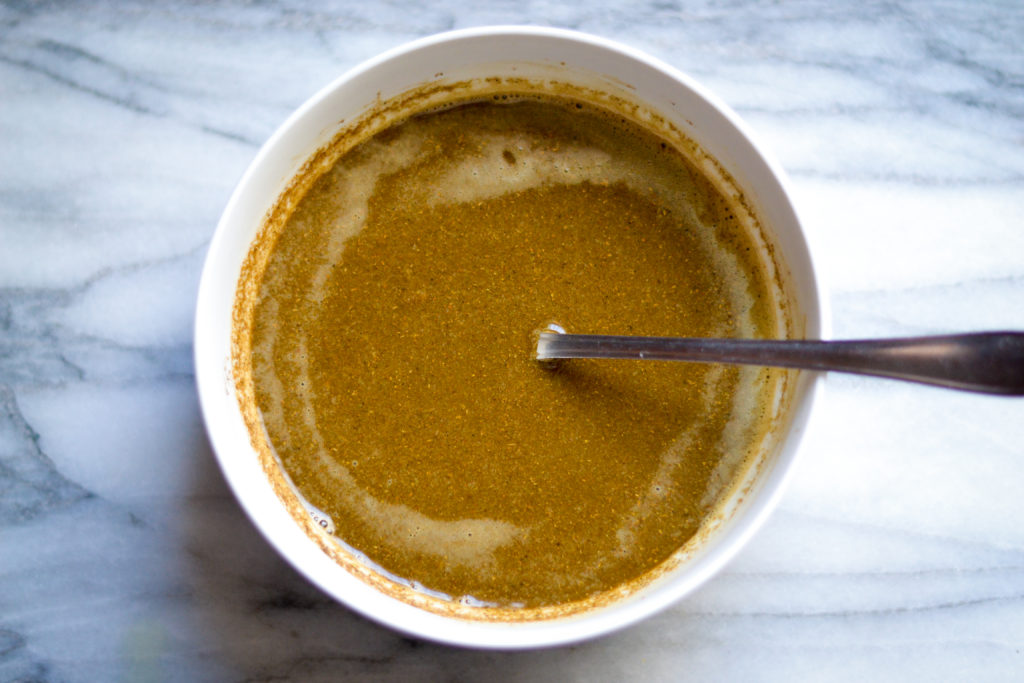 [Read Related: This Easy Mango Pudding will Conquer that Sweet Tooth in no Time!]
INSTRUCTIONS
Gather ingredients for masala mixture. Blend ginger with 2 tbsp water to make it smooth. Add to bowl with masala, turmeric, black pepper and 1/2 cup water. Set aside.
Make milk mixture. Combine evaporated milk, brown sugar, and water. Set aside.
Place flour by itself in a frying pan, on low-medium heat, let flour parch (toast) a few minutes until golden brown. Place parched flour into a deep mixing bowl.
Pour milk mixture over parched flour, stir to mix. Lumps will form which is okay at this point. Set this mixture aside.
In a deep or heavy-bottomed pot, on medium heat, add ghee. When melted, add masala mixture. Fry masala 3-4 minutes.
This next step comes together fast, so work quickly. In one hand hold sieve over pot with masala, using the other hand, pour milk mixture through sieve into the pot with masala. Sieve will remove the lumps. Use a spoon to press out any remaining lumps.
Quickly give the halwa mixture a turn. Add condensed milk. Mixture will get thick within a few minutes on the stove. Remove from heat once halwa is no longer watery. If you desire a thicker, more solidified consistency, let mixture dry a few minutes longer.
Taste mixture, if needed, add a few more tbsp condensed milk to sweeten.
---
Alica Ramkirpal-Senhouse is an Indo-Caribbean blogger, marketing professional, and work-at-home mom. She is the editor and founder of Alica's Pepperpot, a food blog focusing on West Indian/Caribbean-American cuisine. She is the daughter of Guyanese immigrants and originally from Queens, NY. She currently resides in sunny Florida with her husband and two sons.