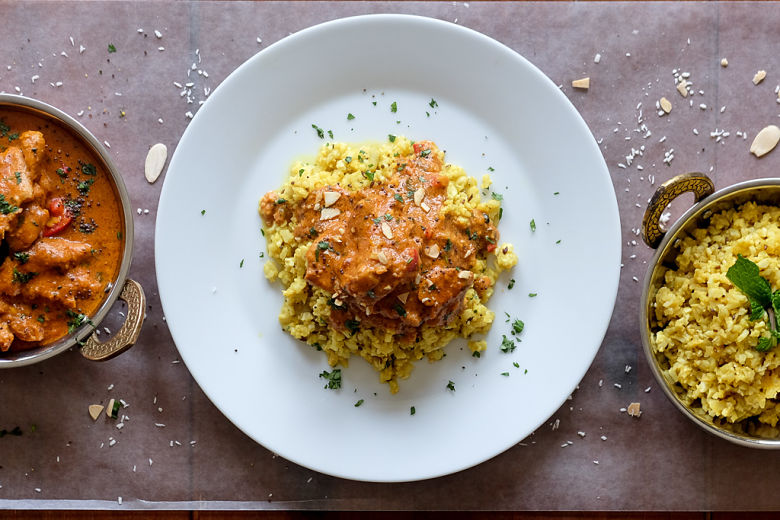 Guilt-free Creamy Chicken Korma, good enough for a weekend celebration and easy enough for weeknight dinner.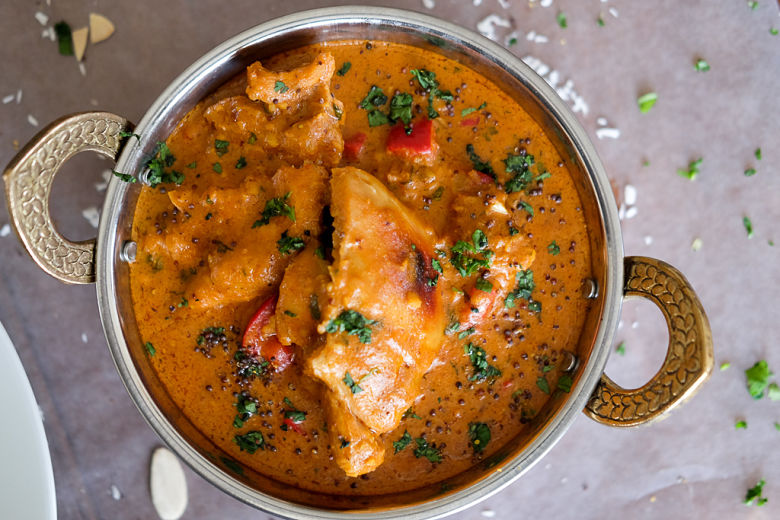 Recently, I told you guys about me going all bougie and Whole 30. I have a few vacations coming up and I wanted to supplement my workout with an even HEALTHIER lifestyle. Whole 30 may seem a little intense, but I have found that it is totally manageable with some planning; setting up a menu, grocery list and Google is your best friend for all the in's and outs. I made it my personal challenge this month to come up with super tasty, NOT BORING, flavor bomb FOOD.
Every time I have told people I was doing Whole 30 I've been met with…
What are you going to eat? Lettuce?
Veggies only?
The answer is no. HELLO!?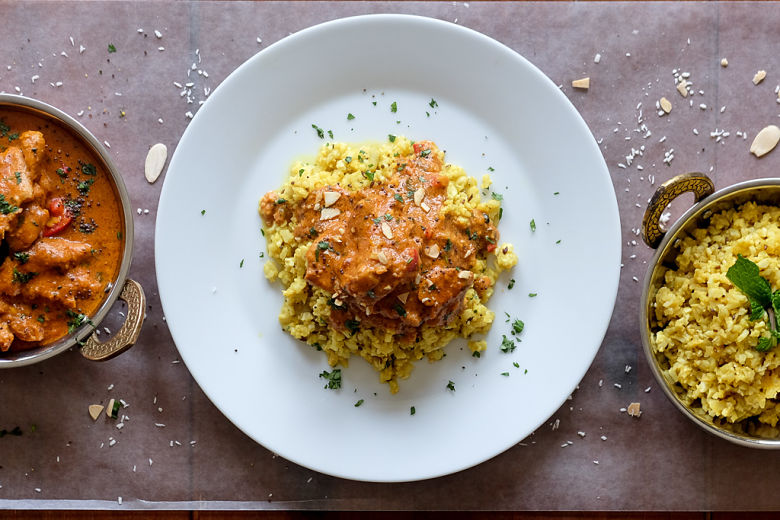 It does take a little more work to make meals at home, and it is DEF more work to eat out, but when there's a will there's a way. I love food too much to ever cut everything from my diet (cheese especially), but it's nice to switch things up sometimes and push your body to its limits. I usually go MEATLESS on Monday's but this week I am craving just something homey and Indian. I watched a tv show a few weeks back where they kept mentioning chicken korma and I haven't been able to get it out of my head. So, I thought, why not make a Whole 30 compliant Korma?
I subbed out butter for ghee, or you can use canola oil or coconut oil. Subbed out the heavy cream for coconut cream and coconut milk. Some people make their korma with peanuts, but I switched those out for almond, and did cauliflower rice instead of basmati.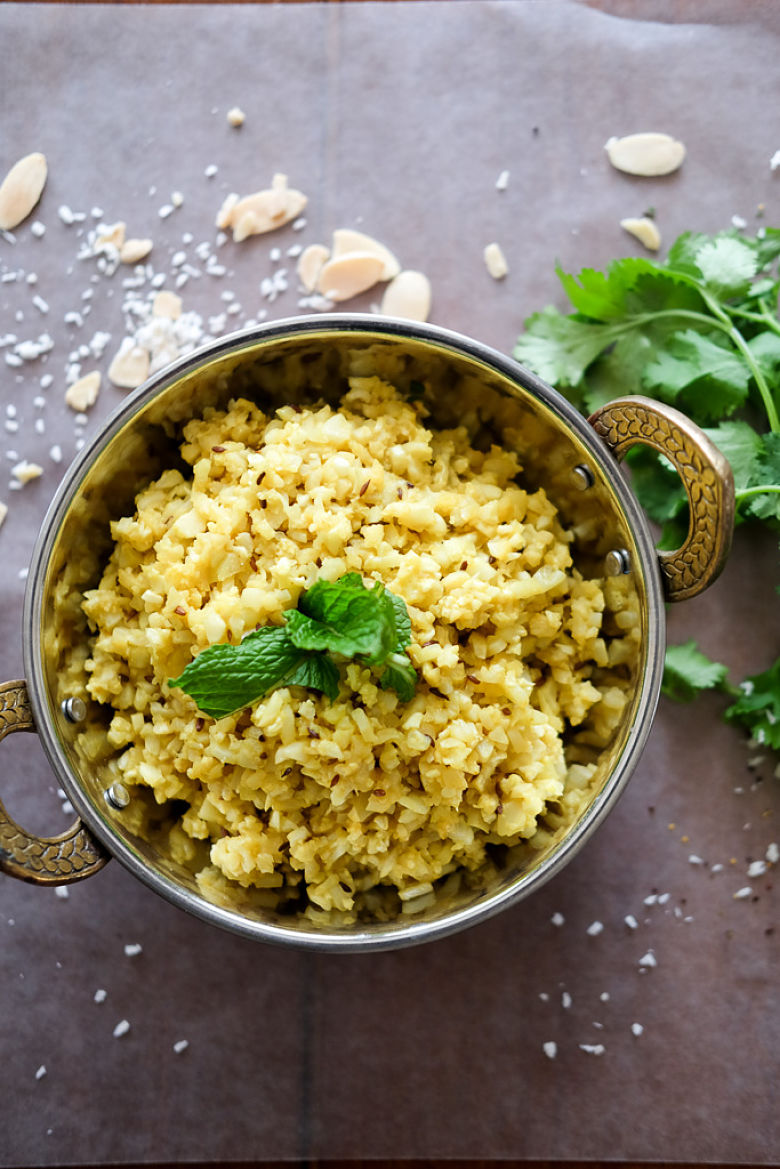 Don't be thrown off with all the coconut — the spices will mask the flavor so you won't even know it's in there. See guys! You can make things work when you think outside of the box and have a YES attitude. Ok, that was aggressive considering we are talking about korma.
Guilt-free Creamy Chicken Korma with Turmeric, Coconut and Cumin Cauliflower Rice
Creamy, Almond Chicken Korma infused with Coconut Cream over a Fragrant bed of Turmeric Cauliflower Rice with Cumin Seeds and Coconut Milk.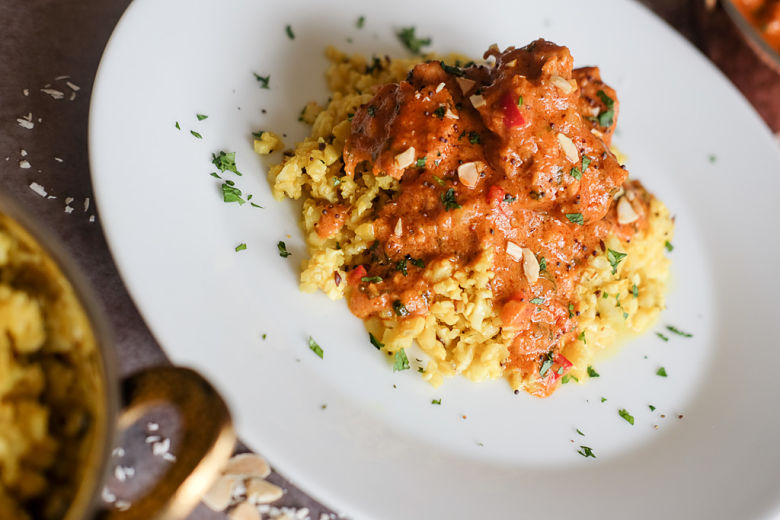 Guilt-free Creamy Chicken Korma
Instructions
In a blender mix coconut cream with almonds, desi onions, lemon juice, salt and all spices for marinade until a thick paste has formed. Add chicken and set aside to marinate.
In a pot or Dutch oven over medium heat add ghee and let melt. Add onions and fenugreek seeds and cook until onions are soft and browned.
Add garlic and ginger and sauté for 2 minutes.
Add all of the spices except ground mustard seed listed under the sauces. Stir and let cook for 2-3 minutes.
Add the chicken and the chicken marinade. Stir to combine.
Add bell pepper and tomato sauce, stir, cover, bring to a boil and let simmer for 15 minutes.
Add coconut milk and ½ cup coconut cream with the ground black mustard seed. Stir, bring to a boil and let simmer for an additional 15 minutes. Add salt as necessary.
After 15 minutes check to make sure chicken is cooked. If so, garnish with cilantro and top over cauliflower rice!
For Cauliflower Rice
In a pan over medium heat add coconut oil and let melt. Add cumin seeds until they begin to pop.
Add riced cauliflower, turmeric and salt and stir to combine.
Add in coconut milk and cook for 2-3 minutes or until the coconut milk has absorbed.
Eat plain or serve with the Chicken Korma.