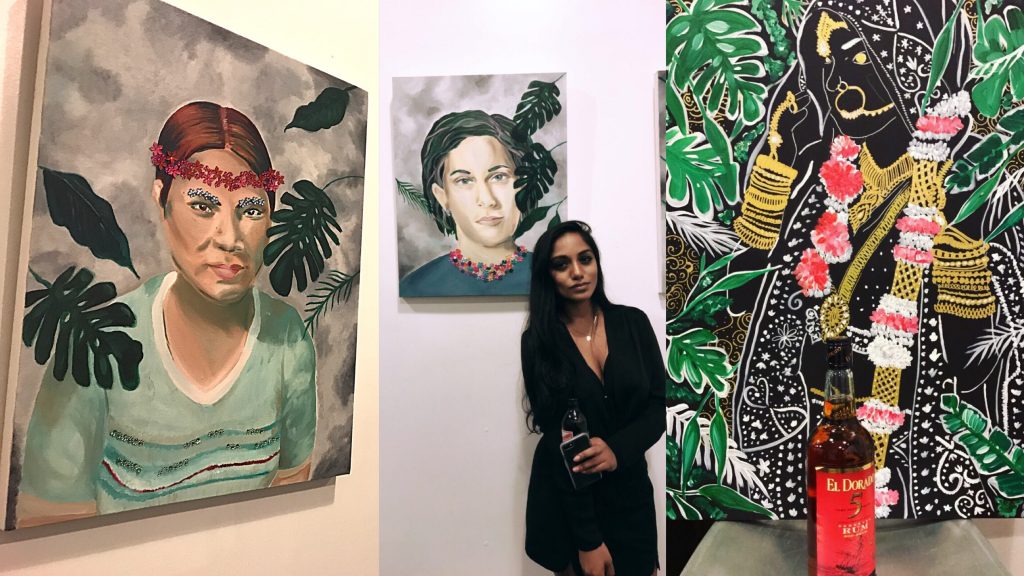 "But you see if there were no protests
We would be better off where we're from"
– From the poem "Here is the thing Mom" by Amrisa Niranjan
The reverberations of pulsing reggae filled the intimate art space at Burger Walla in Newark, New Jersey on Friday, October 13, 2017, as the art series "Gyal Dem" made its celebrated debut. Amrisa Niranjan, a Guyanese-American artist, used old photographs of Caribbean women of all ethnicities as inspiration for her series of painted portraits, which reimagined the realities of their femme subjects.
She transformed their black and white proofs into colorful, playful illustrations that reclaim the narratives of Caribbean women with their powerful visual command—a command that was evident by the collective gaze of wonderment on the faces of all those in attendance at Niranjan's first art show. The pieces were punctuated by displays of poetry written by the author on the topics of identity and social justice.
The owner of Burger Walla, Kai, spoke to Brown Girl about his decision to host the show after Niranjan walked into the restaurant, painting in-hand, seeking an opportunity to showcase her work in a space that has hosted some of the most renowned artists in the world. "It was fly to see a woman come up wanting to put up her own stuff," Kai explained. "Her work is also in the tradition of the Diaspora and we're about that. You have a culture that is Caribbean and you have a culture that is also Indian. So whether you're Guyanese or from India, it's just a huge community and I think this [art] shows a breath of that community."
"She's breaking ground here," Niranjan's mother Indira gushed.
"Guyanese are not taught to appreciate art. It's all about work and academics," she explained. "Her art means one more step forward for her, for women, and for West Indian women."
The guests in attendance shared these sentiments surrounding the significance of Niranjan's work. "I know Amrisa personally and I know that she is passionate about social and political justice," Anyelis Cordero, an attendee of the show, said. "You can see that passion in her poetry and in her art. I love that she's highlighting women, women of color, Caribbean women, and telling their stories and showing their beauty in a different light with these modern flairs and details to the portraits."
BG spoke to Niranjan about art, identity, and her plans for the future. Here's what she had to say.
[Art from the "Gyal Dem" series by Amrisa Niranjan/Source: Photography by Aniesa Resauladin]
What inspired you to put paint to canvas for this series?
"As a woman who is an immigrant, who is brown, who is from the Caribbean, in this case, Guyana, I think there has always been some kind of identity crisis I experienced about what it means to be who I am within my culture, race and countries, the one where I was born, and of course, America, I think to understand what it means to be me I began looking at the past – and found myself fascinated with these old photographs of Caribbean women before they packed up and moved to foreign countries with so little information," Niranjan said.

"And I thought how little the world truly knows about the women of these countries," she added. "I think about the way we are in so many ways unknown, and while being unknown can often be good, I wanted to be sure, if there were any statements about the identity of Caribbean women, that it would be Caribbean women making that statement.
Tell us more about the title "Gyal Dem."
"'Gyal Dem' is my playful way of exploring the dynamic beauty of immigrant women of color from the Caribbean. I asked women I knew for photographs of their mothers, grandmothers, any woman from the Caribbean, who they felt connected to, and I wanted to take these photos and bring them to life in my own artistic voice, which is, in these pieces, in vibrant color," Niranjan explained. "I found that without intending, the women I painted always seemed a bit more serious than the first photograph I had. I tried to show what I imagine was the essence of each person who was a product of a post-colonial country, a place of mixed races, and of course a woman in a world still dominated by men. The result was 'Gyal Dem' and I am hoping the collection of paintings grows with time."
Please tell our readers some more about your background.
"I was born in Guyana. I moved to the U.S. when I was almost five. I lived with my grandmothers in Guyana and knew them long before I knew my parents, who had migrated to the U.S. to start laying the foundation for a new life here," Niranjan revealed. "I always gravitated to creating art, writing, all content in general. I think I finally started to understand my own voice, what I want to say, how I want to say it, in my late 20s.

"School-wise, not that I find this of great importance, I went to William Paterson University for English writing, with a minor in English literature," she added. "I received my M.S. degree from NYU in digital and print media publishing. I never actually went to art school, I was afraid I'd end up turning the thing I loved most into a job, I think, and I am too selfish and obsessed with my art to do that to it. I want it to always be a raw representation of me, and I will not compromise it easily and without good reason. I know that sounds a bit horrid and possibly arrogant, but that is how I feel."
When did you first begin painting? Is this series representative of your overall style?
"I started painting probably when I was five just like we all do with tempera paints,"Niranjan began. "I kept creating content from writing stories to trying to create wild masterpieces in Microsoft Paint," Niranjan said. "In high school, I had an art teacher, Ms. Bettini, who is to this day like an art angel to me."

"I chose art as an elective for every year of high school, and in my school, our instructor was allowed to let certain students define a lot of their own coursework," she explained. I always oil painted, which makes me laugh because it's considered a difficult medium to work with compared to others, but my teacher didn't really give us the chance to learn the others. I am still defining my style and found I don't have one but maybe a few. I hate this pressure to find a style, because on some days I am black and white, and on others, I am 1,000 colors. I will say these pieces are great representations of one of my styles."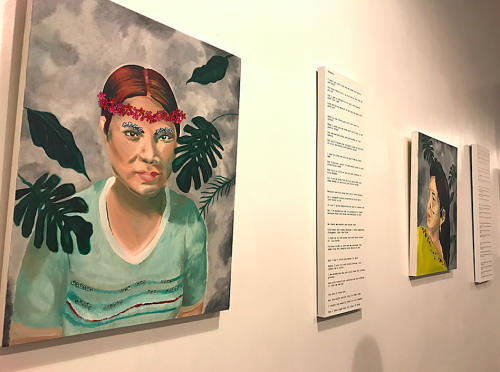 ["Gyal Dem" by Amrisa Niranjan at Burger Walla/Source: Photography by Aniesa Resauladin]
Who are your inspirations?
"Wow. I love digital artist Hugh Syme's work. I love Tim Burton's work. I like a lot of creepy art I guess, not sure if that makes me less palatable. I actually love all the famous classic and modern artists' work: Monet, Dega, Van Gogh, Picasso," she said. "I actually cried as a kid when I found out they were all dead. It was horrible to realize I liked Monet and there was a finite number of Monet's work I would ever see. I also find inspiration in others, everyone from Kanye to Lebron James to Lily Singh."
Tell us more about how Caribbean heritage, specifically West Indian culture, influences your art.
"It is a part of me and can never be separate from anything that I do. My Caribbean heritage is important to me. I see the Caribbean, especially Guyana, as a sort of Atlantis. I love that the language is not written, that it is one you can only learn in practice and experience," Niranjan said. "The culture is a result of such a short window in history where so many cultures met and somehow developed as one. I think, the way I feel, dynamic, some days invisible, some days loud, one day color, one day black and white, is a result of this kind of a culture. This constant state of progress, this unfinished state, in that way I am like the Caribbean, and so is my work."
What do you want people to take away from "Gyal Dem?"
"I want them to understand that West Indian women are not exotic angry creatures to be consumed in a fetish-like way; that these women are the spawn of real women who were and are incredible humans who are bold, colorful, and unapologetic," she said.
What are you doing when you're not painting?
I am working in digital marketing trying to teach the world why social media and all digital content is an amazing tool that connects people to information that can change their lives. I'm also reading a lot lately and it's been many Caribbean artists," Niranjan said. "Right now I'm reading Marlon James' A Brief History of Seven Killings and it is nothing short of phenomenal. And I would be lying if I didn't say that a majority of my life is spent with my dog, Kingston Beast, who loves me on my most ugly days, and reminds me that being outside is always better.
What's next for Amrisa Niranjan?
"I hope it will be more art," she said.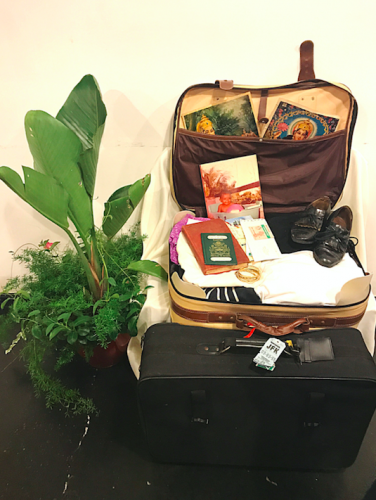 [Niranjan displayed the actual suitcases, luggage tags, passports, and belongings that her family brought with them when they immigrated to America from Guyana/Photo Source: Photography by Aniesa Resauladin]
Any additional words for our readers?
"Consistently encourage yourself to be vocal even when you yourself are not sure what you are saying, or why you want to say it. You will find the right words, and they will matter, if only to a few," Niranjan said. "You will feel fear on some days, we all do – but you have to not care, and be ready to be rejected, and be excited to be rejected because there is nothing better than telling the world how your work was rejected, and still, you persisted.
To see more of Niranjan's work, check out her website and connect with her on Instagram @badillustration.