My mother always jokes that I'm vain. She's right. I place huge importance on my appearance. Despite the fact that a certain part of your appearance is arbitrary genetics, I have always felt like it is something I can control. This sense of control has always provided me with a sense of comfort. If I can control my appearance, maybe I control perceptions. This might be true for anyone, but in my experience, it is uniquely important because I am biracial, saddled with a multitude of cultural expectations which I feel pressured to navigate with exquisite precision.
The focal point of my appearance has always been my hair. Growing up, adults always told me how pretty my hair was. During recess or breaks, other girls at school would always ask to braid my hair. To anyone else, these might be trivial occurrences, but to me, they meant much more, because my hair has always meant much more. Growing up in a community where I didn't know any other South Asian or biracial children, I was automatically lumped in with the white children as I was neither black nor Hispanic, the only other significant minority groups at my elementary school.
But I clearly didn't fit among these flaxen-haired children. Having ropes of long, thick, dark, hair that stayed silky no matter the weather set me apart, but instead of engendering a sense of ostracization, it made me feel that my differences were positive. People enviously asked, and still do, how I get my hair to "do that," to which I always respond that it's like that naturally, that my father is from India and that's why I have so much hair.
On days when the clay fields of my elementary school were flooded with rain, we were exiled from the playground and confined to our classroom. Seeking refuge from the activities of our male counterparts—bouncing off the walls with energy—my friends and I leaned against the wall and formed a "braid train." A girl whose name escapes me now, but who (to my nine-year-old mind) was blessed with strawberry blonde curls, said:
Olivia should sit at the front since she has the prettiest hair!
What more validation could I ask for?  
My hair didn't just make my differences positive in America; it did the same thing in India. My grandmother was proud that I had thick Indian hair and that I was born with a full head of hair, taking active credit for her genes at any opportunity. I bonded with my cousins when they would show me how to take care of my hair and take me shopping for hair clips that wouldn't snap in thick hair like ours. Not only did my hair help establish my credentials as Indian, but it was a positive way to talk about the fact that I am mixed race. Instead of hearing my grandmother bemoan how small my Western eyes were (and she has), I could hear people ask my mother why my hair wasn't coarse like theirs "even though I was Indian too." Cracked though my life may have been, I forged a new path for myself: one where there was no need to relinquish any part of my identity.   
This is a pressure that many of my biracial or multicultural friends have also experienced. We are always othered; in my case, I am too Indian to be white, too American to be Indian. But we as a society have constructed this problem ourselves; it only arises when we insist on using race as a binary. Biracial individuals are proof that different races and cultures are not mutually exclusive. I am white and I am Indian. My cultural identity is multifaceted and amorphous, adapting to any given circumstance.
A friend of mine, half-black and half-white, described her appearance as the middle ground that liberated her identity. With a beautiful, luscious afro, no one dared deny that she was black, but her blue eyes led many to correctly conclude that she was not only black. She found that her appearance was a much easier way to communicate that she did not identify as one or the other. While it is true that these parts of her appearance were genetically determined, her refusal to wear contacts or wear a weave to conform to one single set of cultural beauty standards helped her to find her own cultural identity.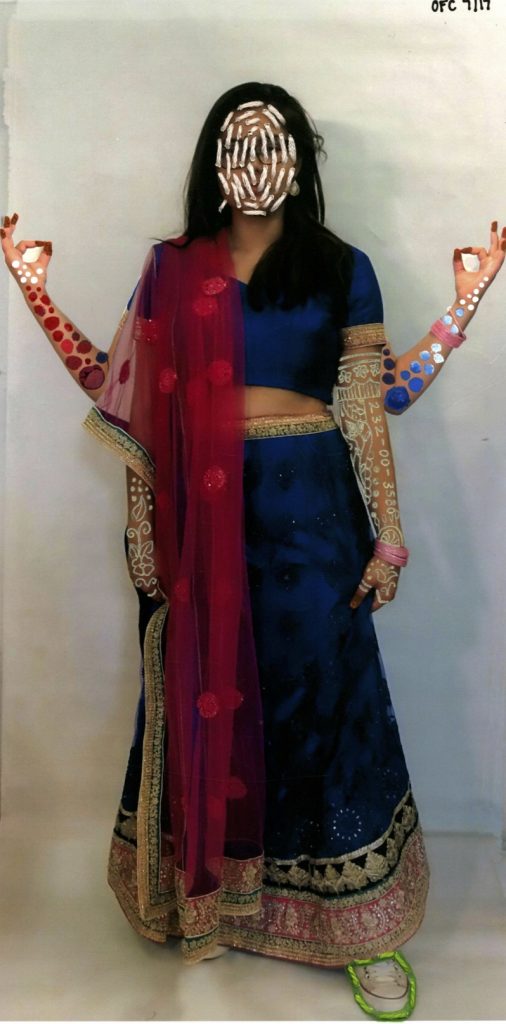 In Hindu mythology, hair has symbolic meaning. Unruly hair represents a wild nature, while neatly kept hair represents culture and society. Female goddesses—derived from Shakti, the personification of divine feminine energy—like Lakshmi, the goddess of prosperity, Saraswati, the goddess of knowledge, and Durga, the warrior goddess, all keep unbound, flowing hair. Since my mother began to let me do my own hair in the morning, I have almost always worn my hair long, loose, and untamed. And in that act I, too, become an avatar of Shakti: feminine and divine, in possession of an identity, ruptured with a plurality. I am cosmic existence and liberation, breaking the racial binary, challenging traditional conceptions of femininity, a warrior goddess with the strength and power to destroy a world of definite statements that constrain identity.  
---
The opinions expressed by the guest writer/blogger and those providing comments are theirs alone and do not necessarily reflect the opinions of Brown Girl Magazine, Inc., or any employee thereof. Brown Girl Magazine is not responsible for the accuracy of any of the information supplied by the guest writer/bloggers. This work is the opinion of the blogger. It is not the intention of Brown Girl Magazine to malign any religion, ethnic group, club, organization, company, or individual. If you'd like to submit a guest post, please follow the guidelines we've set forth here.