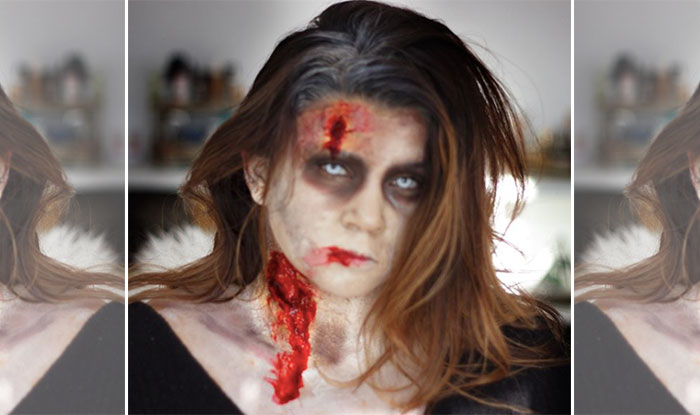 Happy Halloween, y'all!
Still looking for ways to up the amp this year? Need something fun, creepy, and doable to help answer the door to all your trick-or-treaters? I've got you covered! Below is my extra gory and scary zombie look. Everyone voted for a quick video tutorial, so, here it is!
Y'all know the movie Mean Girls? I'm Lindsay Lohan on Halloween. All the girls are out here all pretty and glam, but here I am all zombied out, bloody and what not. And, I love it!
Jumping right into this look, it's quite simple to create texture on your skin. The zombie bites might look intimidating but they're right up your alley, trust me on this one!
Here's a list of things you'll need to get you started for this zombie look!
1. Tissue or toilet paper (I hope there's plenty at home!)
2. Liquid Latex
3. Fake blood
4. Red, yellow and green body paints or shadows to mimic bruised skin.
And now, for the step-by-step directions:
1. Pull the tissue layers apart so they're thin, this way they'll easily blend into the skin.
2. Create 2-3 layers of tissue on your skin using liquid latex. Wait for it to dry.
3. Once dry, pierce a small hole in the tissue and pull apart to mimic a bite/opening of the skin.
4. Lay down 1-2 layers of tissue and liquid latex in the opening.
5. Paint it with yellow, green, and red shadow/paint to make it look like deteriorating skin.
6. Add blood in the opening and let it drip so it looks like a natural wound.
7. This step is REALLY important: BE CREEPY!
Every makeup look needs a video tutorial, so here's the one to show you how to get outright creepy with this gory zombie look. Trust me, Halloween '18 just got a little bit better!
View this post on Instagram