Thanksgiving usually has a monopoly on pies but no more, not with a lil clever re-wording making this a Halloween/Halwaween pie. Not feeling the pun? No worries, you don't need a reason to make pie. Ever.
I created this recipe because I wanted to revamp gajar halwa—it's certainly not your Aunty's recipe, that's for sure. I find most recipes too sweet.
Carrots can quickly become sweet when caramelized so a little bit of sweetener goes a long way. I chose to use sweetened condensed milk this time. You could certainly use a few ounces less than I did and still create a tasty pie.
I'm all for saving time where the quality of the final product isn't compromised hence my use of store-bought pie crust. However, there are other steps in the process which I'd advise against shortcuts.
I highly recommend grating the carrots yourself instead of using packaged shredded carrots. Freshly grating carrots make for a more moist pie. Sure, using the packaged ones save time but they tend to be drier and lifeless. Using freshly grated carrots brings about a richer pie.
You can also deviate from using conventional orange carrots and instead, use the purple, purplish-almost black, or yellow variety which I see available at farmer's markets. You could even make mini pies, some orange, some purple, and others yellow for a truly colorful "halwaween" spread.
This recipe can also be used to fill other pre-made pie crusts available at grocery stores. One delicious pairing in particular is using the gajar custard to fill ready-made graham cracker pie crust.
Ready to start cooking? Thaw that pie crust, gather ingredients, and let's do this!
To see more of Soni's original food articles and comics, visit facebook.com/sketchydesi.
---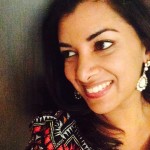 Soni Satpathy-Singh is a recipe writer and developer who resides in Manhattan. She is either always cooking or eating be it for work or simply because she loves to! She is working on her own cookbook and also recently created "Sketchy Desi" which provides daily humor, greeting cards, and apparel that celebrate brown culture. To see more of Sketchy Desi's work, visit facebook.com/sketchydesi/ or stay tuned for upcoming posts on Brown Girl Magazine.