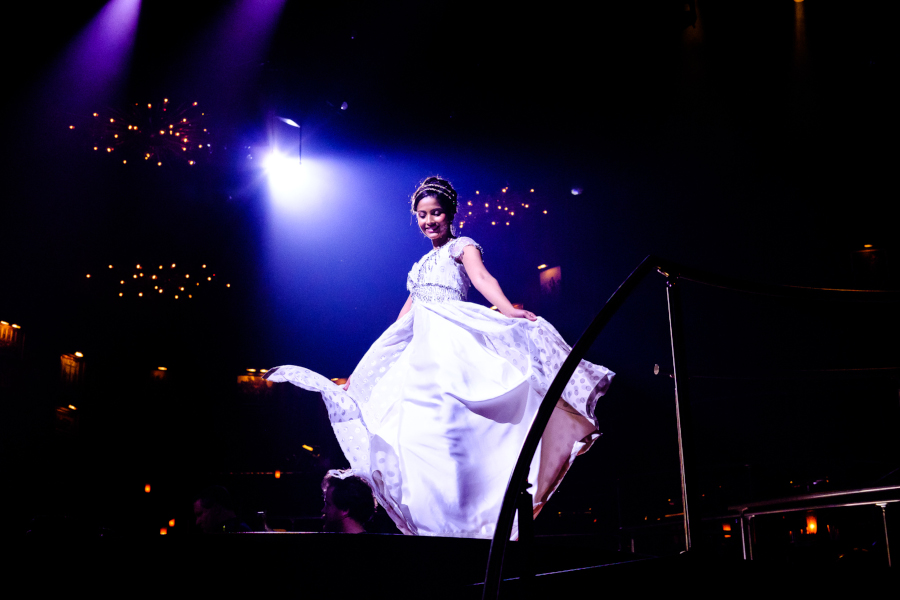 In what Playbill called "a personal milestone and a key moment on Broadway," Shoba Narayan made her Broadway debut in the Josh Groban-starring musical "NATASHA, PIERRE AND THE GREAT COMET OF 1812 as the first South Asian female in a principal role since Bombay Dreams. The musical garnered 12 Tony nominations. Now starring as Eliza Hamilton in the Broadway smash hit "Hamilton" from Lin-Manuel Miranda, Shoba will tour the U.S. through 2018.
"My name is Shoba Narayan and I'm an actress, singer and dancer. I am currently playing Eliza Hamilton in the U.S. tour of "Hamilton: An American Musical."
What an amazing opportunity to be featured in Brown Girl magazine — wow! Reading all the stories throughout this publication makes me really inspired and proud of all the great things South Asians are accomplishing across many diverse fields. While we still have a long road ahead of us, it is amazing to see how far we've come as a community in the last few years. I feel honored to have an opportunity to share my story with so many ambitious and talented people.
Being a South Asian female is and has been an undeniable facet of my artistic journey and I wanted to share with you some specific stories that stick out to me as I reflect on a life in the arts.
https://www.instagram.com/p/BgFccYUl3n8/?hl=en&taken-by=shoba_narayan
"Welcome to the Shoba Show!" | Please Turn Off Your Cell Phones
I did a film in 2015 set in the 70's titled 'Growing Up Smith,' about an Indian immigrant family coming to the U.S. and hoping to assimilate in a new country while maintaining their cultural values. It's a relatable tale to most children of immigrants. Funny enough, that's sort of how my story started. My parents immigrated from India to build a life and family the US and I grew up in a Bryn Mawr, Pennsylvania which is a suburb outside of Philadelphia. As a child, I showed a clear affinity for the arts at a young age by routinely putting on one-woman shows for my family – all made complete with homemade construction paper tickets and a pre-show speech including a request for no recording devices. I would then exclaim "Enjoy the show!" to my devoted audience of four (mom, dad, and my two brothers) and begin the elaborate performance that had been created for the night.
My fascination with the arts only continued to grow. Fast forward a couple of years – my parents began taking me to classes in various classical art forms from both the East and West. I began studying ballet and violin which gave me a great foundation in dance and music. I then started training in Bharatanatyam and Carnatic music (classical Indian dance and music) and fell in love with it, especially as it deepened and furthered a connection to my cultural identity. It was shortly thereafter I discovered musical theatre, and I would never be the same. All of my passions were seamlessly blended together in the most profoundly powerful way and the vision of what I wanted to do and who I wanted to be came into full bloom.
My parents were committed to exposing me to live performances, whether it was a Broadway show, a ballet or an Indian arts event. Throughout school, I was involved in every music and theatrical group. I'd constantly be looking for creative outlets, whether that was performing in our school musicals, playing violin in an extracurricular honors orchestra, dancing in the Nutcracker every year, competing in international Bharatanatyam competitions, or listening to Mozart concertos on my iPod on my way to school. I could spend hours watching videos of elite ballet companies or listening to Broadway cast recordings. Having art in my day made me feel alive. Growing up and feeling a bit like an alien and an outsider, art gave me a sense of belonging, purpose, and a way to express myself.
Fast forward another few years and it's time to go to college. I was determined. I was ready. And I decided that rich or poor, the performing arts were going to be my future. I headed to The Boston Conservatory at Berklee to study acting and musical theatre and never looked back.
https://www.instagram.com/p/BgofnkwhBSx/?hl=en&taken-by=shoba_narayan
Go get the F*cking Role | Facing Adversity
Acting is hard, and I mean it. From studying the craft, to delivering your work with truth and authenticity, to figuring out how to navigate the professional world with its ups and downs, and it is that much harder when you are among the minority. The trick: DO NOT BE DISCOURAGED!
My mom loves to tell (and tell again) this story as a reminder of the value of perseverance: When I was in eighth grade, my school announced Wizard of Oz as our spring musical. It was the first time I became aware of how ethnicity played a role in my participation in theater. Naturally, I wanted to play Dorothy. I had been waiting my whole life to step into her ruby slippers! Unfortunately, the general consensus of my classmates was that it would never be in the cards for me. I was taunted by classmates. I was told point blank that my brown skin made me unfit for the role. I nearly threw in the towel. In that moment, I wished that I had someone out there on Broadway stage that looked like me, so I could prove everyone wrong.
That was when my mom told me something that still sticks with me today. "Shoba, let the others think what they want. It really doesn't matter. If you want this role, GO GET IT." I internalized what my mom said as "Go get the f*cking role." So I tried. I practiced 'Over the Rainbow' more times than you can imagine. I prepared an excerpt from the Polichinelle dance I did in the Nutcracker that year. I did everything I could in my little 8th grade power to change people's minds and to prove I was worthy. The next day in the auditorium our music teacher began announcing the cast starting from the smallest roles to the largest. 'The Tin Man. The Cowardly Lion.' My heart was going to beat out of my chest because I wasn't hearing my name. 'The Scarecrow. The Wizard of Oz.' And then I heard the words: 'Shoba will be playing the role of Dorothy.' It was incredible. I couldn't believe it, and at the same time, I could believe it.
I like remembering this story because it reminds me that nothing worth having in life comes easy. The performing arts are a steep climb and the opportunities for minorities and women to play leading roles are far and few between. In the face of constant rejection, you will ask yourself why you got into this business in the first place. Then you will remember that you can't imagine doing anything else. That this is who you are. Never stop pounding the pavement. Doors will open for you.
https://www.instagram.com/p/BiFkR1dhCiR/?hl=en&taken-by=shoba_narayan
Being a Role Model | Challenge Accepted
Upon graduating from college, I moved to New York City to begin my journey into showbiz. I've had a variety of experience working not only in theatre but also in TV and film on such fun and challenging projects like Quantico, Growing Up Smith, Gossip Girl, Coin Heist, Mistress America and Halal in the Family. But most recently, the universe has returned me to my first love: performing on stage. I made my Broadway debut in Natasha, Pierre and the Great Comet of 1812. Currently, I'm playing Eliza Hamilton in the U.S. tour of "Hamilton." (OMG!) It has been amazing to meet and hear so many South Asian-Americans express how much it means to see themselves represented on stage, particularly in a leading role. I've received dozens of handwritten letters and fan art with messages from kids who feel grateful to finally have someone that represents them and from parents thanking me for being a role model for their kids. I'm proud that even for a small few, I'm able to be that person I wish I had growing up. I'm reminded of the power and privilege I have as an artist have to promote positivity and social change, and how much representation matters. I am excited for what is to come in the next year while touring the country with "Hamilton" and portraying such a remarkable American woman with such a tremendous cast and hardworking team of people.
You can follow Shoba on Instagram and Twitter @shoba_narayan or visit her website.