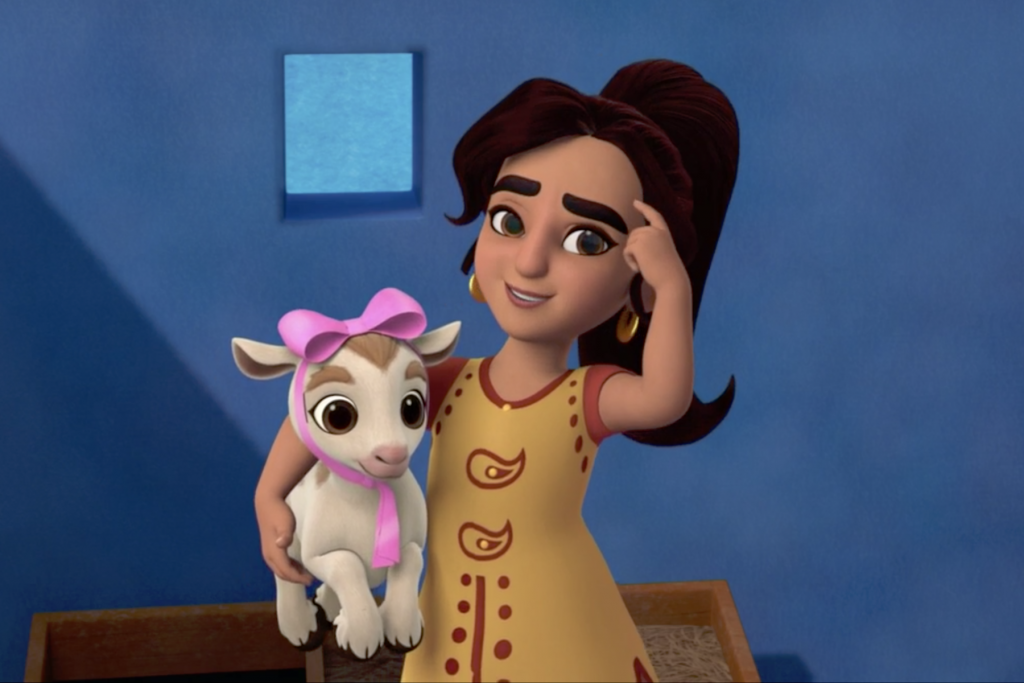 Our favorite girl, Hannah Simone, is singing on Disney Channel's "Mira, Royal Detective!" Simone plays Pinky, a goat expert, and in this episode, Pinky helps Mira find a missing goat…and performs the adorable new song "If I Were A Goat."
I had the pleasure of talking to Hannah Simone about the episode, the fun legacy of her hilarious series "New Girl," and her advice for South Asians hoping to break into the film/TV industry.
Did you think your first song would be about goats?
"Well, knowing Pinky, I would be surprised if it was anything else, but no, I never would expect that my first song for Disney, it would be about goats (*laughs*). If you told me five years ago that 'you're gonna be featured on a Disney soundtrack and your song is going to be about goats!' Absolutely not."
Mira mentions a lot of Indian sweets and dishes. What's your favorite Indian sweet?
"I'm like a gulab jamun girl. That's my jam. I can't make any indian sweets, that's what I should do in quarantine. But the downside to that is I'll probably just eat it all the time."
What do you think the social impact has been for 'Mira, Royal Detective?'
"What's super impressive to me and exciting, is that social media is a wonderful connection I have now. There's so many parents, teachers, kids that watch the show and delight in the show. So I think there's something about a female lead that's a regular girl who is smart, resourceful. And funny. And she goes out and gets to solve all these mysteries. The show is just resonating with people that I haven't felt like since 'New Girl'!"
https://www.instagram.com/p/B8Jt581JXxv/
Are you a Bollywood fan?
"I'm not a Bollywood watcher. From a young age I was so intimidated, they're so talented, how they sing, dance, and I just felt so overwhelmed and intimidated by it. I'm not worthy. And what's cool with 'Mira' is that, especially, in this episode, I'm singing, and this show fully pushed me out of my comfort zone. And the animation! My character dances! There's a whole choreography to the song! I saw it and I was like wow this is incredible. I could do a full Bollywood act out and no one will know that I don't have the skills in this department! [thanks to animation] animation, what a gift!
You mentioned 'New Girl,' which is a timeless body of work. And we can see that through it being a constant trending topic on socials, can you comment on that?
"It's been great, it feels surreal. You only realize the impact of it when you're out walking in the street. And people feel compelled to talk to you and you're like oh people watch that show. And people have been contacting me saying I'm watching for the first time or watching for the 10th! And I think what's going on in quarantine is that people are finding comfort in watching people who are trapped in a loft, week after week, it's kind of the perfect show. Any time someone discovers that show, I feel so lucky."
https://www.instagram.com/p/B94WZMtpeKd/
What have you been up to during quarantine? 
"I've been cooking a lot. Everyone kind of got back to basics. We make ourselves busy. There's so many things in this big beautiful world but there's something about sitting still with yourself that lets you challenge yourself in small ways. I made my first big veggie curry."
What advice do you have for younger South Asians wanting to be in this industry?
"I'd say the landscape is changing. There are more opportunities—which for me is really exciting. It wasn't the case when I started a decade ago when I turned up in LA. And I feel like there are platforms now for people to tell their story, start there. It's still not easy. It's not an easy industry to break into. But know what stories you want to tell and use your platform, no matter how small, to share the stories you wanna tell."
"Mira, Royal Detective" airs Fridays on Disney Junior. The episode "The Case of Pinky and the Goat," featuring a new song from Hannah Simone, is on DisneyNOW, and will re-air on Disney Junior on Saturday, Sept. 26, 2020.