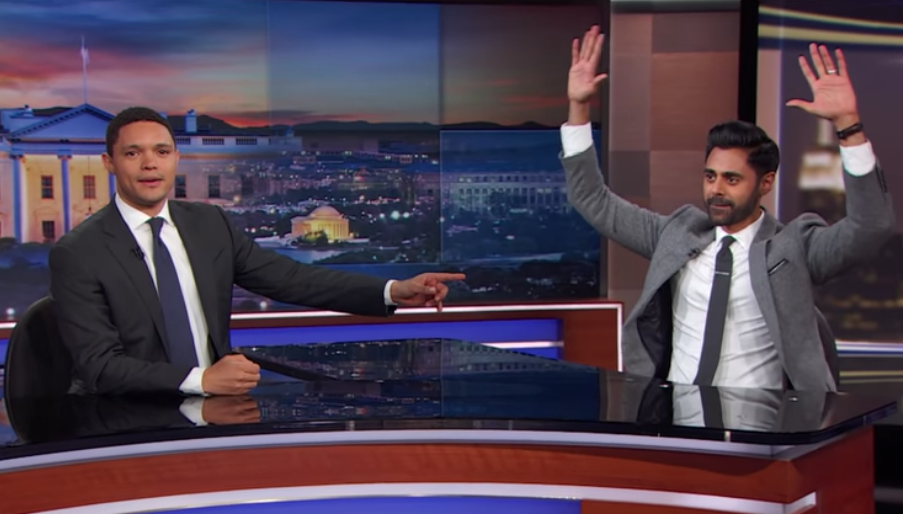 by Vaidehi Gajjar – Follow @vgajjar95
For those of you that don't know who Hasan Minhaj is, first of all "WHATCHA DOIN' FAM?", and second I'm going to tell you. Hasan Minhaj is our go-to brown man for comedy on the American late-night entertainment frontier, and in addition to being hilarious, he's pretty darn good-looking, if I do say so myself. But what's really exciting is that the mainstream entertainment industry is finally taking notice of what we at Brown Girl Magazine have seen for years – Hasan Minhaj is one of the funniest men in show business.
After killing it as a correspondent on "The Daily Show," as the host of last year's White House Correspondents' Dinner and in his hilarious and poignant comedy special, "The Homecoming King," Minhaj will FINALLY have a show all of his own! Netflix has announced they are producing a talk series for Minhaj, making him the first Indian-American to helm his own weekly show talk show. And the streaming service has already committed to 32 episodes!
So, for those who still need an education into the genius that is Minhaj, there are some vital clips to check out — actually, why don't I just show you?
Bigotry a Deal Breaker??
I mean honestly, how was Trump's blatant racism, hate, etc. towards Muslims not enough to flash the emergency lights? Watch closely as Hasan gets in touch with his "Puerto Rican" side, and explain how there's no such thing as "moderate racism" or as he likes to refer to it "diet xenophobia."
White ISIS (WISIS)
Reporting from the good ole city of Mount Pleasant, South Carolina, Hasan tackles "Trump's most controversial statement yet" (P.S he doesn't believe that it is). America's a scary place folks – WISIS is on the move!
Minhaj's Muslim Makeover
Soda can MacGyvers? Fatima, you're now Craig. Your hijab is a problem, because it's around your head and not your neck? NO PROBLEM. Here, Hasan gives tips on the ultimate Muslim makeover! Oh, what's that? Your hair is exposed? Let's dye it blonde! You'll be a new person when Minhaj is done with you!
Hasan the Record: Trump's De Facto Muslim Travel Ban
It's not THE Muslim Ban; it's just A Muslim Ban. Hasan's got call after call just pouring in, on how there's no way the Trumpinator can do that! You'll learn to love animals (bulldogs especially), and you'll get that history lesson you fell asleep during back in high school! Do me a favor and stay awake this time?
Minhaj vs. Trudeau
According to Hasan, Canada may be known for their "awful beer and god-awful Canadian tuxedos", but apparently they're pulling new stunts these days! Our dear Minhaj might just have to say "soh-rry" to our Northern neighbors when they explain why they're just so darn welcoming! Watch until the end for a special showdown between the Canadian prime minister and Hasan himself!
And, of course, we can't talk about Minhaj without mentioning the best moments from his 2017 White House Correspondents gig, and his host speech from the 2016 Radio Television Correspondents dinner.
The 2016 event was especially memorable as Minhaj found an incredible fresh, funny and powerful way to show members of Congress that their inaction needed to end, especially relating to the controversial issue of guns, which continues to plague this country today.
All of us at Brown Girl wish Minhaj nothing but the very best of luck for his new Netflix show, but let's be honest — he doesn't need it. Minhaj will only continue soaring to new heights, and we can't wait to watch and see how high he goes next.