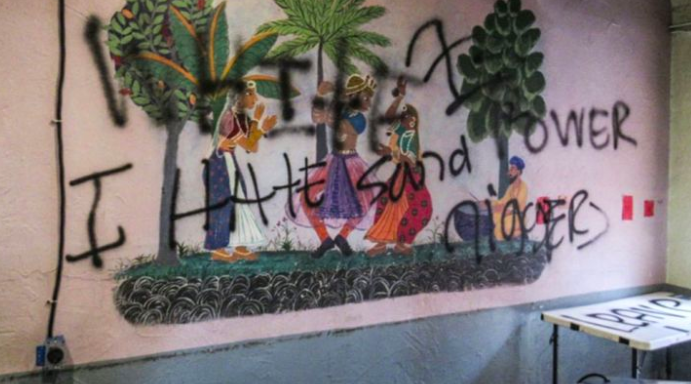 Bajit Singh, the Sikh owner of India Palace, an Indian restaurant in Santa Fe, New Mexico, discovered shocking, but all too familiar, messages of hate sprawled all over his business on Monday afternoon. 
"I walked into the kitchen, I saw everything, and I was like, hold on, what? What is going on here?" Singh told the Santa Fe Reporter, clearly shocked by the state of his restaurant. 
"F*** ISIS," "White Power," "I HATE Sand N******," "TRUMP 2020," and other phrases coined by white supremacists were painted in graffiti all over India Palace. 
Racists trashed a Sikh-owned Indian restaurant in Santa Fe, NM, scrawling hate speech like "F*CK ISIS" and "I HATE SAND N*****S"

It just breaks your heart. Immigrants come with dreams in their hearts. They work so hard. And this is how they're treated. It's just not right. pic.twitter.com/VgJrUjC2T3

— Simran Jeet Singh (@SikhProf) June 23, 2020
The inside had been completely ransacked, and the kitchen was rendered useless from the damage. The vandals broke all of their glassware, beheaded a statue of a goddess, and trashed the rest of the place, causing well more than $100,000 of damage based on an estimation by Cameron Brown, a friend of the Singh family and assistant at India Palace. 
Community members set up multiple crowdfunding efforts for the Singh family to help pay for the losses and repairs. A GoFundMe was set up for the family and raised $56,916 in just a couple of days, and is in fact, no longer accepting donations. Another GoFundMe campaign called "Santa Fe Supports India Palace" is still active and accepting donations.
This hate crime at India Palace is sickening and appalling. We need to stand up as a community and denounce this despicable act. We will find whoever did it and punish them to the full extent of the law.
We absolutely reject racism, intolerance, and hate. #SantaFeStrong

— Mayor Alan Webber (@MayorWebber) June 23, 2020
Brown also spoke to the Santa Fe Reporter, telling them that the Santa Fe police didn't show up to the scene until three hours after they were called. During that time, however, Singh and Brown had spoken and reported the incident to the FBI. 
Ibrahim Hooper, National Communications Director at the Council on American-Islamic Relations (CAIR), called on President Donald Trump to condemn the act in an official statement released today, stating:
We call on President Trump, whose name was used by the hate vandals, to stop promoting bigotry and division and instead seek to bring our nation together at this time of crisis.

This disturbing hate attack once again demonstrates that growing white supremacy, xenophobia, Islamophobia, and racism target every minority community and must be challenged by people of all races, faiths, and backgrounds.
Prior to the attack, the Singhs were working through the COVID-19 pandemic and were providing food, hygiene products, and even their own cash for the homeless population in downtown Santa Fe.
Bajit's son Baljot Singh told the Santa Fe Reporter, "We do a bag full of food and hygiene products…we throw in some cash-$5, $10." 
Members of the Sikh community have long been a victim of hate crimes in the United States, and in the world, since Islamophobic rhetoric has been on the rise in the years following the terrorist attacks on 9/11.  
A gurudwara was vandalized with Islamophobic graffiti in suburban Detroit in 2012. In that same year, a 40-year-old gunman opened fire in a gurudwara in suburban Milwaukee in 2012. Six people were killed, and three others were injured in their place of worship. The shooter was an American White supremacist with ties to neo-Nazi groups. 
In January of this year, another gurudwara in Orangevale, CA was vandalized with swastikas and "White Power" written in graffiti.
In yet another incident that happened this April, Lakhwant Singh, a Sikh-American, was attacked after being told to go back to his country, as reported in a statement released by the Sikh Coalition.
After Singh's attacker entered the liquor store that Singh owns with his wife, he reportedly told the couple to "go back to your country." The Singhs repeatedly asked Eric Beerman to leave, and when he finally did, Singh went outside to take a picture of his attacker's license plate to report him for harassment. That's when Eric Beerman decided to take his vehicle and hit Singh with it, sending Singh flying several feet across his own parking lot.
Beerman was arrested on April 30, and his charges are being announced on July 24. The Sikh Coalition, who is representing Singh, is pushing for the attack to be investigated as a felony hate crime.
Once again, the Sikh community, along with the rest of the world, must deal with the consequences of hate crimes in a country that promises freedom of religion, but whose citizens do not see them as equal, and once again, the Sikh community will no doubt respond with peace and love for all, as they always do.
In a time where we are all united against hate, we have the power to show that love and equality can prevail.