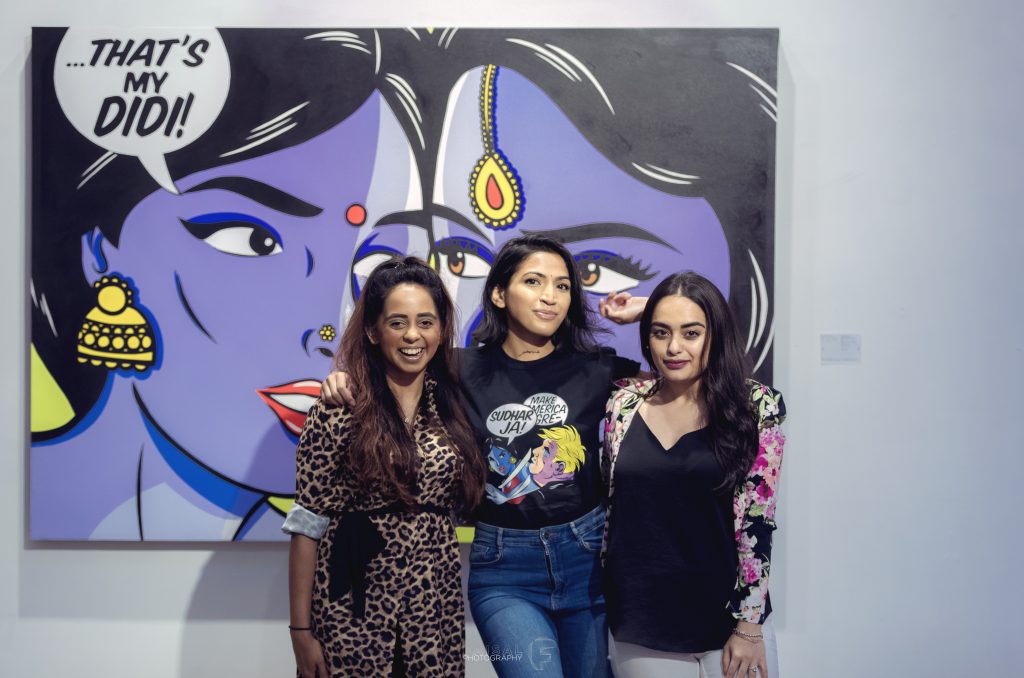 Maria Qamar, aka Hatecopy, is hosting hundreds of guests all month long after she unveiled her latest collection titled 'FRAAAANDSHIP,' at the Richard Tattinger Gallery in New York City, on August 1, 2019. Of course, Hatecopy had an incredible turn up on opening night, but the love keeps pouring in with art-lovers from all walks of life coming to take in the creativity and candidness behind her newest, and the first-ever solo, exhibition, daily.
View this post on Instagram
Brown Girl Magazine was there on opening night to take it all in and feel the creativity that was oozing out of each one of the artist's paintings. Not only did we get a chance to get up close and personal with her work of art, but we also had the pleasure of speaking to Hatecopy herself!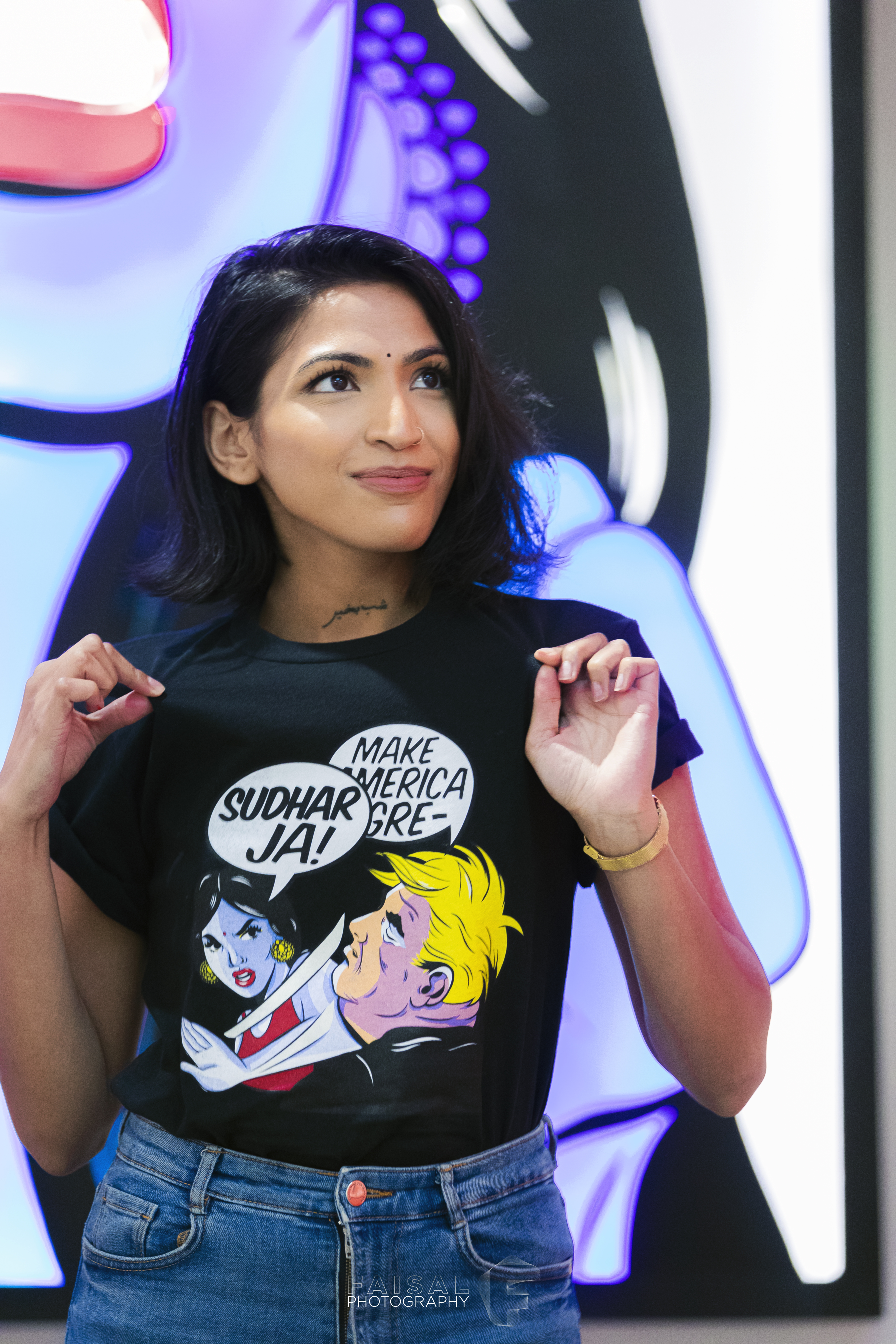 Here's what she had to say about the exhibition, how far she's come since we last caught up in 2016, and her very own experience with 'fraaaandships':
Hatecopy, can you please count how many times someone has tried to fraaaandship you?
I should look at my inbox. All of my unread messages—thousands! I have thousands of fraaaandships just waiting to happen!
What is the best response you've given to someone who has tried really hard to fraaaandship you?
It depends on what kind of friendship. I mean there's obviously the troll friendship which is the guy just asking for feet pics. Recently it's been a lot of 'feet pics' requests. So weird!—please censor my feet! But, yeah, I mean a lot of people ask for genuine friendships and have genuine conversations that are really sweet. Sometimes I do respond to my DMs because people are really funny. I didn't realize we have a lot of comedians in our community! Sometimes someone will make a really funny joke and I have to respond with an uppercase 'LMFAO,' like holy sh*t that was really funny!
View this post on Instagram
What does your new collection say about the new age of digital communication? Is it a blessing or is it a curse?
For what I see happening within the gallery in real life, it is such a blessing because I see people who maybe grew up in areas where they couldn't find other desis, or they just never fostered those friendships, or they never had the opportunity to meet other creatives in our community. As soon as they come into a space made for us, you see these friendships form right in front of you. And then, you kind of see them go back online. Let's say you're a blogger, you come here, and you start a random conversation with a photographer, and a week later you're working together! So it actually becomes something that needs to happen and I follow these things all the time. I do see and hear people go, 'We should totally hang out! What's your Instagram?' And that kind of stuff makes me so happy because that's the whole reason behind this kind of stuff, it's to foster these friendships.
So, tell us about your creative process? Does it happen at the craziest time or is it structured?
It's always randomized. Since I've started this full-time, there hasn't been a moment where I've sat down and planned for something and had an ample amount of time to create. Even this gallery was one of those times; even when you guys walked in we were setting up for it. For example, the paint on one of the paintings was f*cked up so I literally had to take it down, repaint it, and put it back up again [totally unplanned]. So, there's always room for improvement but I think I'm very happy with this show. Compared to the ones when I was starting out, this one was relatively stress-free.
View this post on Instagram
Can you share some of your go-to ways to get in the zone and also tell us how you unwind with some self-care tips?
I don't have a routine, I don't have co-workers—so you guys would be considered my co-workers today—I'm not around a lot of people. I'm always alone in my apartment just tinkering away or playing video games or just doing my own thing, so when I do go out to events and stuff, that's my one moment of talking to people. But, before an exhibit, I put myself in a routine so the work becomes a part of my day, as opposed to a random event that happens. So, I try to get into a habit of something. This time I got into the habit of chugging a lot of iced coffee, which I don't recommend because I'm always wired. I would wake up at 10 AM, go get an iced coffee, go get my vegan donut, and come back and start working. Then at 2 PM, I go get an iced coffee again. It's a weird thing, but I try to build this faux routine so that I feel like I'm at work or feeling like I'm doing something so I can get in the zone.
Tell us about one of your favorite collaborations with a desi creative or entrepreneur that you've had from around the world.
Honestly, I would say working with Besharam and Chef Floyd from The Bombay Bread Bar. Anything food-related that I've worked on other desis with has been such an emotional experience for me because I love food. It's a kind of comfort that I crave because it's like a sense of home but it's not a naggy sense, it's like the good kind of home. To see chefs that are my parents' age who are reinventing classic dishes like that makes me so emotional and it makes it so rewarding to sit down, eat their food and go, 'Oh my god, you made this for me? It's like me but in food form but you've been doing this for so long!' That's just so rewarding for me.
View this post on Instagram
We interviewed back in 2016! Tell us how your work has changed since then? I actually read that piece a few days ago and I remember you said that your dad was bugging you to become a journalist. Is he still doing that?
Actually, shout out to Papa Qamar, he called me before I flew out here and asked me how things were. I thought it was a spam call. I was like did somebody steal my dad's phone? Why he is calling me? He never calls! And he was like, 'If you ever want to come home and paint, you can always do that.' I was then like hold on, who is this man and what have you done to my father?! So, he's trying to understand that this is not a goth phase and I'm doing this as a living now and that I'm going to be traveling and doing this kind of stuff, he has to support—it's a milestone! My mom called me, and I was like, 'Mom did you know dad called?' And she was like, 'What?! Is something wrong?' And I told her no, he was just telling me that if I wanted to paint at home, I could!'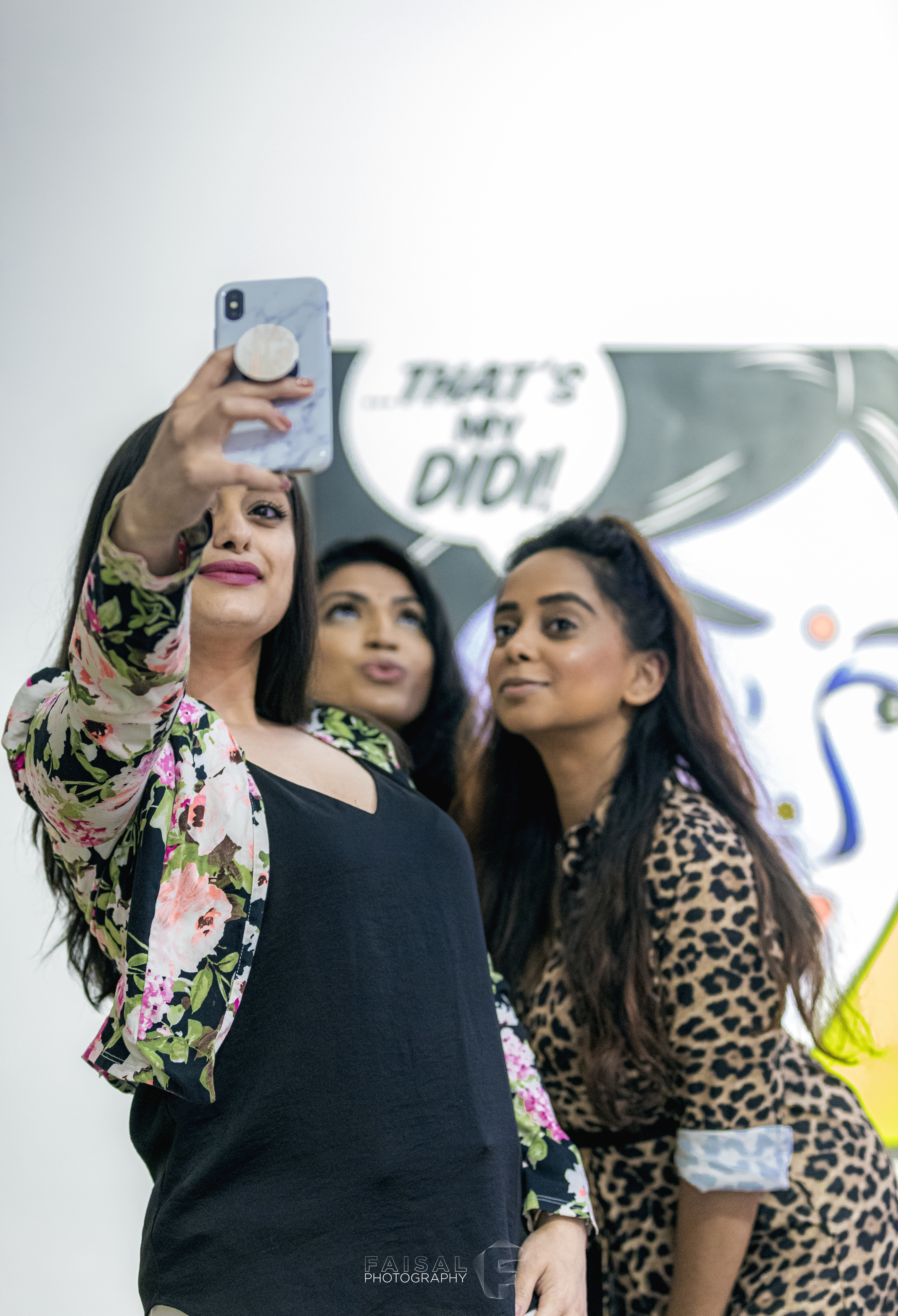 Although she's had the opportunity to showcase her brilliant artwork at various galleries, the 'FRAAAANDSHIP' exhibition marks Hatecopy's debut in the world of solo shows, and it's one that you don't want to miss! You can check out her paintings at the Richard Taittinger Gallery up until September 2, 2019!