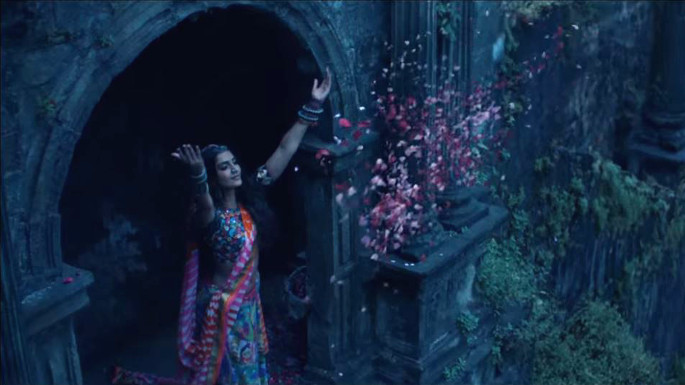 We've all heard, read and talked our faces off about Coldplay's newest and rather controversial music video. But we had a few more thoughts to share…promise, it's the last thing you'll hear about Coldplay from us.
Aside from the immediate criticism it received, many gave it praise for creating a beautiful video that offered a rare sight: Queen Bey as a dark-skinned Bollywood actress (not too common, huh?).
Sonam Kapoor Doesn't Care About the Negativity
The newest B-town chick to join the ranks of the Western entertainment industry is our very own fashionista Sonam Kapoor.
As we've all seen by now, Kapoor plays a rather short cameo in Coldplay's "Hymn for the Weekend." Even though many fans on the Internet are pissed, her bit is just another accolade for the actress' long list of achievements in 2015, including the positive response to her film, "Prem Ratan Dhan Payo," which made massive waves at the box office and her reprise of the 90s classic "Dheere Dheere" (alongside fellow hottie Hrithik Roshan)—seeing more than 100 million views on Youtube. 
Kapoor, who donned a beautiful ghagra choli, styled by her sister Rhea Kapoor, in the video, didn't care what the global audience had to say because she's a huge Coldplay fan and is more excited about the VIP access she now has to their concerts. (Honestly, that sounds amazing. Kudos to you, girl!)
Here's what she had to say:
"First of all, I am in a Chris Martin video and I am a huge fan of Coldplay. When I was in high school, I grew up [listening to] Oasis, Coldplay and U2. And if somebody told me at 16 that I was going to be in a video, I would go: 'shut up'."
She added that her agent wasn't too happy about the whole ordeal either, but she doesn't really give AF.
"So, on my birthday, I get to take all my friends for a concert. I get VIP access to their concerts forever and I am going to make them sing 'Yellow' to me. This is good. When I was in high school, I listened to 'Yellow' from Coldplay and 'Wonderwall' from Oasis and I used to cry and wondered if anyone would sing me these songs to me. And there I am, doing this video. Everybody is going on about these three shots alone."
Chris Martin is More "Cultured" Than You Think
The news of the video answered the curiosity stemmed from lead singer Chris Martin's visit to India last summer. During his visit, Martin jammed with music composer Vishal Dadlani, partied with Frieda Pinto and then the following day, met Prime Minister Narendra Modi as a representative of the Global Poverty Project.
Martin, who is passionate about the cause, is seen in this newest video playing alongside little children on the streets of India. The smiles of these children, the splashes of color, the dancing and enjoyment bring to light the positivity of the Indian spirit, which many deemed as cultural appropriation. 
While the video encountered heavy backlash for appropriating Indian culture, Coldplay has, for the most part, succeeded to present Indian heritage in a tasteful manner. The music video did not portray only the glamorous and exotic facets of Indian culture while neglecting the people the culture belongs to. Rather, Coldplay included Bollywood's it girl and spent weeks rehearsing and getting to know the children in the video before they started shooting.
And let's not dismiss the fact that for many decades now, Bollywood has been very quick to be culturally insensitive towards other nationalities (e.g. 'Chandni Chowk to China,' and cue any Yo Yo Honey Singh wannabe hip-hop videos), while criticizing other countries that attempt to showcase Indian culture—even in a positive light.
Can we Stop Hating on Queen Bey?!
The music video, directed by Ben Mor, features Beyonce as a Bollywood film actress. Never saw that coming, right? The video juxtaposes vibrant colors of the country alongside the hustle and bustle of India. Elements of Indian culture such as the celebration of Holi, roadside pandits, and of course, the popularity of Bollywood cinema is depicted as well.
Let's dream about the day Bollywood chooses to cast more dark-skinned women to be the face of Hindi cinema. Thanks to Beyonce, that dream kinda came true.
As one Tumblr user, Shwetanaryan, aptly wrote:
"Beyoncé in a sari makes me tear up because I never had images of beautiful darker-skinned women in saris growing up. Because this is a healing image for me, even though I'm a non-Black Desi.

Because I had relatives clucking over how unfortunately dark I was since I was tiny. Because I had to sit w milk-skin on my face even though the smell of milk makes me nauseous, because it would supposedly lighten my skin. Because my one light-skinned cousin was ALL the adults' fave. Because they didn't want me going out in the sun. Because they'd wrinkle their noses when they said, "you'll get dark."
---
Zaynah Arefin is known as a Houstonian-New Yorker. She is a New Yorker in the truest of senses but thanks to that little thing called love she now resides in Texas. Arefin is probably the desi-est of the desis.  She has a passion for writing and an even more intense love for all things Bollywood! She also hopes to connect with all of you filmy folk through Brown Girl Magazine! After all, who run the world? Brown girls!