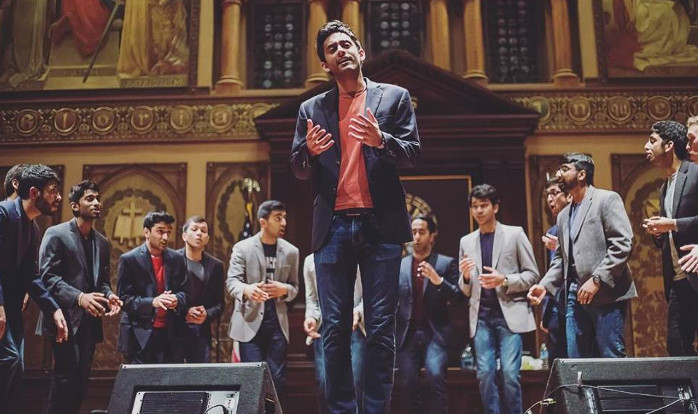 This post was originally published on our partner website India.com.
Success can be quantified by various measures. For Penn Masala, the premier South Asian a cappella group in the United States, there are several such measures. Their musical genius will complete a 20-year journey in 2016, which itself is a brilliant accomplishment.
Formed in 1996 by the students at the University of Pennsylvania, Penn Masala is known for amalgamating the best of both worlds, Hindi and English music, and creating something powerfully unique and beautiful. Currently, the group comprises of 15 members.
Their latest and ninth album "Resonance" released earlier this year and, as usual, it is filled with smashing tunes. The name resonance is extremely endearing, almost like announcing to the world how brave this music is. The group hoped to achieve "the quality in a sound of being deep and full," which is what the word means.
As for the songs on the album, the group felt:
"The songs on this album represent a journey back to our roots and rediscovering who we are while still pushing our boundaries. Through each song, we've attempted to create music that resonates with our history as well as the musical spirit of our generation."
The album includes combinations like "Without You" with "Teri Jhuki Nazar," "Sunday Morning" with "Main Rang Sharbaton Ka," "Tonight I'm Loving You" with "Dilliwali Girlfriend," and more.
It must take a whole lot of effort and planning to make sure the tunes of these songs not only match well but actually, creatively produce a whole new song. Members of the group said a lot of brainstorming is involved, especially amongst the music committee. "At the end of the day, anyone can suggest a
"At the end of the day, anyone can suggest a mix idea, but we think hard about what styles we haven't covered recently, certain artists we would like to cover, as well as musical and lyrical fit, before making final choices on which mixes we move forward with."
Their choice to do these fusions was inspired by the idea to represent their identity.
"Many of the people in our group are Indian-Americans, and we have grown up listening to music from Hollywood and Bollywood. We wanted to represent that," they said.
Penn Masala has released eight albums before "Resonance," performed for President Barack Obama at the White House and for prominent personalities like Ban-Ki Moon and Mukesh Ambani. They had a cameo in the 2015 hit "Pitch Perfect 2" as an a cappella group against the Anna Kendrick-Rebel Wilson starrer. In fact, their Hindi version of "Any Way You Want It" was not only the soundtrack for this film but it also won the best soundtrack at the American Music Awards last year. The group has also won numerous other accolades and awards. Their incredible success reflects greatly on the South Asian community in the U.S., especially since they have had 20 years to grow and achieve.
"We think our journey represents the successful integration of both cultures in our personal fabrics, and that of South Asians overall," they said. "We have been able to maintain this interesting balance between the two cultures we grew up in, which mirrors the journey of many of our South Asian peers. What makes us stand out is the unique way we showcase this balancing."
However, in the mid-90s, starting an a cappella group comprised of South Asians and wanting to represent that must not have been an easy feat. When they first launched, the group…
"Was simply four guys wondering if they could bring English and Hindi music together through a cappella," they said. "We don't think that anyone could have imagined the kind of success we have achieved, and we are blessed that our founders laid such a solid framework for future generations to achieve this success."
They believe some of the toughest challenges were ones that any group just starting off would face: gaining traction and staying motivated. Luckily, they also think that their founders did not at all lack motivation, and they used all of the resources they had to try and gain some traction at their first show in DC.
"Everyone in [Penn] Masala can tell you about the story of how the founding members finished their show and went dorm to dorm afterward to sell 300 cassette tapes. It's that resourcefulness and intense passion for the group that led to where we are today," they said.
The 15 of them make a talented group, but individually too, each of them came to study at UPenn with their own dreams and aspirations. To come together despite that for the love of music is what connects them all.
"Although each member likes different genres and styles, the core love for music brings us together since the group's music naturally brings together different genres and styles. Equally (if not more) important, however, is the brotherhood. We are all proud to say that we came for the music, but stayed for the brotherhood," they said.
The group, currently finishing their tour in the U.S. with a rock solid performance at New York University last week, enjoys the surreal experience of touring and sharing their music live with their fans.
"Most of our fans are definitely South Asian," they said, "but we have some diverse fans from around the globe too—it's really cool to see!"
More so, the group said they are really pumped for their upcoming tours in the motherland.
"We have been to India a couple of times before, and on each tour, it was truly awesome to interact with so many fans that we do not see regularly. We have no idea what to expect besides a lot of music, food, and fun!"
---
Saloni Gajjar is a recent alum of NYU's Magazine Writing Program. Her passion lies in pop culture writing, as is evident in her work with magazines like Marie Claire, Interview, and Complex. Her goal is to show the arts as a medium and mirror of the society, much beyond just entertainment.