by Harjas Singh by Sandeep Panesar – Follow @PanesarSandeep
The most anticipated date-night of the year is FINALLY upon us: Valentine's Day. Now, there may be some guys and girls who are STILL scurrying for last minute gifts, reservations (oops!), and bouquet arrangements — it happens! But, if there's something that doesn't belong in the infamous Last Minute Club (yup, I made it up just now, and you can shamelessly jump on board), then it has to be your date-night outfit. Or, should I say outfitS?
[Read Related: 3 Sexy Outfit Ideas to Help You Turn up the Heat this Valentine's Day]
Valentine's Day is a time to celebrate the love you share with your partner. It can also be a great way to show the world the love the two of you have for fashion! This year, I encourage all couples to go the extra mile and have your outfits complement one another's for a night on the town — just don't step out in matching bright pink leotards!
In case you're strapped for ways to bring together the perfect His & Hers outfits, I've got you covered. It's so easy to play with colors, cuts, and accessories when figuring out how to deliver total #couplefashiongoals, and here's a bit of inspo to get you started.
Look 1: Velvet? Check!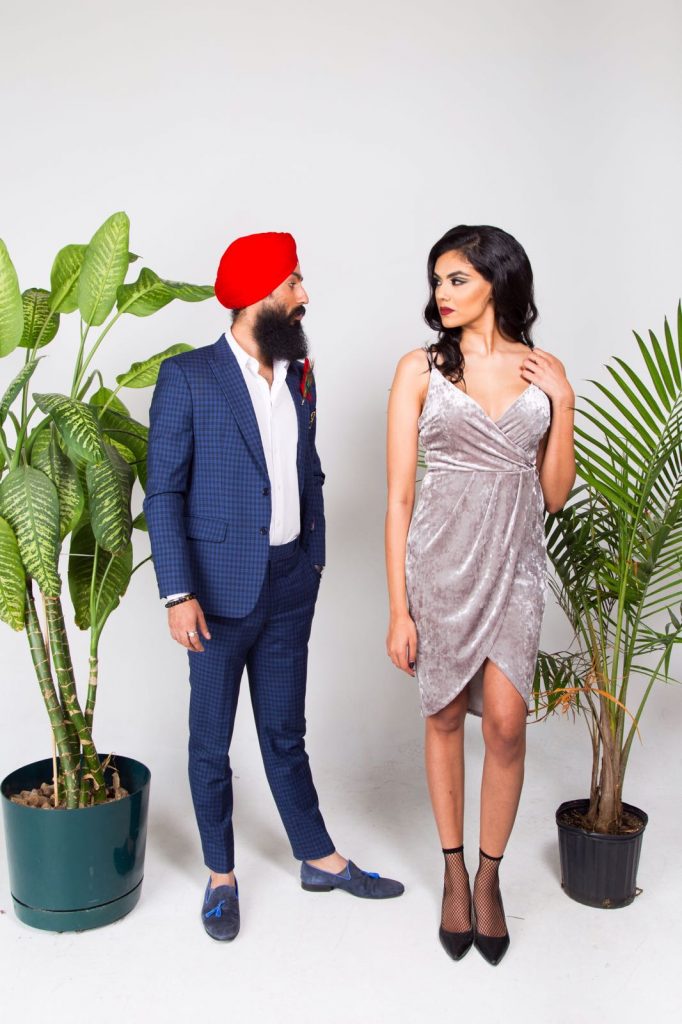 With velvet being all the rage, the leading lady in your life can't go wrong with a tulip cut dress in this cozy-yet-classy material. The beige is the ideal color to pair with a vibrant red lip to give you all the rosy and rouge Valentine's Day feels!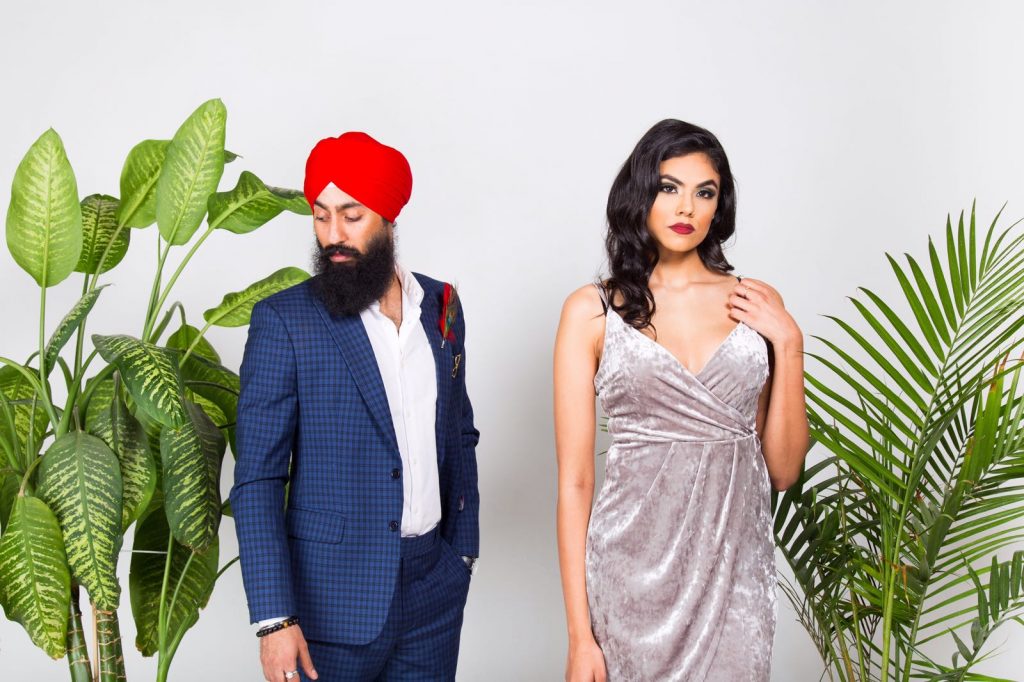 The blue checkered suit for the men makes for a win-win situation. The checkers add the perfect dimension to what can be an otherwise plain coat and pant. The red pugh adds a fiery touch, and not to mention the ultimate accent accessory: the peacock feather. Don't have a peacock feather? Don't sweat it! A red pocket square and a matching red lapel pin are a timeless, and classy, alternative!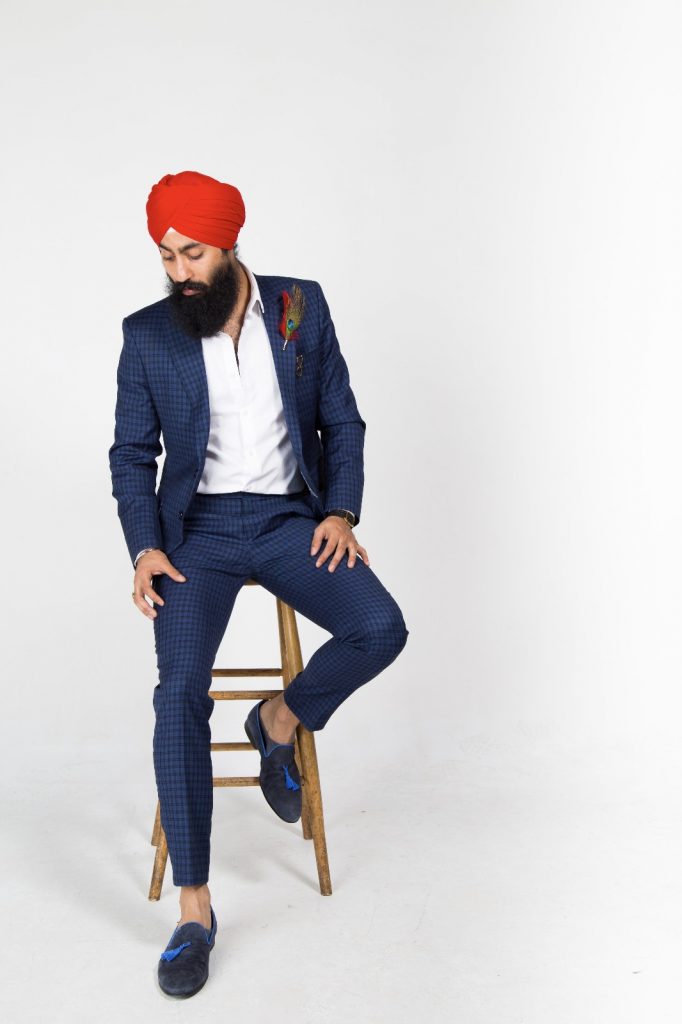 Both are dressed to the nines, and there's no regret about it!
Look 2: Simple and Solid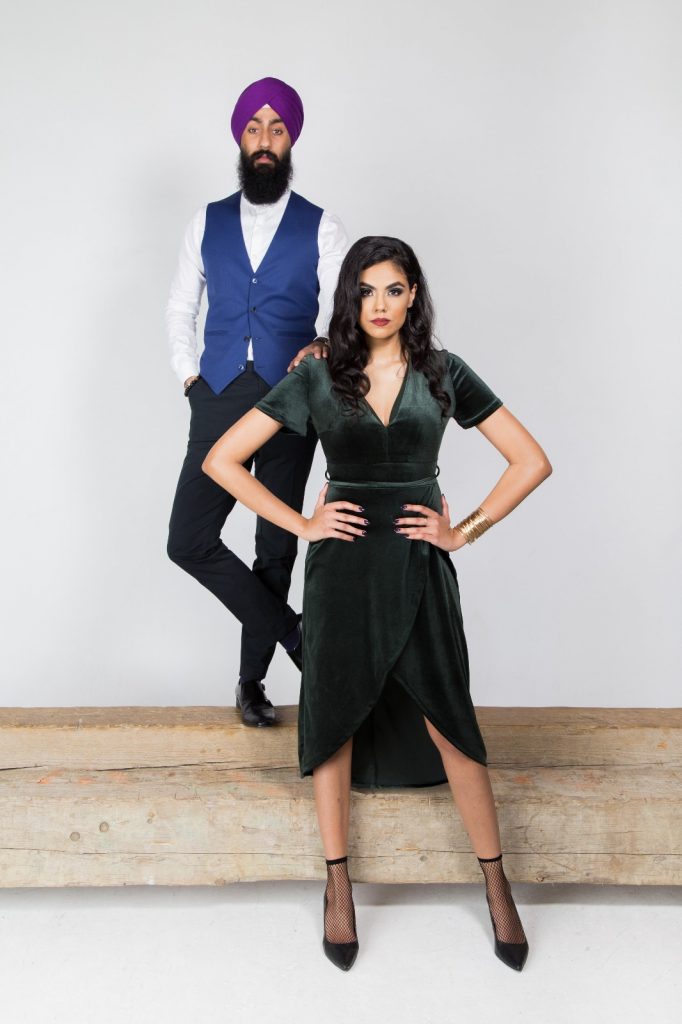 Solids don't have to be boring, nope! A deep green dress never looked so good with a berry lip and gold accessories. Now, add in that purple pugh and blue vest to the mix, and you're a match made in heaven. The earth-like tones are a good way to add newness to Valentine's Day which is usually all about the pinks and reds!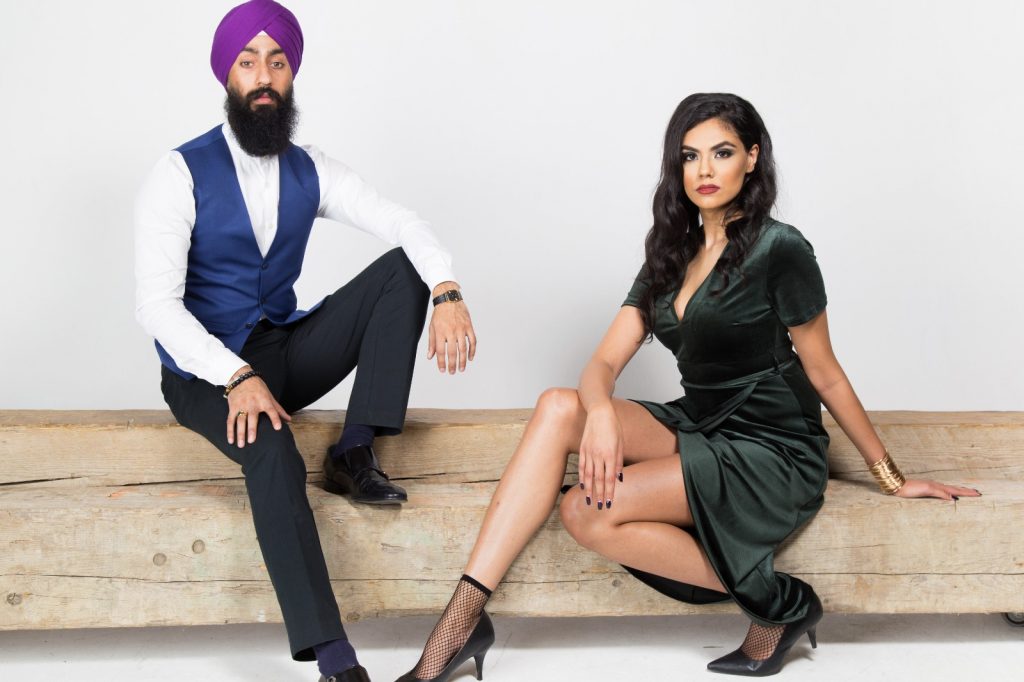 The best part about these ensembles is the simplicity — carry them with poise and grace. Your Valentine's Day looks don't have to be complicated to be noticed!
---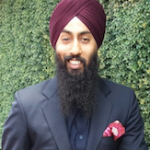 Styled By Harj is a Toronto based Fashion Blogger, Consultant, and Personal Stylist. Growing up in such a dynamic and fast-paced city, Harjas fed off the different cultures, personalities, and fashion to develop and embrace his own personal style. Harj uses different social media outlets, including his own website and blog and engage with a larger audience, display his talents, provide style tips and tricks and most importantly express his artistic side in a way he did not think was possible. Hope you enjoy!
---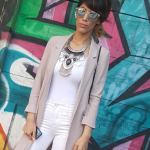 Sandeep Panesar is an editor, and freelance writer, based out of Toronto. She enjoys everything from the holiday season to the cold weather, and the warm beverages available in the winter months- a true Canadian, eh? When she's not binge-watching her favorite Bollywood movies, or sipping on tea and gorging on pakoras (or Timbits), she's keen on highlighting the pulse of community issues through her writing assignments. Sandeep is driven by her passion for fashion and writing, and uses both as catalysts to express her individuality; she's an avid believer in the power of the word.