Ever since his debut in "Slumdog Millionaire," Dev Patel has given us incredible performances in fascinating films, back-to-back, and this time around seems to be no different. After his stellar performance in "Lion," Patel is back to gracing our screens with "Hotel Mumbai," another drama based on real events that will have you on the edge of your seat.
The trailer for "Hotel Mumbai" dropped on January 9; the film is based off of the real-life events that took place during the 2008 attacks in Mumbai. In November 2008, Mumbai was bombarded with shootings and bomb attacks across the city by a terrorist group. The streets of Mumbai were full of people fleeing for their lives, and more than 170 people lost their lives, with more than 250 injured.
One of the main locations of the attacks was the Taj Palace Hotel, where six bombs went off. It was a frightening time for the entire city, and "Hotel Mumbai" gives us a small glimpse into the lives of those affected at the hotel.
Directed by Anthony Maras, known for his short films "The Palace" and "Azadi," "Hotel Mumbai" stars Patel, Armie Hammer, Anupam Kher, Nazanin Boniadi, Jason Isaacs, Suhail Nayyar and many more. The movie portrays Patel as a Sardar who works for the hotel team under the head chef played by Kher. The staff is getting ready for the day when news of the terrorist attacks breaks. Before long, the terrorists have taken the hotel under siege and it is now up to everyone, staff and guests alike, to help keep each other safe.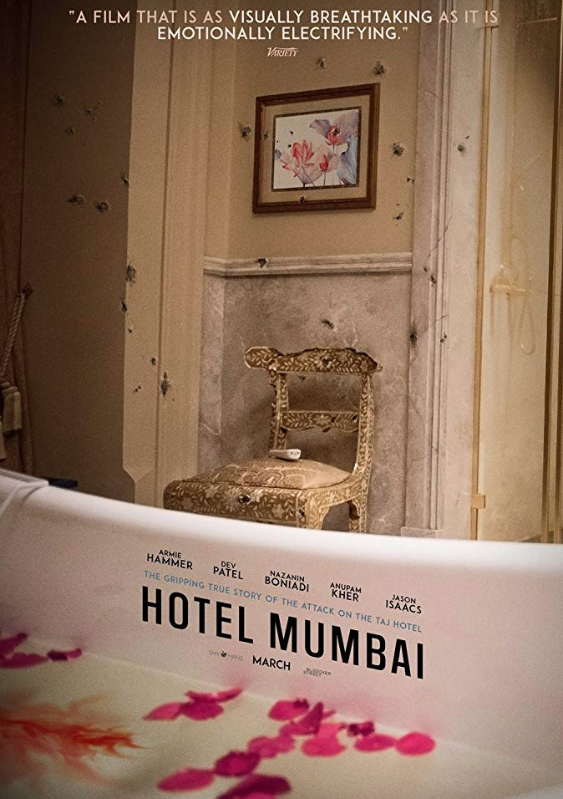 The film originally premiered at the Toronto International Film Festival in September 2018 and received rave reviews. Before it's official release, it's already got a "fresh" rating on Rotten Tomatoes from critics, and 96% audience "want to see" rating.
The Hollywood Reporter said about the film,
Going to great lengths to depict, in nail-biting detail and with an impressive you-are-there quality, the terrorist attacks that targeted Mumbai and its legendary Taj Mahal Palace Hotel back in 2008, director Anthony Maras' feature debut truly covers the event from all angles: the wealthy guests whose holidays transformed into a collective nightmare; the hotel staff who bravely stuck around and risked their lives; the cops who were overwhelmed by an unprecedented crisis; and the terrorists themselves, who mercilessly gunned down the innocent for a cause they too would die for.
The "Hotel Mumbai" trailer is full of action and suspense, and we only hope the film will be a gripping, yet beautiful human tale of strength in a time of fear, rather than a film that exploits that fear.
This one is going to have us biting our nails and peering through our fingers, but we won't be able to look away. "Hotel Mumbai" releases March 22, and it really can't come soon enough!