by Azra Siddiqi 
The following post is summaries of 'Radio Azad' episodes: 'The Phobia of Muslims' and 'Sway to the South Asian Tunes.' The opinions and dialogue below are of the author and do not necessarily reflect the official views or political position of Brown Girl Magazine.
How can Muslim-Americans and South Asians do a better job of combating racism in America? 
On my first podcast, I discuss the need for South Asians to become more involved in the political process and local elections. When politicians see us taking part in the political process, that is when they will notice us!  We must vote during local elections, attend town hall meetings, and begin meeting with our legislators. It is the only way to combat the hate. 
Other things to consider for this election season:
Even though lots of the primaries are over, some elections have runoffs coming up in May. Be sure to check if your county has any!

Let's start researching candidates up for election. November isn't too far away!
In that vein, tell us:
Who do you want to hear from?
What are some of the political issues you'd like to learn more about?
'Sway to the South Asian Tune'
After starting my political podcast on 'Radio Azad,' I realized there is very little data on the South Asian community regarding American politics and policies.
So, I conducted a political survey to identify what matters most to us in this upcoming election and what policies we need to educate ourselves on. In the podcast, I did a basic overview of the hottest topics, but on my blog, I go into further detail on each question.
I had 144 complete responses. These were split about evenly between males and females, and the majority of the responses were in the 30-49 age group, followed by 18-29-year-olds, then 50-69-year-olds, and a few who were above 70 years old. 
I based the majority of my questions on surveys administered by The Washington Post, The New York Times, and the Brookings Institute that asked the general public about major policy issues for the 2016 election. 
Tune into the podcast or check out my blog post for the results of the American South Asian political survey.
Overall Thoughts
For many South Asians, Islamophobia is a major concern this election cycle.

I wish I had included some questions regarding student loans and campaign finance since many respondents voiced concern over those issues.

Several responses took issue with the lack of political knowledge and civic engagement in the South Asian community. (

I completely agree, and I hope that my segments on 'Radio Azad' are educating more of our community on these political issues.)
Upcoming Topics
Veterans' issues

Healthcare (difference between ACA and Single Payer healthcare)

Campaign finance

Climate change

Criminal justice reform

Immigration reform
---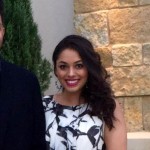 Azra Siddiqi is an attorney who is passionate about politics and currently working on legislative policy for the great state of Texas. She is also hosting a podcast on Radio Azad regarding the 2016 elections and the impacts the South Asian community can make. She wants people to realize that learning about politics is an investment in your and your children's futures. Join her on this quest as we navigate and understand the intricate process of American politics. During her free time, she enjoys traveling, reading novels, trying new restaurants, and cheering on the Longhorns and Cowboys! You can also check out her political blog, Facebook, and Twitter pages! #WiseUp