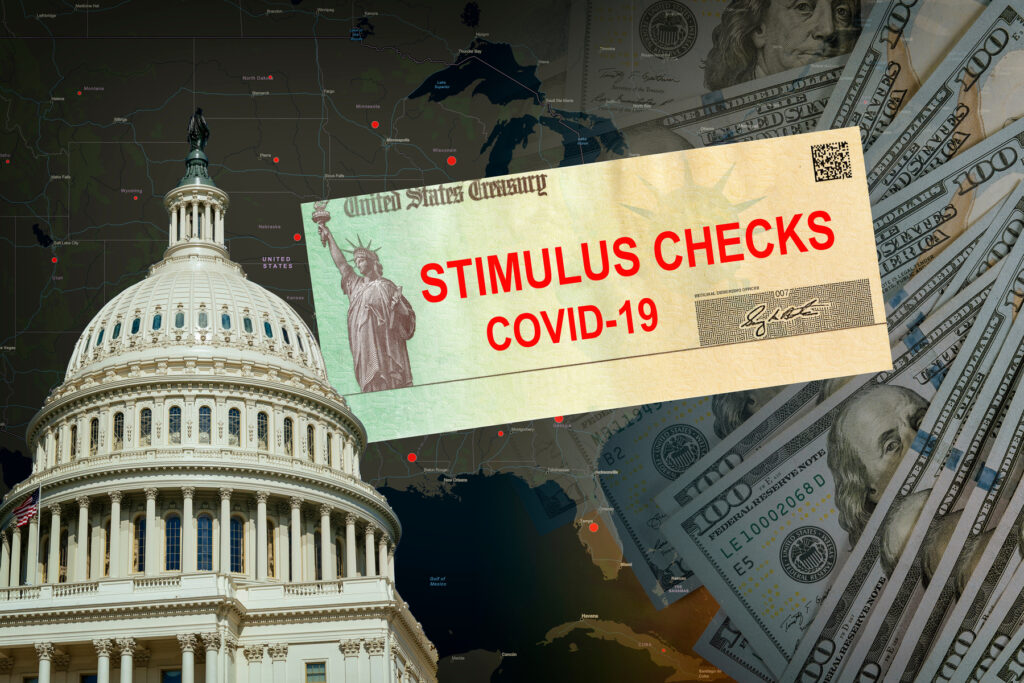 Many Americans received two stimulus checks in 2020 and into 2021 as part of the federal government's coronavirus relief program. President-elect Joe Biden's relief plan proposes a third round of checks of $1,400 each; however, the third check could take months to arrive due to expected pushback from Republican legislators and additional time for the IRS to distribute the funds. 
While the stimulus checks were expected to spur increased consumer spending and jumpstart the economy, many recipients actually used the checks to pay down debt or build up their savings instead. The National Bureau of Economic Research (NBER) reported that of the first round of $1,200 checks, U.S. households spent approximately 40%, saved 30% and used another 30 percent to pay down debt. Even in lower-income households that could not cover an unexpected bill equal to their monthly income, stimulus check recipients were likely to use the money to pay down debt and did not have any greater propensity to spend the check than in higher-income households. 
The NBER report found some differences in stimulus check use across demographics, including that larger households spent more of the money, younger and more educated households were more likely to save and those who were out of the labor force or lived with parents were more likely to spend. While African Americans surveyed were more likely to use most of their checks to pay down debts and Hispanics were more likely to spend, the report did not find statistically significant results for Asian American stimulus check use. The report also did not include a dedicated category for those who donated their checks, though many recipients opted to do so in order to assist others suffering disproportionately from the pandemic's impacts.
While the aggregate data remains limited regarding Asian American stimulus check use, Brown Girl Magazine asked some South Asians what they did with their stimulus checks. 
Sachit G.
Sachit is an actor and filmmaker who is spending his stimulus check on clothing from various small brands he connected with through social media.
"I thought it'd be a good way to help small businesses during this time. I'm an actor and filmmaker so I will be wearing their clothing pieces in my upcoming video projects as a way to advertise for them," Sachit said.
He plans to release a video in the coming month featuring his purchases on his Youtube channel. He will feature brands like Amandla Apparel and EUMELANIN, Black-owned businesses based in Detroit, and South Asian-owned Saffron Lane Co and Modern Desi. He received his check via direct deposit from the IRS.
[btx_image image_id="83252″ link="/" position="center"]Sachit G. wears a shirt from Indian brand Saffron Lane Co., which he purchased with his stimulus check.[/btx_image]
Shefali P.
Shefali works in law enforcement and plans to spend her stimulus check on a 2022 trip to Antarctica. Like Sachit, Shefali wanted to support businesses that have been affected by the pandemic.
"I'm looking forward to spending my stimulus towards travel. The industry has been crippled due to the pandemic and lots of people have lost their source of income," Shefali said.
She also received her check via direct deposit. 
Sagarika D. 
Sagarika is a graduate student whose prior and current financial situation qualify her for the stimulus checks. However, she has yet to receive either payment.
"I've been calling the IRS to figure out what is going on and I really don't have clear answers. I now have to claim the check in my tax paperwork this year. If I ever do get the money, I honestly am going to put it into my savings account immediately. I moved back home and don't have to pay rent right now, which is what it would've gone towards immediately otherwise," Sagarika said.
While she describes her situation as "privileged and fortunate," she expressed concern for others who also did not receive the payments they are owed and may experience irreparable harm as a result.
Tina L. and Aysha Q. 
Tina and Aysha, breaking news and politics editors here at Brown Girl Magazine, both received stimulus checks this year and plan to donate the money to charitable causes.
"I honestly wasn't expecting a check but since it is based on your 2019 tax return and I didn't have an income then because I had just graduated from law school, I got one. I don't need it now and especially since I'm saving so much money by temporarily moving back in with my parents," Tina, an attorney, said.
Aysha, who is a full-time journalist at Daily Kos, plans to donate her check to the Thaakat Foundation, a nonprofit organization that focuses on education and sustainable development.
The COVID-19 pandemic has hit the South Asian community in the U.S. particularly hard. A report by South Asians Leading Together (SAALT) details its impact on South Asians in various urban centers across the U.S., highlighting issues like domestic violence, immigration complications and unsafe working environments. South Asians are four times more likely than the general population to have underlying conditions that make them more susceptible to both contracting and dying from COVID-19. In addition to the social and health complications, the South Asian diaspora has also been affected by pandemic-induced economic hardships that have impacted the country more broadly. Stimulus checks are just one tool in the fight against the pandemic's effects, and the Biden administration will certainly have miles to go to ensure that individuals and businesses get the help they need to weather the rest of the storm.