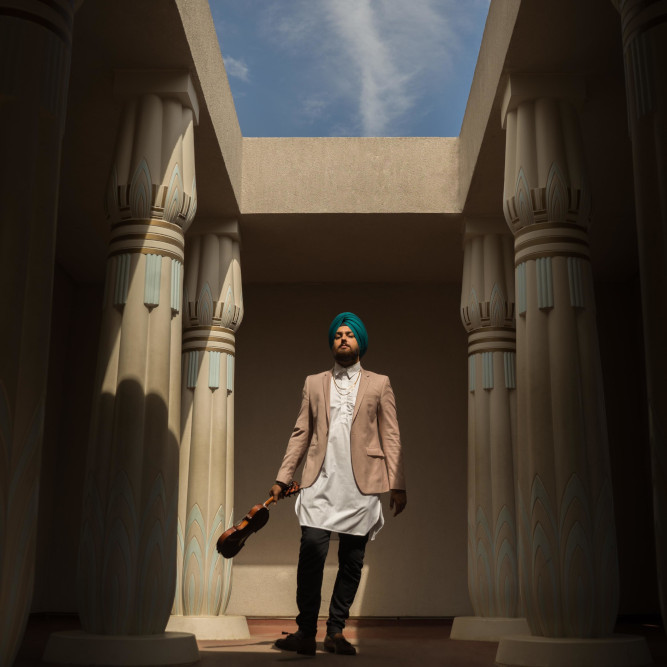 Raaginder Singh Momi is a 25-year-old musician from the San Francisco Bay Area. Trained in the Western and Eastern classical traditions, Raaginder implements improvisation, rhythmic patterns and the sounds of Indian Classical music on a modified five-string violin. Raaginder has brought it upon his violin to experiment with different genres of music such as hip-hop, pop, and more. He studied at the California Institute of the Arts (CalArts) where he received his BFA in World Music Performance. Today, Raaginder performs around the world, teaches, and composes music for various projects across many genres.
"My name is Raaginder. I am a violinist, composer, sneakerhead, avid basketball fan and once an immigrant. I was born into a family of musicians in Bangkok and moved to California a month before 9/11 happened. Although I had moved around in Thailand a few times, eight-year-old me had no idea what was in store once I made the move to a new continent. I knew English pretty well and knew how to play basketball so I never thought it would be a big deal. However, once the move occurred, my Thai-Indian English accent ended up being the butt of everyone's jokes and my physical identity became subject to racist attacks on a daily basis. I desperately needed an escape. Something to connect with the kids at my school and the people in my community. They say music is a universal language and music ended up being what connected me to everyone in this new country. Luckily, I had music instilled in me since birth so I knew a thing or two about it; it's what ended up being my saving grace.
https://www.instagram.com/p/BVBBY_Oh4IK/?hl=en&taken-by=raaginder
The neighborhood I lived in and the school I went to was primarily Latino and Black. Due to that, the first genre of music I was drawn to when I moved to America was hip-hop. Hip-Hop was the gateway for me to be relatable to the other students. Everyone around the school knew all of the hits word for word and I started picking it up as well. I know it was a shock to many kids around me that a little-turbaned boy from Asia listened to rap on the regular. Around the same time, I had started to learn the violin (in the classical and Indian classical tradition). Although Indian classical violin was completely left field from hip-hop, they both instilled resiliency and confidence in me which allowed me to defend myself and be comfortable in my own skin. What started as a tool to connect with others, ended up becoming my identity over the years. It got to the point where a couple of my friends started calling me "Violinder."
https://www.instagram.com/p/BfUR0-SB-64/?hl=en&taken-by=raaginder
Since then, it's been a privilege for me to contribute to these particular genres. My main intention in creating art is to provide listeners and myself an escape. In my music, I try to establish an environment of different emotions for a person to interpret. I try to tell my stories through melodies. My goal is to convey feelings that can function as an outlet for one's realities. I have an EP titled 'Escape.'
I intended for this EP to feel like a palette of emotions. Every song is a personification of the human experience and the journey we call life. There are various themes such as unity, love, and bravado that I've experienced and poured into this music.
https://www.instagram.com/p/BUNykhoBxFh/?hl=en&taken-by=raaginder
Furthermore, I have also attempted to bring life to South Asian history through my music. I've had the opportunity to develop an original score for a dance theatre play titled 'The Parting. 1947 Revisited.' This play dove deep into the very real stories of the partition of India and presented it through dance, acting, music, and multimedia. This score mirrors real-life events of the time such as unity amongst pre-partition religious groups as well as dark events such as train massacres, communal violence, and refugee displacements.
Through projects like these, I want to create a space in which one can experience history, heritage, and life not just through a single lens but through that of many perspectives. The culmination of my music still traces back to that eight-year-old culturally shocked boy who had no idea music was going to be my connection to the world. I feel blessed that the 'tool' that the eight-year-old me used to connect with classmates has become my voice today."