The heat of the once frozen pizza emanated steadily onto my lap. It was snowing for what felt like the millionth time of my senior year of college in upstate, New York. I wrapped myself in three layers of blankets, eyes glued to my laptop screen. I researched, in a repetitive action that now occurs around every six months of my life: Indian indentured laborers in Trinidad, Indian immigration ships and Indian indenture ship recorders.
I spent hours until I called it quits, convinced that there was no way to trace my ancestry to India. 
Between the years of 1845 and 1917, 144,000 Indian indentured laborers were brought to the Caribbean islands of Trinidad and Tobago. Under British rule, they worked at the sugar cane plantations following the abolishment of slavery. Many were illiterate, signing their papers with their thumbprints and some, bearing their assigned numbers, tattooed on their bodies. My own grandfather still has an identification number on this forearm. Of those 144,000 Indians, four were my great grandparents. Two of which, met on their ship. 
My parents immigrated to the United States during the winter of 1994. It was their first real winter and the worst NYC had seen in years. They spent the holidays slipping and sliding in the only boots they owned, cowboy boots. By the time I entered the school system we had moved to Long Island and I spent most of my teenage years claiming only half of my identity, branding myself as Caribbean over Indian. It wasn't until I was in college when I really questioned why I did so and tried to trace our family to India. 
I wanted to know something, anything about them, but there were unique roadblocks that stopped my progression. First, I didn't know my grandparents' or great-grandparents' real names. My maternal grandfather's first and last name had been switched and no one knew the real names of his parents, as people referred to elders (and still do) as nana, nani, mousey and so on. The second issue I faced was illiteracy. There were no documents or written records as my grandparents and their parents could not read or write. And, since marriage was not legalized for Indians in Trinidad until 1945,marriage certificates did not exist.
So there I was, January of 2017, in my studio apartment which overlooked the main street of Cortland, NY. Once again frustrated by the limited information I had about my ancestors, I longed to be connected to my culture. It was that night, thousands of miles away from my parents' home and the home of my ancestors, when I came across "The Humming-bird Tree." The movie, based on the novel by Trinidadian author, Ian McDonald, depicts Trinidad and Tobago in 1946, when voting privileges were newly extended to black Trinidadians, descendants of slaves, as well as Indian Trinidadians, descendants of indentured laborers.
The story line follows Alan, a young white boy who prefers the company of Kaiser and Jaillin, two young Indian children who work for this family. Yes, the main character is a young white male who is oblivious to the implications of his actions, even in adulthood – but it's all we have, you know? Flooded with images of Jaillin washing the white families clothes, cooking food and cleaning the home, I watch Jaillin peak through the window to get a glimpse of Alan's birthday party and how she fetches a fresh coconut for Alan when he visits her village. She calls him "Master."
The coldness of my apartment eludes me. I am immersed in images and visuals of sugar cane fields and ripe mangoes, so juicy I can feel its sticky liquid race down my arms.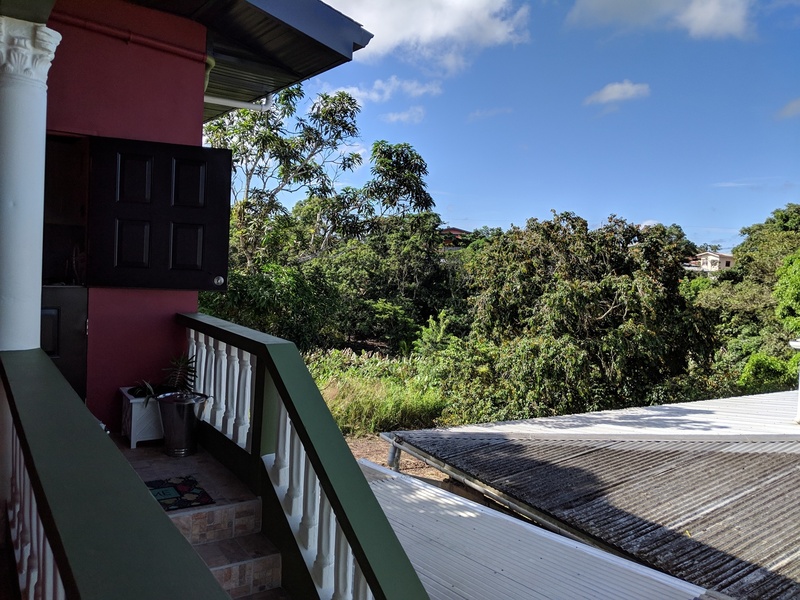 I watch the village scene where Kaiser plays cricket on the village ground, resembling the cricket ground of my own family's village in South Trinidad. Kaiser yells at his sister for lifting her skirt and wiping her face, he tells her that white women never do that. I cringe. Jaillin angrily asks Alan if he would be ashamed to be Indian. "In India there are Indians white like you," she tells him. It hits me that Kaiser and Jaillin speak about India as if its a mythical place. The feeling resonates, to belong somewhere you have never seen before. 
I get nervous when Jaillin and Alan, still children, go for a night swim alone. It's the ending of their depicted childhood. Kaiser is sent to a Catholic school and Jaillin is left behind, later becoming [spoiler alert] a sex worker. "It's true, I hate the white man," she later tells Alan, all grown up. 
I cried, sitting alone in the dark of my apartment. I thought of the women Jaillin represented, the black and brown women whose bodies had been [and still are] capitalized, sexualized and abused by colonialist white men. I thought about young Jaillin, her eagerness to learn and accept and the absence of freedom in her life. I also thought about my grandmother who was married at age fourteen and the many women in my family who lived through their fair share. 
Sometimes you don't need names or dates to feel connected to your family and your heritage. Connections can be made through storytelling, literature and the lives of others.  On that snowy night in New York, even though I was years and miles apart, I still found the warm, island connection I was longing for. 
---
The opinions expressed by the writer of this piece, and those providing comments thereon (collectively, the "Writers"), are theirs alone and do not necessarily reflect the opinions of Brown Girl Magazine, Inc., or any of its employees, directors, officers, affiliates, or assigns (collectively, "BGM"). BGM is not responsible for the accuracy of any of the information supplied by the Writers. It is not the intention of Brown Girl Magazine to malign any religion, ethnic group, club, organization, company, or individual. If you have a complaint about this content, please email us at Staff@0mq.349.myftpupload.com. This post is subject to our Terms of Use and Privacy Policy. If you'd like to submit a guest post, please follow the guidelines we've set forth here.