by Zunera Mazhar – Follow @ZuneraSerena
This winter, thanks to the many snow storms, I spent a lot of time indoors next to our fireplace with a warm blanket and comfy sweater. I have always been a little too sensitive to cold, so even now, I like big, cozy, colorful sweaters and puffy jackets. In college, I remember not even taking off my jacket in class because I was just too cold most of the time, which has carried over into my professional career too. Once I get to work, I wait at least an hour before I think it's warm enough for me to start taking layers off.
While I enjoyed pairing the sweater-ensemble below, now is probably the last couple of weeks we can wear big, cute sweaters. So, enjoy it while you can and don't forget to add a pop of color to your outfit, like this coral, loose cardigan sweater!
I look forward to the warmer months when big, comfy sweaters will be obsolete. Until then, check out my blog for daily fashion inspiration.
Shop the same or similar look here:
[Sweater – Sheinside]
[Top – Sheinside]
[Skinny Jeans – Similar here 40%off]
[Pumps – Aldo]
[Bag – Celine]
---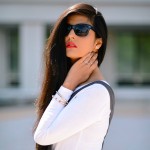 Zunera Mazhar is the highest earning fashion blogger in Washington D.C. Her blog, Zunera & Serena, is about fashion, inspiration, confidence and she occasionally includes photos of her five-year-old fashionista, Serena! The blog has been featured on ABC, FOX and she is a featured guest on CNN. She has worked with some of the top designers and retailers in the fashion industry and is the international brand ambassador of "Labels." She contributes/writes for Self Magazine, AOL's Stylelist. and POPSugar. When she is not blogging, she works as a program manager for Refugee Asylum and International Operations for the U.S. Immigration Services.