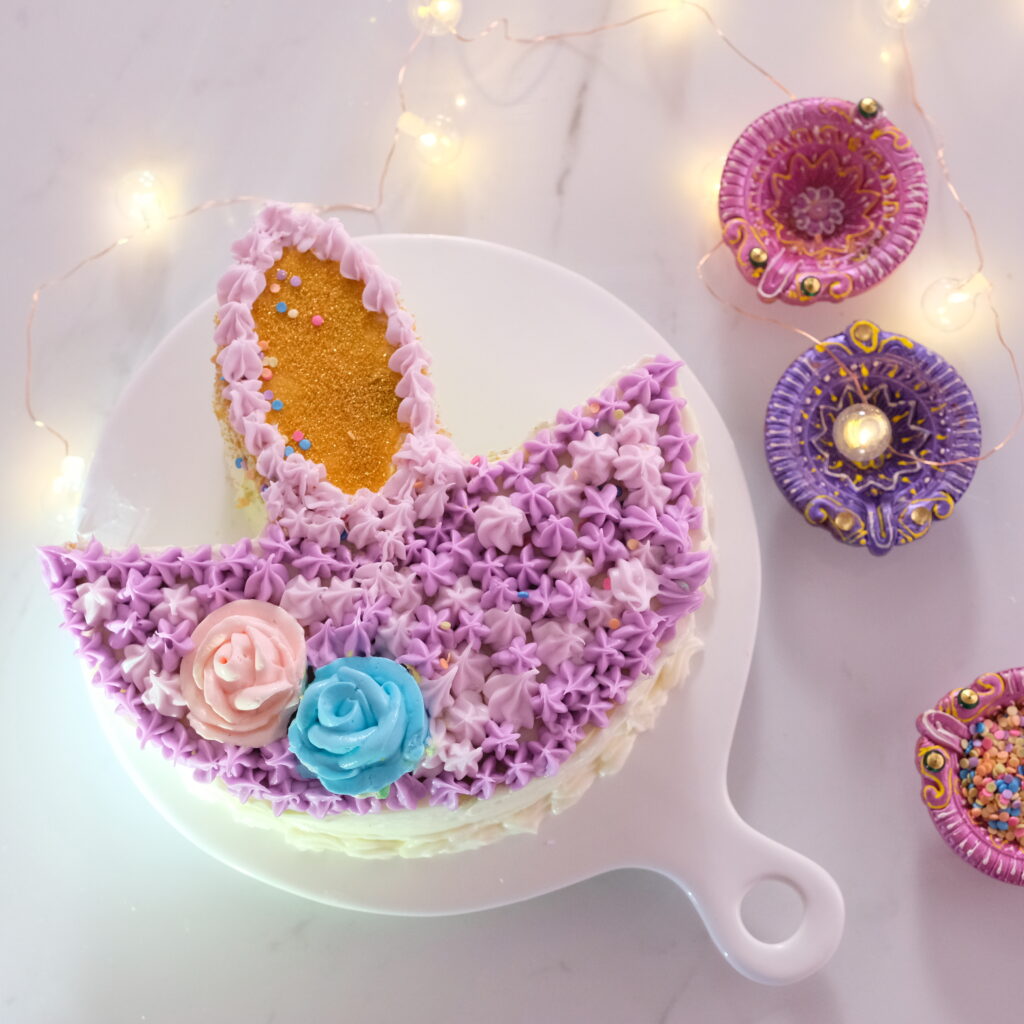 Okay, I have a confession to make. As much as I love cooking elaborate meals, I can't bake a dessert to save my life. What I can do though, is take a store-bought dessert and reinvent it.
This has basically been my strategy for all dinner parties since the beginning of my adulting days. This year, we won't be able to host our annual Diwali dinner party due to the pandemic, but I still wanted to plan a special meal and dessert for our family, and that's where the diya-shaped cake comes in. This is such a simple hack, you can do it in about 30 minutes, and it's a great one to get the kids to help with.
Notes:
I used an 8" round cake, and it works out to a good size serving for up to six.
Try to pick a cake that doesn't have too much-coloured icing or writing on it.
Take the cake out of the fridge 15-20 minutes before you start the process so that the icing is soft enough to work with.
Don't throw away the extra cake. Turn into cake pops or bites!
Ingredients & Tools:
Store-bought round cake. (Round works best for creating the diya base)
Wax or parchment paper for your diya template
Extra decorative touches like sprinkles or candy
Extra icing as needed, store-bought is fine!
Directions:
Remove the extra icing from the top layer of the cake and save it. Try to keep any decorative flourishes so you can reuse them later. Keep icing and decorations in the fridge while you're working on the cake.
Use the lid of the cake container to create a circle template the size of the cake from parchment paper.
Once your circle is the right size, draw out a diya shape on the circle. Try to extend the base of the diya to the edges of the template so you don't have to cut off too much cake. You can print out a diya shape and use it as a guide, or draw freehand.
Place the diya template on your cake and cut away the excess.
Use the icing you removed earlier to smooth out the surface and cut sides of the cake (crumb coat). Put the cake in the fridge for 10 minutes.
Decorate to your liking!
Voila, there you have it. A diya-shaped cake just in time for your cozy, at-home Diwali celebrations.