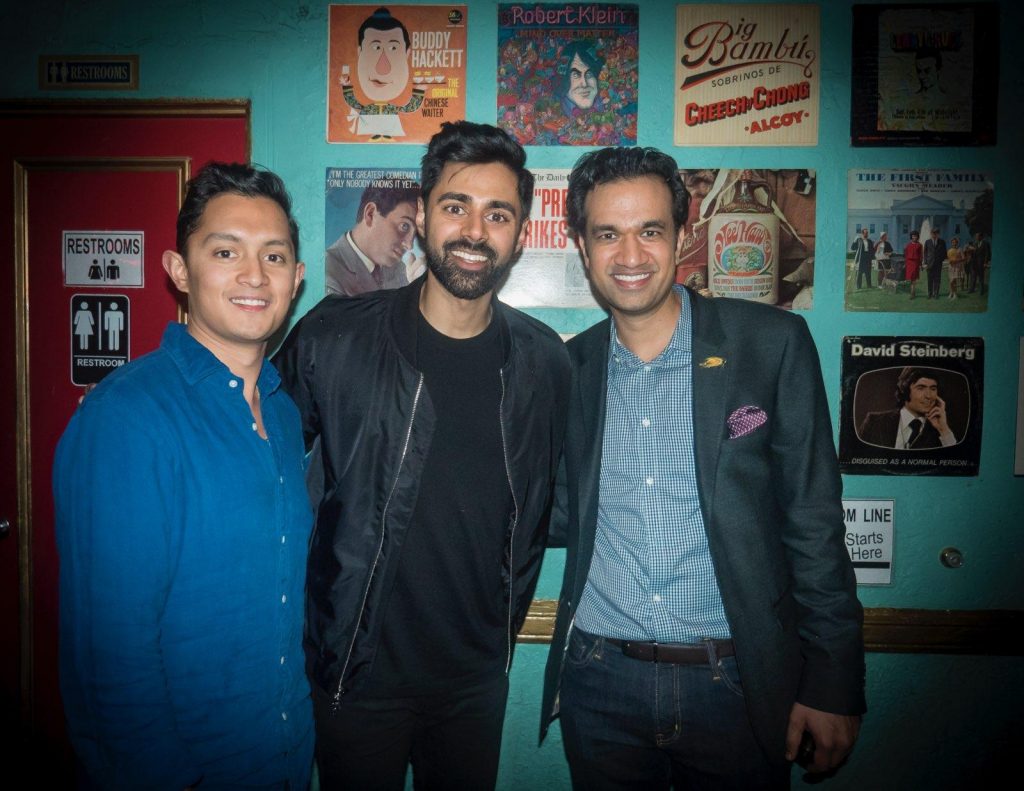 Anish K. Mitra and Sachin Bansal are blazing a unique pathway – they're corporate hustlers who have been living double-lives as comedians while hosting one of New York City's hottest stand-up comedy shows called The Surprise Show. Their upcoming show — taking place on Thursday, June 20th, is special because they're benefitting Sapna NYC, the city's only charity that focuses exclusively on South Asian immigrant women.
We sat down with Mitra ahead of the show for a Q&A that gives you more insight into their dual lives and what they do best — comedy. 
View this post on Instagram
We just checked your LinkedIn profile, and we're confused. Are you in the comedy world or the corporate world?
As odd as it might sound, we straddle both but soon, we'll only live in one and it won't involve (too much) Microsoft Office.

My family is from Kolkata and moved here in the mid-80's. I grew up in Queens and my parents were very academically strict (surprise, surprise). Most of my early life, I thought I'd end up as a lawyer, banker or do something that involved suits and business cards. After college, I started out in investment banking and reality set in pretty quickly. I realized if I was going to stare at a computer for 100 hours a week, I should probably stare at stuff I was actually interested in versus figure out how to fit a bunch of Powerpoint bullets someone else wrote neatly into a four-quadrant slide.

I met Sachin around 2014 and we had very similar backgrounds. He's a bit older than me but is a successful corporate lawyer. Like most folks that work at banks (whether they believe it or not), we knew something was missing in our lives. We turned to stand up comedy as a way to tell our stories on a stage and begin this new hustle.
Let's get into that. How exactly did you get into comedy?
I started performing comedy four years go in 2015 and Sachin started a year or so before me. In artist terms, that basically makes us four or five years old.

I can't deny the Bengali in me. I was always into language, public speaking and humor. I didn't play sports in high school and the only real competition I was involved in was either debating or things like Model United Nations (oh don't hate, you did it too). In college, I had my own newspaper column. Once things got more serious after graduation and I had to get a big boy job that entire part of my life vanished like a Snapchat and I felt empty and drained.

After a few years of working, I actually went to one of Sachin's comedy shows (was my first time at a show). I saw him and a few others do it and decided then and there this is something I need to try before I die. I haven't looked back since.
Who is Sapna NYC and what do they do?
In Bangla, sapna means dream. They are an amazing organization based in NYC that aims to transform the lives of South Asian immigrant women by improving physical and mental health and also expanding their economic opportunities.

I got involved a few years ago when they asked me to perform during their annual fundraiser which happens every fall. Since then, I've joined the board of directors and have gotten to know not only the directors and change workers but I met some of the women they've empowered.

I like their approach and focus. Their programs are backed by behavioral and scientific research and they hone in on three key things: health, economic empowerment and advocacy. In addition to obvious things like being conversationally competent in English, they do workshops on the most sensitive topics in our community, like mental health and battling obesity. Most of their work is based in the Bronx so they can have a direct impact on the Bangladeshi community, and you can learn more about their work here.

I want to bring more exposure to the organization now more than ever given the challenges immigrants are facing, especially our women. That's why we've chosen to dedicate the next edition of our comedy show, The Surprise Show, on June 20th to benefit them! 
View this post on Instagram
What is The Surprise Show? How is it different?
The comedy scene in New York City is gritty and it's near impossible to get quality stage time when you start out. To perform at a proper club, you normally have to do a bringer show, where a booker lets you do maybe six minutes of jokes after you bring, say, 10 people out on a Monday night at 6 p.m. (for $20 bucks each, not including drinks). We realized pretty quickly this wasn't sustainable, especially when the shows themselves weren't high quality — our friends deserved better if they were going to drop $60 (on a Monday).

We created our own show and envisioned a high quality product, like you know, a Dyson Super Sonic Hair Dryer. Even if the goal is simple, like 'dry my hair' or 'make people laugh,' we wanted to deliver an experience that was near Broadway quality. Hence, "The Surprise Show" was born.

Our show has three pillars: Quality, Diversity and Access. We selectively book both NYC's best up-and-coming talent alongside known regulars at The Comedy Cellar. Sachin and I generally don't resemble your typical comedians, to begin with, but we make sure every line-up has diversity from all perspectives whether it's race, gender or experience level. We're the only comedy show in New York City that delivers a variety act. We've had rock stars, magicians and even a juggler.

Lastly, our show is accessible to everyone! We keep it affordable and rarely have drink minimums. All the artists we work with are treated well and receive photos, videos and other assets for their performances.

In terms of the surprise, well you'll have to come by and find out. Many top comics have dropped into our show – we've been blessed to work with Jim Gaffigan, Hasan Minhaj, Judah Friedlander. If people have their phones out, it's usually because they're posting and not scrolling.  
What's going on June 20th?
We have our summer kick-off edition of The Surprise Show on June 20th at Hotel Chantelle in the Lower East Side kicking off at 7:30pm. This one is super special because all proceeds will go to benefit Sapna NYC and our entire line-up (aside from myself and Sachin) features the city's funniest female comics. We also have a solid variety act closing out the show and might have a special guest.

In terms of the line-up, we'll have Zubi Ahmed (1/2 of Kutti Gang), Leah Bonnema (featured on Gotham AXS TV Live), Amamah Sardar and Sheba Mason.

Dina Hashem will be headlining – she performs regularly at the Comedy Cellar and our variety act is the electric Chanese Elifé – she's from Harlem and her music is truly an experience worth feeling.
View this post on Instagram
The boys of The Surprise Show are excited to put on quality events for their families and friends while staying true to their culture and the values they hold dear. They embarked on this journey in comedy to take control of their destiny versus depending on the gatekeepers, who quite frankly, see us them as the outsiders.
So, there you have it, folks, Mitra and Bansal are proof you have to create your own path to see your dreams come true. Support their hustle and the nonprofit Sapna NYC on Thursday, June 20th here!