by Kanika Monga – Follow @DrKanikaMonga
Making a film about the partition of India is no easy feat. Gurinder Chadha takes on the challenge with "Viceroy's House," to relay the story of India's last Viceroy, Lord Mountbatten, and his months in India leading to the end of the 300 year old British Raj, with an incredible cast including Manish Dayal, Huma Qureshi, and Hugh Bonneville as Lord Mountbatten.
The delicate narrative, delivered from the perspective of the people, makes it heartfelt. From the Mountbattens who lived upstairs in the Viceroy's House, to the numerous hindu, sikh, and muslim employees that lived downstairs, the film effortlessly showcases the diverse points of view. In fact, the viewers get to experience the perspective of the various esteemed vistors to the house including Gandhi, Jinnah, and Nehru.
We must commend the actors for a superb job of portraying their characters. Dayal, as Jeet, and Qureshi, as Aalia, showcase the story of two innocent lovers set against the backdrop of a nation torn apart. The direction of the film was easy to follow making the scenes extremely clear. Even though the subject matter is highly sensitive the film leaves the audience with a sight of the largest mass migration in human history.
Brown Girl Magazine recently spoke with Qureshi about her portrayal of Aalia in which she is the assistant to the viceroy's daughter. Qureshi also provides insight on her journey through Bollywood and experience with body shaming.
"This is not a love story just about attraction. It is deeper than that. It is about two people sharing ideologies, and humanity. She [Aalia] has a duty towards her father but she represents a very strong female character who is willing to defy others and stand up for what she believes in. "
The film is set in the Viceroy's House in Delhi and the events leading up to India's partition in 1947. The journey narrates Lord Mountbatten's process of transferring power from Britain to India.
The movie naturally transports the viewer to the aftermath of the imperial policy of divide and rule that preceeded the partition.
"The topic is still relevant today. All around us, on a daily basis, you hear the 'us versus them' mentality. Eventhough there is constant change in the world racism is still prevalent. I think we can learn a lot from history. Segregating is and has never been the solution. I hope that this film offers that lesson. It was an honor to have the film released at the Berlin Film Festival. Germany has seen the worst of it. I hope we never give in to that kind of hatred."
During the partition 14 million people were displaced, and up to a million had passed away in the process. Inspired by the political tragedy that had affected Chadha's family, the director vowed to make a film that spread the story of the people's partition.
Spending years researching, she came across the book 'The Shadow of the Great Game" by Narendra Singh Sarila, which detailed the finding of declassified documents, holding the British accountable for the events due to a secret agenda to secure the partition for the protection of interests in India and Pakistan. The team spend ample amounts of time researching, and preparing for the project.
"One of the first people I met in preparation for the movie was Jaya Thandani, the niece of the late Rajkumari Amrit Kaur. She was actually an interpreter during the British rule. I went to London to meet her. It was really wonderful beause she had lots of intertesting stories to share with me. I knew going into the project that it would be extremely important to learn the appropriate accent. That was essentual in my preparation."
Along with Manish Dayal, Huma Qureshi and Hugh Bonneville, the movie also stars Gillian Anderson ("The X-Files"), Michael Gambon — whom you may remember as Professor Dumbledore in most of the "Harry Potter" films — and Bollywood legend, Om Puri, who, sadly, recently passed away at the age of 66 .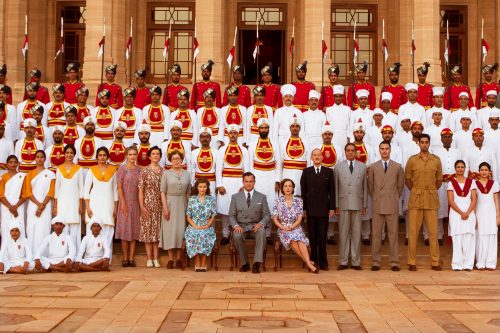 The actors, with their diverse backgrounds, collaborate to execute Chadha's vision.
"I like to mix it up when it comes to work. I've been so blessed to work with wonderful and creative people. I was approached by the casting director, and loved the script. I had not met Gurinder at that time. I instantly sent her a tape and luckily she liked it. I knew it was going to be an intense film. It's a story that has to be told with the heart. We are taught about history in our respective countries and realize that there are so many different versions. It was a very sensitive topic, and still remains one. The only way to tell the story is with great empathy. Each actor brought so much to the table and Gurinder is so specific about what she wanted from each scene. Her attention to detail was inspiring. "
Huma Qureshi is known for her versatile work, and breathtaking performances. From "Gangs of Wasseypur," "Jolly LLB 2," to "Luv Shuv Tey Chicken Khurana," she has proven her name in the industry and has received accolades from critics.
Without a connection to the Indian film industry, her talent has made it very clear that she is here to stay.
"I've always wanted to become an actress. I was shy growing up but my experience in drama allowed for me to become more open and confident in my path. A connection in the Indian film industry may help you get your foot in the door but without hard work, and talent there is no way to connect with the audience. So, I really believe in the work. Who I am today, is because I am an outsider. I don't want to fit in. I want to stand out. I really don't believe in short term gains, and I want to have a certain career that boasts of longevity. "
Kudos to Qureshi for being an inspiration for women all over the world by endorsing the mantra, "my body, my rules" and taking part in the #IShapeMyWorld Campaign. She has taken an active stance against bullies and voices the importance of good role models for young women.
In March, Levi's India celebrated women who have made their own rules, and broken stereotypes. The campaign raised awareness against 'body shaming,' during which they selected ambassadors, including Huma Qureshi, to represent the cause. As told by their marketing team, their idea was to focus on stories of self-made women achievers who have taken control of their own lives and shaped their own world.
"Girls are not commodities. We are not for other people's viewing. We are not objects, or animals. We have our own individuality. Who wants to blend in when you can stand out? It is not about being skinny, tan, fair, or curvy. It is important to be unique individuals and to be ourselves. Let women choose who they want to be. It is really sad when body shaming leads to people putting themselves at danger because of airbrushed notions. That is a very slavish mentality. We talk about equality at work all the time. It is very important to teach young girls to be comfortable in their own skin. I am a feminist and I want to emphasize that you don't need to be a woman to be one. I salute all the men who also stand up for women's rights."
So what's next for Qureshi?
"I'm going to be in North America since my film releases on September 1st. Then I will fly to India to work on "Kaala" which is my next film. It is an upcoming project with Rajnikanth that I am excited about. I'm also looking to develop some stories as a producer. I really want to share the extrordinary stories of real people. "
Go out and watch "Viceroy's House," delve into the different points of view and the actions that led up to the largest mass migration of people in history. It delivers great acting, and a heartwarming love story that seeds hope.
 [Photos Source: Viceroy's House/Facebook]
---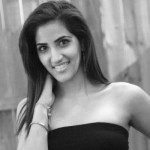 Kanika Monga, a graduate of the University of Texas and is a doctor by profession at the Texas Medical Center. She is a lover of all things creative, and cuddly. Her weaknesses include sushi and sparkling wine. Follow her on social media as she muses over life in her white coat and stilettos—Instagram: Kanika Monga, Snapchat: KandyK579, and on Twitter: @DrKanikaMonga