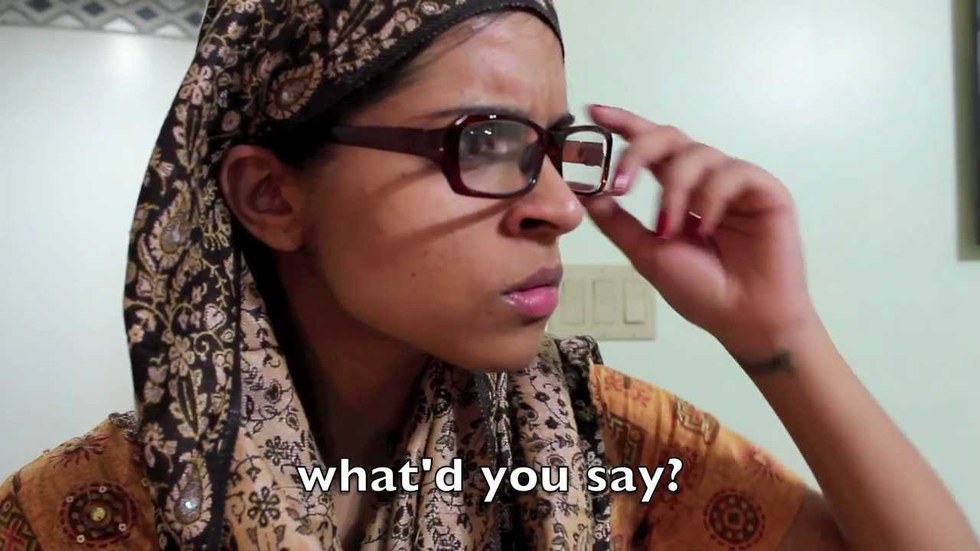 by Nikitha Menon – Follow @browngirlmag

I was mad for so long. Mad that they didn't understand my choices. Mad that they didn't understand my lifestyle.
But now, I don't blame them.
I started college just as any wide-eyed brown girl does — and no, I don't mean with a freshly threaded face. I started college with aspirations of becoming a pediatric neurologist. Go ahead, take a shot of vodka for every syllable — I DARE you.
I don't think I ever had an interest in medicine. Sure, I "operated" on my plush whale when I was 10 years old but I also cut off all the hair on my Barbie dolls so, if anything, my parents should've been concerned that I'd grow up to be a sociopath.
The thing about college is that you're constantly surrounded by people who are extremely passionate about what they're studying. You can't, after all, afford to spend four years paying out-of-state tuition on a major you hate. (Subtweet at anyone who asks for alumni donations from recent out-of-state grads. What more do you want from me?)
It all started during my life sciences class. I listened to one of my best friends talk about how he couldn't WAIT to become a doctor. He was on the edge of his seat and his eyes were popping out of his head like a 12-year-old who successfully sneaks into an R-rated movie. But his passion made me ask,
"What the hell am I doing here? I nearly passed out getting my nose pierced, but I'm expected to operate on a child's brain at the end of all this?"
I explained this revelation to my parents and they just didn't get it.
"If you have the brain and resources to become a doctor, why wouldn't you?"
Bear in mind, I also have a ski mask and a black hoodie but that doesn't mean I should go rob a gas station. There was fighting, there was yelling and there was a lot of blaming.
Nevertheless, I decided to defy my parents and family members and pursue a career in entertainment (and to all Indian uncles/aunties reading this: no, I don't mean stripping).
I understood why my parents were mad at my sudden career change (I'm not a moron), but I really couldn't understand why they were upset. My dad would use his camp counselor voice and my mom would use the very popular Indian mother tactic of what I like to call "reverse-reverse psychology." I was happy, so what else mattered? Sure, I wouldn't be helping people in a conventional way, but comedy television played a huge role in helping me overcome depression as a teen. Isn't that considered a form of "helping"?
For a whole year, my relationship with my parents was on the rocks. I thought they didn't care about me.
Now, I don't blame them.
As I sit here working at the company of my dreams for an amazing female boss, I get it. There are a finite number of people who I can truly call my "role models." Yes, there are a few women of color on our television screens, but a little-known fact? There are even FEWER women of color behind these television screens.
I was so mad at my parents when they didn't understand what I was doing. Even kids who want to be president can say, "Hey, I want to be like Barack Obama when I grow up" or "Hey, I want to be like Sanjay Gupta when I grow up." Those dreams sound farfetched, but farfetched implies that it CAN be done, even if it's rare.
I'd be scared, too, if my daughter decided that making money at her first job out of college wasn't important after having survived on Rice-A-Roni every day (again to all the Indian uncles/aunties reading this: I'm not broke; please let me marry your son). No parent wants that for their kid but I was too blinded by my angst to understand that form of love. (Fun fact: white people go through their "rebellious stage" in their early/mid-teens; brown girls are in a perpetual state of rebellion from age 20 till death.)
At the end of the day, I don't think I'd be doing justice to all the suffering my parents had to endure if I didn't pursue my dreams. They didn't come here for me to have a safe career and then raise a kid and force them to have a safe career, etc. etc. I mean when would the madness end? Who gets to actually enjoy their life?
So, I don't blame them.
How can someone who has been raised thinking a certain way for 40+ years be expected to change their beliefs overnight? It's like when I was told bacteria doesn't "respectfully" wait five seconds before attacking your food hitting the floor — it's going to take a LONG time for me to get rid of that impulse and I'll probably be eating that floor grape for years to come.
I don't blame them.
I didn't write this because I hate my parents; they're proud of me now and they make an active effort to understand what I do. For that, I am so thankful. I guess I wrote this because kids like me shouldn't feel ashamed of straying from the norm. Our job in life isn't to please our parents — it is to ultimately justify their hard work through our own success and happiness.
I'm no Barack Obama or Sanjay Gupta, and I'm nervous that there aren't many success stories for girls like me. But I'm excited to be the person for young girls in my family and other families to say, "Hey, I want to be like Nikki when I grow up."  
---
The opinions expressed by the guest writer/blogger and those providing comments are theirs alone and do not necessarily reflect the opinions of Brown Girl Magazine, Inc., or any employee thereof. Brown Girl Magazine is not responsible for the accuracy of any of the information supplied by the guest writer/bloggers. This work is the opinion of the blogger. It is not the intention of Brown Girl Magazine to malign any religion, ethnic group, club, organization, company, or individual. If you'd like to submit a guest post, please follow the guidelines we've set forth here. 
---
Nikitha Menon (Nikki) hails from the obscure and snow-ridden Erie, Pennsylvania and has always had a passion for comedy and television. A recent UCLA grad, Nikki currently works as a development assistant at AMC Networks (amcTV, SundanceTV, BBC America, IFC), and previously worked at ICM Partners and for Emmy-nominated and Golden Globe-winning director Nisha Ganatra. When she's not reading, she enjoys medium walks anywhere BUT on the beach, indulges in the "Great British Baking Show" and is an avid Indian music/film follower.