The opening image on a story about breastfeeding for the Man Repeller is a petite woman of Indian descent with long, curly, and some may think messy hair. That's me, wearing my mane in its natural state publicly for the very first time.  As a 32-year-old CEO and public speaker that champions diversity in tech and business, it's ironic that for my entire life, I've hated my curly, Indian hair. It's been a long, arduous journey toward accepting it. 
Every morning, since I was a teenager, I've straightened my thick, curly hair no matter how long it took. As a teenager in the late '90s and early '00s, straight, gelled-to-death hair was in. And as Indian kids, most of us did anything possible to distract from our brownness. Curls equaled frizz equaled messy equaled "fresh off the boat."
This bias stayed with me through high school, college, my 20s and into my early thirties as I became a mom and built a business that represents women and minority-owned small businesses. I championed the marginalized, promoting tolerance and acceptance and yet I was intolerant of my own natural self.
View this post on Instagram
When I started speaking on panels and giving keynotes, I made sure my hair was straight and silky, to appease Eurocentric beauty standards. And there's the issue of what is considered to be good Indian hair — it's the stereotype perpetuated by Bollywood that all desi girls should have straight, dark, thick and luscious strands. Yet another reason for torturing my messy curls into obedience through a blow dryer and straightener. After all, some of the most expensive hair extensions come from temples in India. 
In India, curly-haired women like me invest in keratin and chemical treatments to fit the stereotype. Curly hair is seen as unruly and evokes images of angry, feisty women. But a movement for curly-haired Indian women worldwide is growing to fight back this baseless stigma. The country got its first curly hair brand just this year. Even Bollywood is coming around—actress Kangana Ranaut is curly hair goals and one of the few actresses to embrace her natural mane.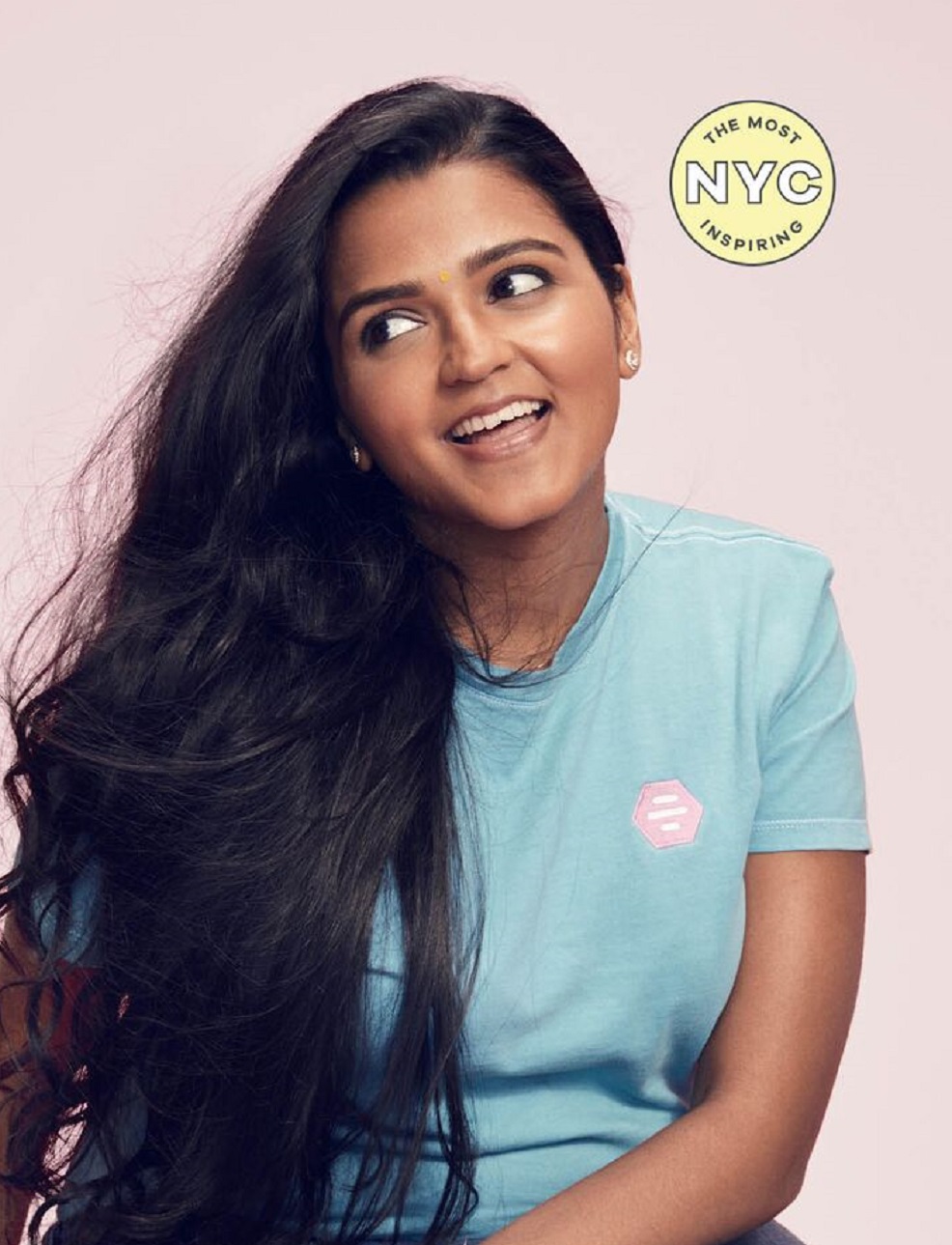 But embracing my ringlets didn't happen so easily. Last year, when I was part of Bumble's 'New Yorkers, you inspire us' campaign representing my tech company, FoodtoEat — helping immigrant, women and minority food vendors procure catering — I balked when the stylist suggested styling my hair naturally. Nobody except my husband was ever allowed to see the 'frizz' and I certainly wasn't going to let all of New York City see me lookin' like Medusa on Bumble's bus and subway ads. But raising two kids and my own company means that straightening my hair every day is a fool's errand. So, when I was asked to be featured in a story in Man Repeller, I decided to bite the bullet to go au natural. At first, it was just about saving time but lo and behold, I fell in love with my curls. 
Don't get me wrong, curly hair is work. Really hard work. Especially after a lifetime of straightening it. Curly hair has its own mood and I am constantly trying new techniques and products to get the look I want. Getting the right curl pattern depends on water pressure, season, weather, type of products as well as the timing of when you apply the products. Achieving picture-perfect curls is not only labor-intensive, but it requires whole lotta luck!
How we present ourselves as women of color on a public platform is important. Women of my generation hardly saw brown and black women in the media. We aspired to achieve beauty standards that betrayed our true selves and set us up for a lifetime of insecurity and self-loathing. I owe it to my younger self and future generations of brown women to be the most authentic version of myself—frizzy hair and all.