By Rucha Desai – Follow @browngirlmag
I hate Halloween.
I hate candy corn, I hate the cold weather, and I hate horror movies (e.g., The Notebook).
But, most of all, I hate dressing up.
When I was in kindergarten, I wanted to be the pink Power Ranger. My costume was not an exact remake; it was a more affordable version, with some slight modifications, but sufficiently pink.  I was so excited to be part of a group (almost everyone was a Power Ranger that year) that I didn't' really notice that I did, in fact, slightly stand out from the rest.
The following year, I dressed up as a witch. I had a black hat and even a broom. My mother initially gave me a long, green plastic broom that she bought from Kmart and actually used around the house, and once she realized it was a little unwieldy for me to bring to school, she gave me the short, grass savarani broom we had gotten from India. At that age, I didn't realize it was an exclusively Indian cleaning tool until people asked questions about it at school, wondering why the witch's method of transportation looked so much like a horsetail.
The next year, I dressed up as Pocahontas. Well, I dressed up as a Native American; my outfit had fringed sleeves, fell to my knees, and had no blue necklace. Instead of long, flowing black hair, I had short, shapeless, arguably brown hair. For the rest of the school year, this other kid, Jason, used to say I was the type of Indian that "shot bows and arrows," (doesn't even make sense), and would do a stereotypical Native American chant while he would dance around me in circles.
And finally the next year, my mother decided Halloween was becoming wasteful. She told me that nothing is more beautiful than the clothes our grandparents send from India and while little girls around the neighborhood wear silly plastic tiaras with stick-on gems, I could be a real "Indian princess," wearing real silver tikkas with welded in gems. I wasn't too sure about the idea. But, my mother pressed on.
"Look, everyone wants to be Jasmine, right? But, we basically have all the clothes that Jasmine wears. You can be Jasmine without buying the costume."
This conversation, of course, predated more complex issues of cultural appropriation, and my mother happily blurred the lines between Jasmine's Middle Eastern background and our South Asian background if it meant we could put those beautiful outfits to good use. In fact, I'm pretty sure my mother is the one who started appropriating culture, in her need to slowly destroy the Party City monopoly.
 So, I agreed. The princess of Agrabah wears blue pants, a low, sleeveless crop top, and wears her hair in bunches, with some gold jewelry. The princess of Ridgewood, NJ, wore a red and black skirt, a short sleeve top embroidered with mirrors, and wore her hair down, with some gold jewelry. My mother beamed with pride.
"Beta, you are so beautiful. You look just like Jasmine!"
I walked nervously to school, hearing my jewelry clink as I walked. My outfit elicited many stares. I wanted to come out ahead, so instead of waiting for people to ask me what I was supposed to be, I proactively branded myself.
"I'm an Indian Jasmine."
This Halloween identity continued over the years. In the fourth through seventh grades, I had to wear special shoes because of a painful foot condition I developed. Unfortunately, my kind and generous family continued to send us new Indian outfits to replace those we outgrew; so for three years, I would wear these clunky New Balance sneakers underneath my satin or silk skirts, often tripping down the stairs in school or during trick or treating. I did not want to hold my skirt up to walk more effortlessly because all the kids would see my ugly sneakers — everyone else was wearing those platform flip-flops.
My peers would always note how beautiful my outfit was. Teachers would gush; other students would touch my skirt in awe. I spent 364 days of the year hiding, hoping no one would notice I was darker and hairier than everyone, and I mispronounced words like "development" and "vegetable," but October 31st would come around and eviscerate my progress.
Our Halloween debacle passed onto other generations. My little sister – more honest, and less susceptible to brown parent guilt – decided once to modify Indian Jasmine, and in place of the heavily brocaded bridal wear we would sport, wore the simplest Indian outfit, a cotton salwaar that was easy to walk in and received no unwarranted attention. "I'm an Indian housewife," she would tell our neighbors, as she would fish for Crunch bars in their plastic candy bowls.
In the eighth grade, people started having nighttime Halloween parties, and wore scandalous animal costumes, and flirted with each other. I asked my mother if I could dress up as a witch again since I could still fit into my first-grade witch costume. She agreed, feeling bad that I had been "Indian Jasmine" for so many years, and told me she would even help me put together my costume.
She mixed a couple of her compacts and powders together to make a thick white paste and smeared my entire face and neck. With some old lipsticks and eyeliners, she drew stitches and fake blood. She had bought a scary wig, one with black and white hair all matted and knotty. I looked terrifying. I was definitely not Indian Jasmine.
I eagerly walked into the party to find all the girls wearing black unitards, white glittery eyeshadow (remember the 90s?), and some sort of tail (no, not the savarani grass broom type). At one point, I bobbed for apples, and when I came up, my "terrifying" make up was running down my horrified face.
No, I did not end up flirting with anyone at that party.
Once I was in high school, I officially retired from making an effort on Halloween. I once dressed up as Parminder Nagra, by simply putting on my volleyball jersey; I once was Abu, the monkey, just by wearing a red hat and making faces; and once I was a migrant farm worker, by wearing flannel. One year, I smeared a line of red paint on my face and told people to guess what I was (I certainly had no idea). This year, I am going to be a "nudist on strike."
I may always hate October 31.  But, I am looking forward to sending my own kids to school in my wedding sari, because, you know, down with Party City/stick it to the man.
[su_divider]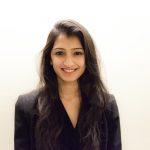 Rucha Desai is a recent graduate of NYU School of Law. She enjoys writing, hula-hooping, choreographing dances with her little sister and watching the "West Wing" with her husband. She has lived in NYC for almost a decade and is still constantly surprised by its many secrets and new adventures.