The following post is brought to you by The Cumin Club: Indian food meal kits
curated by expert chefs across India and delivered to your doorsteps starting at $5.49 per meal.
I remember the first time I moved away from home. I was in my early twenties, a recent college grad, and thought moving away would be this cathartic, adventurous experience. While parts of that are true, a huge part of me was lonely and homesick. It's only natural to crave a little something familiar when you're feeling uncertain and a little displaced from a big life move like that. For me, my familiar comfort ended up being cooking my mom's recipes.
I'd call her asking how to make my favorite dishes like chicken curry and appam. Enjoying each bite took me back to family conversations around our breakfast table. It brought me smiles and warmth with old memories. It was just what I needed to add some brightness to my new life.
There's a similar story with The Cumin Club founder, Ragoth Bala. If you're not familiar with The Cumin Club, it's an online Indian food meal delivery service that was born out of a craving for authentic Indian food. Bala started the company because he couldn't find the taste and flavor that matched his home experience in India. He'd end up relying on his mom to send him dry packed food, which made it easy for as all he had to do was add hot water and enjoy all the flavors of home. That's when an idea struck. 
Bala decided to turn this homesick craving into a business and help offer a solution for those craving homestyle Indian food with an emphasis on convenient preparation. The process of dehydrating and dry packing Indian food is age-old and allows for the food to lock in delicious flavor. So we decided to try out the experience for ourselves!  
A few weeks ago, I had the chance to try a few of The Cumin Club's authentic, convenient, easy to prepare Indian meals. They offer a range of chef-prepped food from different regions in India all which are preservative-free. Being South Indian, I decided to try their Upma, Chutney, and Sambar. And I have to say, I was so impressed that I was able to prepare and enjoy a complete meal with two side dishes in less than 10 minutes!
RICE UPMA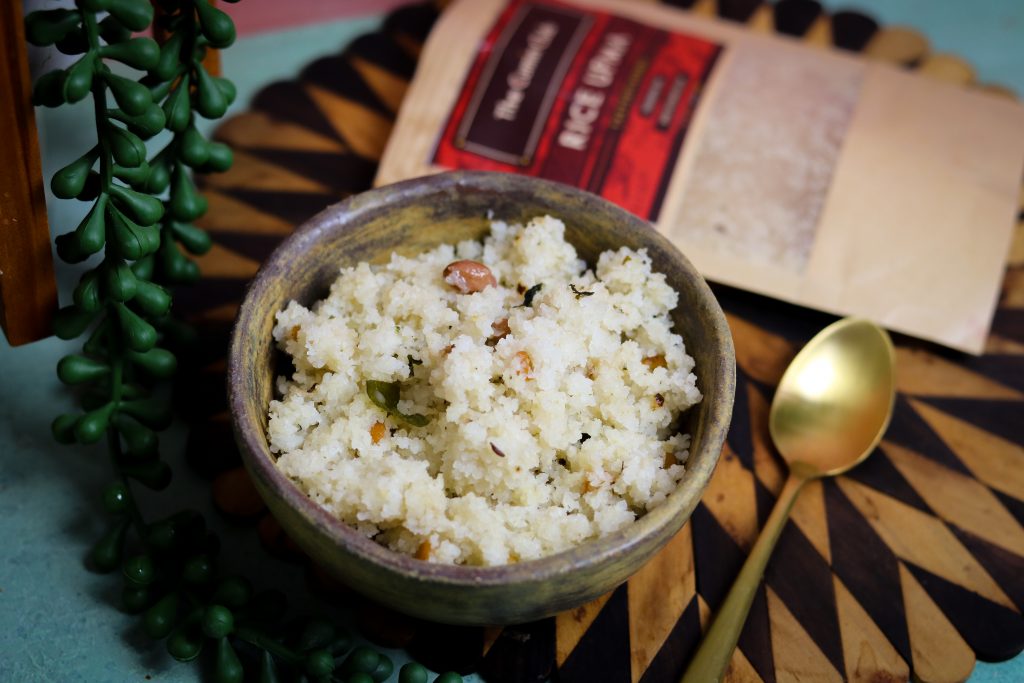 Thoughts: The texture was so fluffy and the flavor was super tasty and comforting. All I did was add hot water, let it sit, then fluff it up. I added some bananas to it and truly enjoyed the taste.
WHITE CHUTNEY
Thoughts: OMG! I couldn't stop eating this. It was nutty, spicy, and really reminded me dunking idli into coconut chutney at my ammachi's home in Kerala. Can't believe the texture came together so quickly with just hot water!
SAMBAR
Thoughts: Now I am used to a veggie-filled sambar, but there are tons of ways to make sambar. This one was tangy and had a thickness to it. It was a great serving size for 1-2 people (as were most of these easy to prepare meals). 
Overall, I enjoyed getting to try out these meals and think they're a great solution for college students if you're cooking for 1-2 and need a break from the kitchen, or even for older people who can't cook as much, but still crave something flavorful and authentic.
Interested in trying out The Cumin Club meals for yourself? Head over to TheCuminClub.com and apply discount code BGM20 to receive 20 percent off your first order.
View this post on Instagram
They ship directly to you and offer 5-meal and 10-meal plans starting at $5.49. All meals also come with a complimentary side dish. Happy eating, Brown Girl fam!