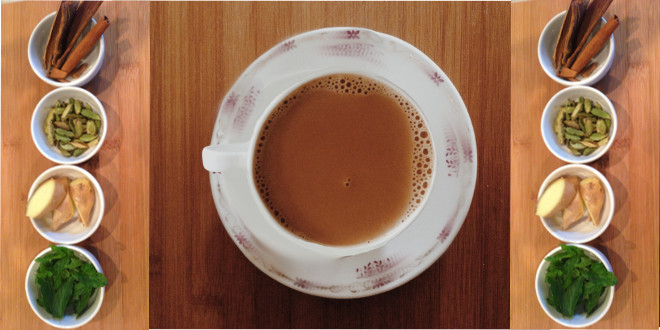 by Grishma Patel
Originally appeared on Grishma's Blog: 
Being part of the brown community, I have come to realize aunties will judge you on the clothes you wear, the career you pursue and how well you cook, or if you could cook at all, that is. And let's face it, it is in embedded within our roots to unexpectedly show up to our long-lost cousin's house or see that one family friend you never see anymore, but you happen to be the area, and now you have to stop at their place and obviously have a "cup of chai."
So, for those of you ladies and gentlemen that want to not just blow your unexpected guest away or would actually love to start your mornings with a fresh cup of tea, this is the perfect recipe. Besides adding the normal ingredients to your chai – water, sugar, tea, milk – there are many ways to add flavor to your favorite morning beverage and take it to the next level.
For example, when it comes to making tea the "Indian" way, we usually put ingredients such as: Cardamom, mint leaves, freshly grated ginger and cinnamon sticks.
Every country has their own twist on the perfect cup of tea. For instance, in Japan they make "Genmai Cha," which is green tea mixed with roasted brown rice, and in Mexico, their traditional tea comes with different herbs and can be considered medicinal.
Making chai is one of the simplest recipes out there. There are no set ways or measurements that lead to that warm, fresh feeling of chai, rather everyone has their own way of enjoying their perfect cup! Here is my version of the ultimate chai recipe, which not only pleases my soul, but leaves my guests wanting more.
Ingredients:
Water (1 cup)
Any packet of chai (I prefer: Wagh Bakri)
Fresh Ginger
Mint leaves
Sugar
Milk (Whole Milk, 2 percent, Skim milk)
Directions:
1. Boil 1 cup of water on medium heat.
2. While the water is heating, add 3 teaspoo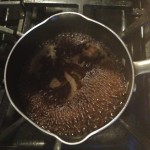 ns (equivalent to 1 tablespoon) of chai mix.
3. Next, add desired amount of grated fresh ginger into the pot. (No measurements needed, in my opinion, the more ginger the better.)
4. Add in fresh mint leaves according to your own preference. (This step is not necessary to make chai, but it gives the chai an earthy flavor.)
5. Once the mixture starts to boil and rise, add 1/2 cup of whole milk.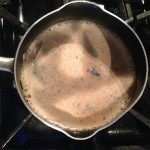 **You can add as much milk as you  like, some people prefer to add less milk, so it does not take away from the flavor of the chai. Some add more milk. which is fine as well.
6. Next up: Sugar. Some prefer the bitter and raw taste of chai, while others do not hesitate to pour that sugar in there. I usually put about 1 and 1/2 tablespoons of sugar and if I need more, I can always add on.
7. Once all the ingredients are in, leave the stove on a medium heat and make sure to keep an eye on it, so the chai does not spill over the pot.
8. Do not let this sight of the chai scare you, it only means that you are that much closer to enjoying your tea!
9. Last but not least, pour a cup of chai through a strainer and enjoy it with some Parle-G or your favorite snack.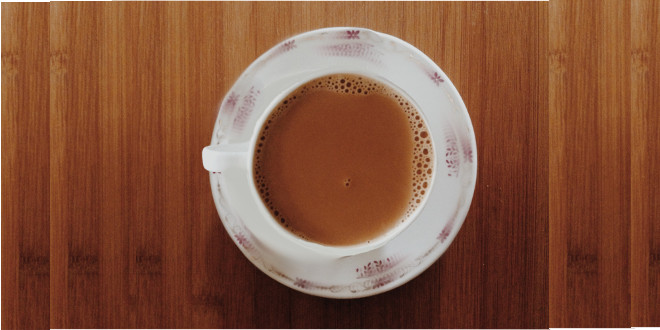 ---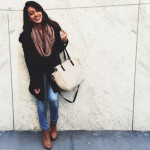 Grishma Patel is an average college student in NYC, and when she's not swamped with school work she can be found exploring the city, cooking new recipes or learning about cultures, ideas and people. Add her on Instagram to keep up with her latest updates.