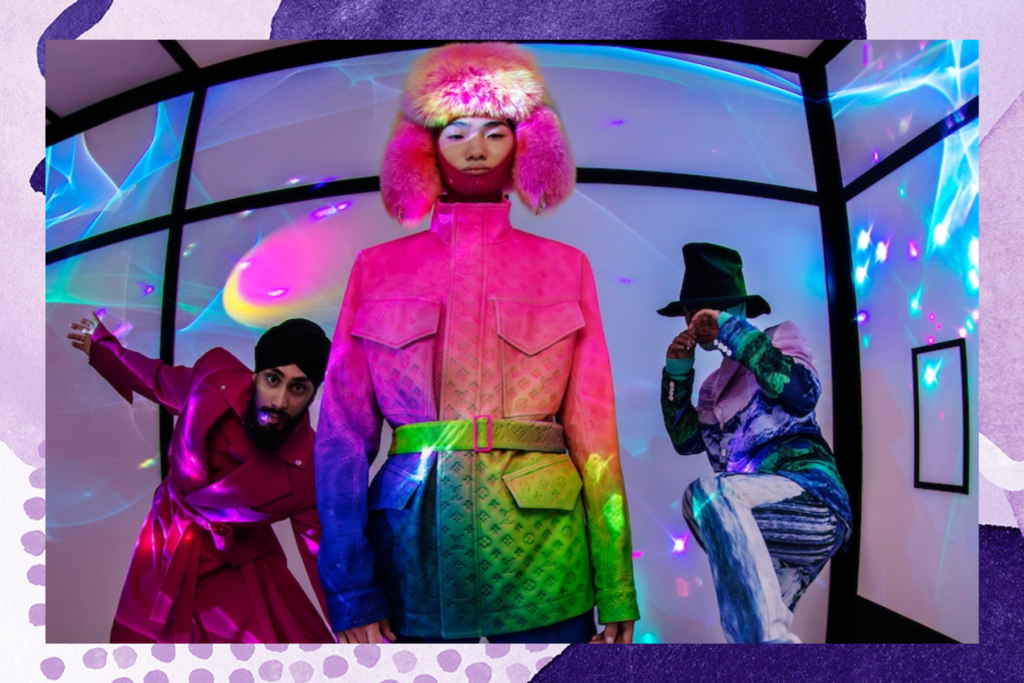 In 2022, Karanjee Singh Gaba became the first Afghan Sikh turbaned model in history to star in a campaign on behalf of luxury fashion house, Louis Vuitton. The campaign showcases the late great Virgil Abloah's Spring/Summer 2022 men's collection and serves homage to the culture of rave. 
With rave culture historically capturing a sense of rebellion, I couldn't help regard Karanjee's presence in the campaign as particularly fitting, considering how few turbaned models are seen within the modelling industry. 
Consider how South Asian models often act as trailblazers by way of occupying positions of firsts; Waris Ahluwalia, the first Punjabi Sikh turbaned model to star in a campaign for clothing company GAP. Neelam Gill, the first British Indian model to appear in a major Burberry campaign, and Radhika Nair, the first Indian model to walk for Balenciaga. Whilst these achievements are a source of pride for our communities, they also beg the question — why is it that the presence of South Asian models within the fashion industry, seems so few and far between?
Brown Girl Magazine had the pleasure of connecting with Karanjee to talk about his journey of navigating a modelling career as an Afghan Sikh model. 
The modelling world can often invoke images of wealth, prestige and flamboyance. For Karanjee, it was clear that modelling meant being able to fulfil a specific mission — using his travels to magnify his religious and cultural identity. 
Before modelling, I was a film maker. I now see myself as a storyteller as I love telling stories whilst teaching people about Sikhism. I am an Afghan Sikh and it's quite new to people when they realise that — even Sikhs don't know there are other Sikhs in Afghanistan! Through modelling, I am able to teach people about what it means to be an Afghan Sikh. Guru Nanak Dev Ji travelled the world to teach about Sikhi and that's just the same with me.
The narratives and images surrounding what we know of as Afghanistan, have carved out a space for Karanjee to use his platform to tell an alternative story of his homeland. With decades of conflict, and notorious association with extremist activity, Karanjee's visibility within spaces that do not typically see many Afghani models, offers an opportunity for him to dismantle bleak narratives. 
Having had refugee status, I'm able to represent people, not just as a Sikh but as a refugee Sikh and that's huge. I'm able to highlight whilst modelling that I'm not a person who grows up in a typical family. Whatever people have heard about Afghanistan is just terrorism related. Coming from a war zone and being able to share my story in front of the camera is not something just for me but for the whole community.
Embodying a rich intersection of cultural and religious identities can be complex. Karanjee talks about incorrectly being labelled as Indian. His humility and ethos of being an educator means he is able to honestly create dialogues that serve to challenge assumptions of his identity. 
Being assumed Indian happens quite often. Modelling is a journey that enables me to correct them and have that conversation and that's how fashion interacts with my sense of self. I was once recognised as an Indian in a tweet by someone big. I retweeted it and said thank you but I'm not Indian, I'm Afghan and that tweet got shared more than 2000 times. In another instance, I was visible in a campaign across Primark stores for nearly 6 months. There was a moment where someone thought I was a Punjabi Singh. When they realised I was Afghan, that came as a surprise and kind of made that person feel lower. At the end of the day, Sikhi transcends everything else and we are all one despite the country we come from.
I'm an Afghan not an Indian but thank you for this ???????? https://t.co/hAAidjNA10

— Karanjee Gaba (@KaranjeeGaba) February 19, 2020
An important question was raised: does a sense of splintered identity result in splintered support from the community? Karanjee explained that when he is recognised as an Afghan Sikh model, the majority of support and recognition appears to derive from fellow Afghans as opposed to from South Asian communities at large.
I believe that there is a lack of push and support from those who don't identify as Afghan. Maybe it's a cultural thing where people are more likely to celebrate those who share the same cultural and religious heritage. It's a question of asking, what is it about me that I am missing for South Asians as a whole to not celebrate me? That being said, because of my recent work with Louis Vuitton, which aimed to represent people quite widely, people have begun to celebrate me as Sikh too. I have realised that having a large community matters a lot to be celebrated.
The Louis Vuitton campaign proved to be a seminal achievement. This year marked the first time Karanjee appeared in a fashion campaign having previously been featured in variety of magazine editorials. With Forbes recognising Louis Vuitton as the world's most valuable luxury fashion brand, I was keen to ask, what were his experiences on the LV set?
It was about 50,000 square feet with a huge team of art directors and videographers. The stylists even had their own assistants! LV had the budget to go large. Being the first Sikh that was out there made me feel a bit out of the zone. I didn't know how the team was going to react. There are some campaigns where Sikhs would be required to trim their beard or change an aspect of themselves to fit in whereas for me, I made it clear that would not allow anyone to modify myself. It's a warm feeling when the industry is allowing diversity to be championed in campaigns.
Karanjee's explaining LV as a brand that intends to showcase models of colour is a refreshing narrative considering that much discourse illustrates the ease at which white, Western abled bodied models dominate modelling jobs at the expense of those who do not fit specific, revered criteria. In 2020, The New York Times quizzed 64 influential brands on the percentage of Black people in their ad campaigns, fashion shows and magazine covers. Only 4 brands responded to questions in full with the rest of partly answering or declining to comment completely. Karanjee's provided insight into the transparency of brand decisions regarding the casting of non-white models, explaining that brand choices to include specific models can, at times, fall down to practicalities and target audiences. 
View this post on Instagram
Every brand is different and has their target audience. It's not solely about showing diversity but it's also about what brands need to do to sell products. If brands have the mindset of wanting to include diversity then they will but if they don't, they won't. There are certainly brands out there which are showcasing diversity because they genuinely want to celebrate people. Similarly, there are certain brands that use models just as a tick box exercise. I can't speak for those brands as the majority of the names I work with genuinely want to champion diversity which of course I'm quite happy to be a part of.
During the interview, Karanjee indirectly raised an intriguing question: does what the modelling industry define as aesthetically pleasing and pertinent to selling clothes, need to be overhauled? Karanjee explained that the lack of South Asian models is in part, due to individuals naturally being unable to conform to boxes which have set the standard for high fashion modelling for decades. 
With modelling, you have to fit into certain categories. There are height restrictions and there are also build restrictions. I've had casting agents who have come to predominantly South Asian areas just to cast models but weren't able to. The height and build of others within the Asian communities often don't fit into the categories of modelling. I'm 6'1″ and I am still perceived as quite short in certain shows.
When Karanjee is able to share spaces with others, his sense of storytelling comes alive. The travelling that comes with being a model provides its own vehicle to relay to other models on set what it means to be Sikh.
During shoots and shows, I have taken off my kirpan, which is quite sharp and can damage the very clothes I'm modelling. I don't want to show people I'm aggressive or carrying weapons. Sikhi is above all, a region of peace that's what I like to teach people. When I'm able to work regularly with people, I am able to teach them what a Sikh is and the meaning of wearing a kirpan. The fashion industry is very on the edge of knowledge but by meeting new people, I have the power to educate them about my faith.
Karanjee explains the need for South Asian communities to harness their power and shift narratives. An important note was made regarding occupying positions of power to fight against white gatekeepers across industries. 
My advice to people is to be part of a journey in the most important ways. Someone had to say yes for me to be the face of something. If you're the decision maker, that's when you have the power so shift whole industries and the world. Until that happens things will always stay the same.
There is a great sense of responsibility on the shoulders of Karanjee as an Afghan turbaned model. I was curious to know what was next in his modelling journey and what he hopes to achieve. 
The idea is to celebrate Sikhi, not just in one place but around the world. I want to make a mark in every city and every fashion week. I want to expand my career with more agencies who recognise me as a diverse person and can push me out there to do better. It's a lifelong career where you have to do a lot of things for people to recognise and celebrate you. LV is just the start for me.