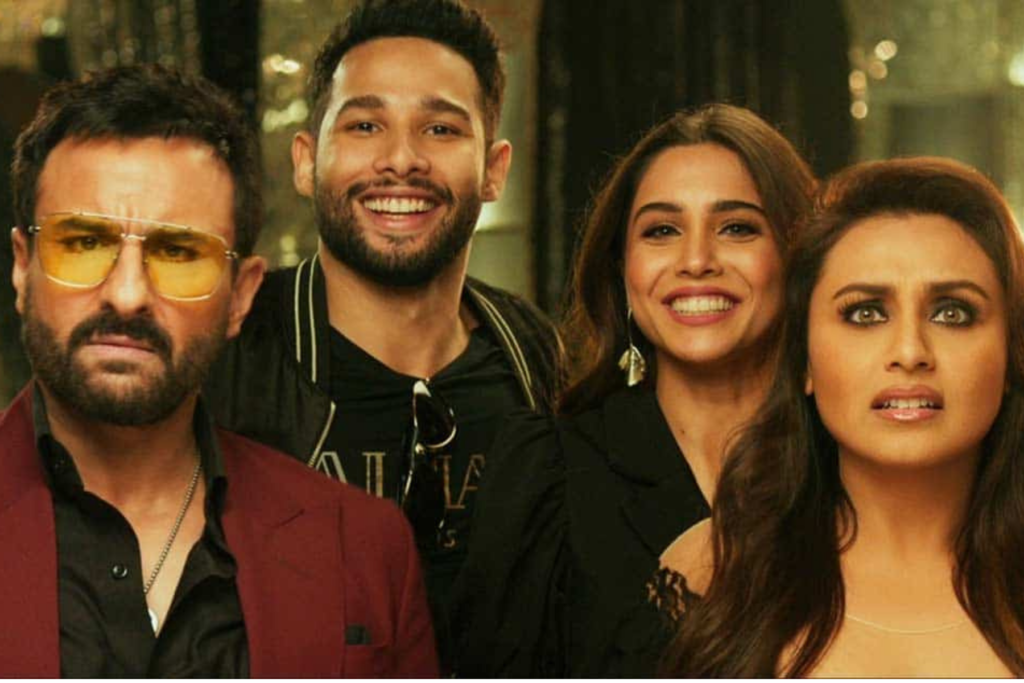 Like most '90s born South Asian millennials growing up in the diaspora, my average Friday night consisted of a Bollywood film with biryani. Sometimes, if my parents felt extra generous, we'd go to the cinema and wrap up the night with a takeaway from our local curry house. The latter was usually reserved for a film with endless (albeit sometimes problematic) scenes and dance music for days.
So, when 20 odd years later I received the opportunity to interview Bollywood's iconic queen Rani Mukerji it all came full circle. Her warm energy and welcoming aura immediately replaced my nervousness with ease, as we laughed about being each other's namesake. "I'm so excited to finally chat to you, Queenie!" 
In an exclusive interview with Brown Girl Magazine, Rani speaks about her 25th anniversary in Bollywood, diverse range of roles, as well as the highly anticipated release of "Bunty Aur Babli 2." 
We start with a well-deserved round of applause for her remarkable 25-year Bollywood journey, whether it's for pop-culture icons such as Tina in "Kuch Kuch Hota Hai," or critically acclaimed Michelle in "Black." Surely, with great power comes great responsibility. 
Yes, absolutely. I strongly believe an actor's journey is never-ending in any creative field. For example, it's not just a film I learn from, it's also the process behind all my films. If it's a destination project and I come across something quirky, I will try my best to learn from it. I am quite observant as a person and draw energy and inspiration from my surroundings. These 25 years have been a journey of learning, of memories, of making friends, of exploring and growing as a person. And when all of that comes together, it's been a journey of making sure I am giving out the right message to my fans.
While "Bunty Aur Babli 2" is yet to be watched, the first part — starring Abhishek Bachchan and the leading lady herself — was an entertainment package that Rani looks back at fondly. She reminisces about Vimi's loud and vibrant clothes and what a fashion statement they made the world over in the early 2000s. 
You know it's not just about the clothes — it's how confidently she wears them. She wears them with such panache that you believe she's looking the best in the world. She's unflappable in thinking she's the Queen of Phursatganj, the queen of fashion. Nobody does confident fashion like her and I absolutely love that. The fact that she's 5 foot nothing and wanted to become Miss India — that's so fab.
I nod in agreement, recalling countless trips to my darzi in an attempt to recreate Rani's quintessentially desi short kameez and shalwar look (which he never got right). Fashion has since evolved multiple times — so has the mindset of the actors who played the lead roles. Was it challenging to fit into Vimi's shoes after a 15-year gap?
I think what I realised while doing "Bunty Aur Babli 2" is that Vimi never left me. She has always been a part of me like a looming shadow. The real Rani aspires to be a lot like Vimi in a strange, secretive way. I absolutely love her guts and what a powerhouse she is.
While that may be true, Vimi does hail from an era that wasn't as digitally advanced as her tech-savvy counterparts are used to in 2021. Can we expect forwarded scam messages and Instagram bots, as opposed to old-school conning that she and Rakesh were masters of back in the day?
I think the audience will really get an insight into how times — as well as Vimi and Rakesh's conning ways — have changed in this film! Sharvari Wagh and Siddhant Chaturvedi's characters are well-armed with all sorts of technology, whereas Saif and I are the senior guns. We really needed to oil our engines and learn how to be digitally savvy. That's one of the main clashes in the film.
View this post on Instagram
I think a lot of us can relate to that feeling! Surely, shooting a sequel in a time vastly different from the 2000s brings back its own set of challenges. How difficult is it to step into a beloved character's authentic shoes while retaining their original charm for a completely new movie? Especially since there may be a completely new set of audience (teenagers) who might have not seen the first film.
I strongly believe that ["Bunty Aur Babli 2"] is such a fresh new film — as cast members, we didn't feel the pressure of the first part at all. Audiences will get into the story immediately — there's no beating around the bush. So, kids and young adults who might have not seen the first film will probably look at Saif and I as the old-school couple; whereas the new jori may be seen as hip and cool. Vimi's loyal followers have seen her journey — she's now a mum, more set in her ways. I think the film will brilliantly cater to all ages. Millennials will relate to Vimi's transformation and Rakesh's quirks, as well as connect with Siddhant and Sharvari's characters.
I don't think Rani's fans will ever call her old-school, though, to us, she'll always be Bollywood's trendsetter. She's gracious as ever, and shares how she shared the older sister chemistry with Sharvari on set. The mention of chemistry, however, reminds me of her previous projects with Saif Ali Khan and their multiple films together. I'm sure it's the equivalent of working with a very dear friend. 
My relationship and chemistry with Saif are that of a best friend — I've known him for years. It's similar to meeting school friends after ages — that comfort level never disappears. Saif and I discovered that we were just as relaxed working with each other as we were during our first film, even though it's been so long since we'd last worked together. We've always been friends, with a lot of regard and respect for each other. That reflects in our work, which fans thoroughly enjoy — hopefully, they'll enjoy it just as much in "Bunty Aur Babli 2"!
I'm sure we will, Rani! "Bunty Aur Babli 2" is now released in cinemas worldwide, and is already loved by millions around the globe. I, for one, can't wait to watch it on the big screen — my first film in a cinema in two years since the onset of the pandemic.