History was made last year in the U.S. Congress with the election of Rep. Alexandria Ocasio-Cortez, the youngest woman to ever to serve in the legislative body, and Reps. Ilhan Omar and Rashida Tlaib, the first two Muslim women to become congresswomen.
However, at the local level, an even more significant victory occurred for the South Asian community this past year—the election of the country's first Muslim woman and Pakistani-American woman to serve as mayor, Sadaf Jaffer.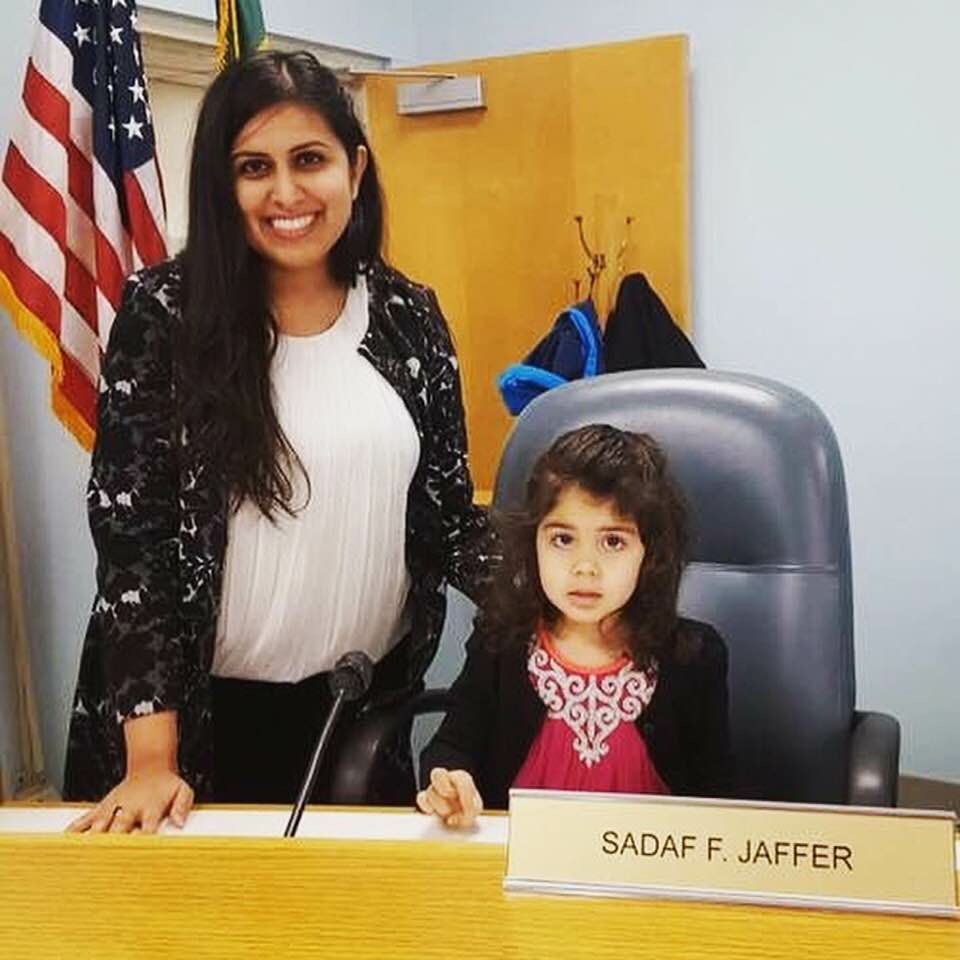 After winning the popular vote to serve a three-year term on the Montgomery Township Committee in New Jersey, Democrat Jaffer was unanimously elected by the five-person and Republican-majority committee to become mayor in January. With a record-breaking population in attendance at her inauguration, Jaffer was sworn in by fellow South Asian, New Jersey Attorney General Gurbir Grewal.
We spoke with Mayor Jaffer about her South Asian heritage, her decision to run for office, and the importance of women of color to be involved in local politics. Here's what she had to say.
How did your upbringing as a Pakistani-American impact, if at all, your decision to enter politics?
I grew up always aware of the contingencies of our situations – by accident, or by migration, life can be so different for each of us. By visiting Pakistan and elsewhere, I really got a sense of that. When I used to visit Pakistan as a kid, I read the newspaper cover to cover because that's what there was to do. I was exposed to the political situation in Pakistan and I compared it to the United States. Back in Chicago, my parents listened to NPR and watched the news at home. In school, I learned how much we owe to those progressives who fought for civil and econoimc rights, the rights of women and minorities. Having that exposure and perspective really made me realize what we can learn from each other.
You are the country's first female Muslim and Pakistani-American mayor. Did you realize the significance of this when you were first elected, and/or do you feel the pressure of being a trailblazer now?
I didn't really think about it when I was running. I've been involved with a group called 'Inspiring South Asian Women (ISAAW)' and my goal is to get South Asian-American women involved in public service. On the policy side, I was involved in the super local details and it wasn't until I was at an ISAAW meeting that people told me this fact. I'm pleased in that part of the reason I entered politics was to show people in my communities that we can make our voices heard.

I hope I'm the first in a new trend and that we see more women of our backgrounds getting involved in politics in the US. I don't know if I feel too much pressure—I'm just doing the best I can in my role as a mayor and I feel like I'm just representing myself—not just every South Asian woman or every Muslim woman. I want to inspire women to open doors and continue to shatter glass ceilings that have been limiting us in the past.
We have seen a lot of Islamophobic rhetoric coming from our highest elected officials in this country. Did you receive or hear similar pushback on your campaign trail? How has Islamophobia since impacted your work and/or how you interact with your constituents?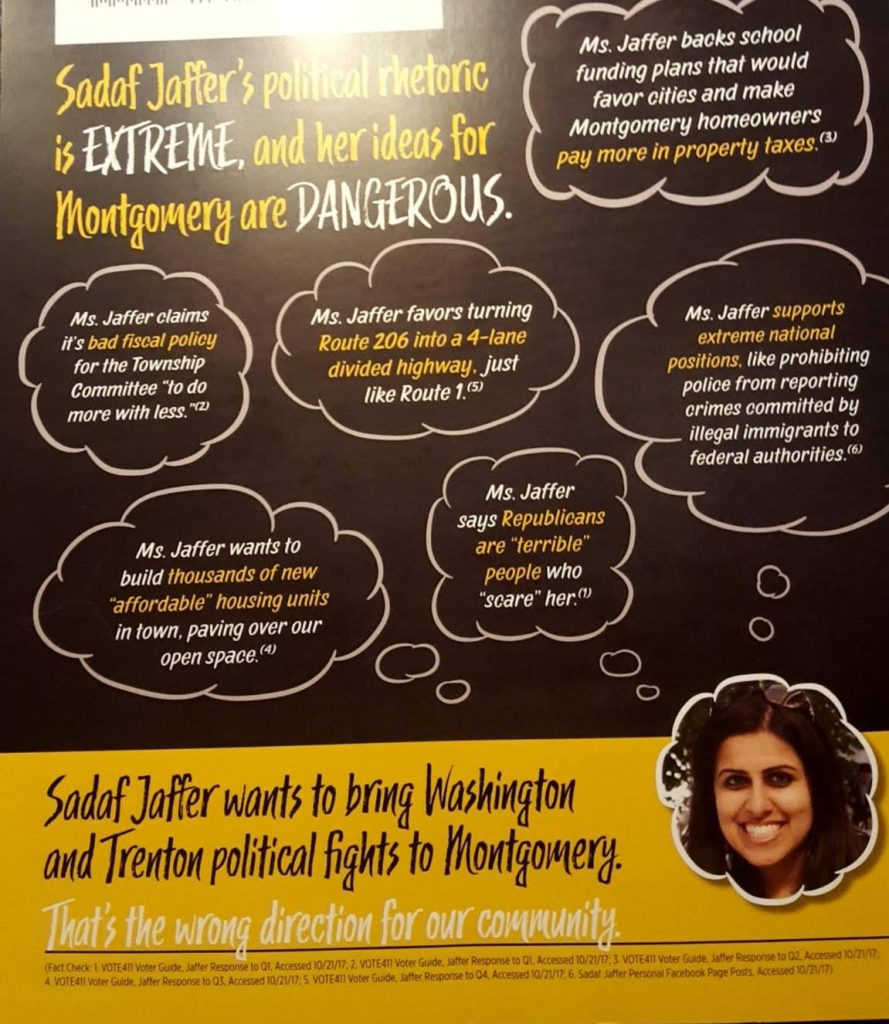 When I was running, there might have been some oblique Islamophobic references in conversations I had with people, especially online. For me, the real shock was when my opponents sent out a mailer that said my ideas were 'dangerous' and extreme.' Those were the biggest words on the page in scary letters. We saw it everywhere. This act really turned off a lot of people in my community—they said it wasn't fair that my opponents were attacking me like this and ultimately I won. Most people are not amenable to that sort of attack. There are people who will use that argument and speak to the lowest common denominator.

After I was elected mayor, my opponents put up a post saying, 'We fought hard but we lost.' The first comment on that post was, 'I was born in this country and some Indian is going to tell me what to do?' (see screenshot below.) 

I have been dealing with hate and racism since my first year on the township committee. In my first few months as an elected official, I had to deal with an anti-Muslim hate crime—someone put pork on a Muslim family's car. I was shaken by that. The response by the majority wasn't sufficient either— they said that we only know if it's a pattern if it happens again. I had to inform them that Islamophobia is racism and there have been instances of pork being used in other hate crimes. 

Since then, I have been trying to lead by example and build solidarity in the community. I have spearheaded Montgomery Mosaic, a program that connects various community and religious leaders to discuss racism and community building once a month, as part of the national 'Not in Our Town' network.

Research has shown that political rhetoric fuels the rise or decline of hate crimes. I try my best to constantly make people aware and comfortable that they are welcome in our town, no matter what their background. For example, there was supposed to be a white supremacist rally in Princeton so we held a community breakfast for our town to come together. I try to fight negativity with positivity and help our town build cohesivity and connection.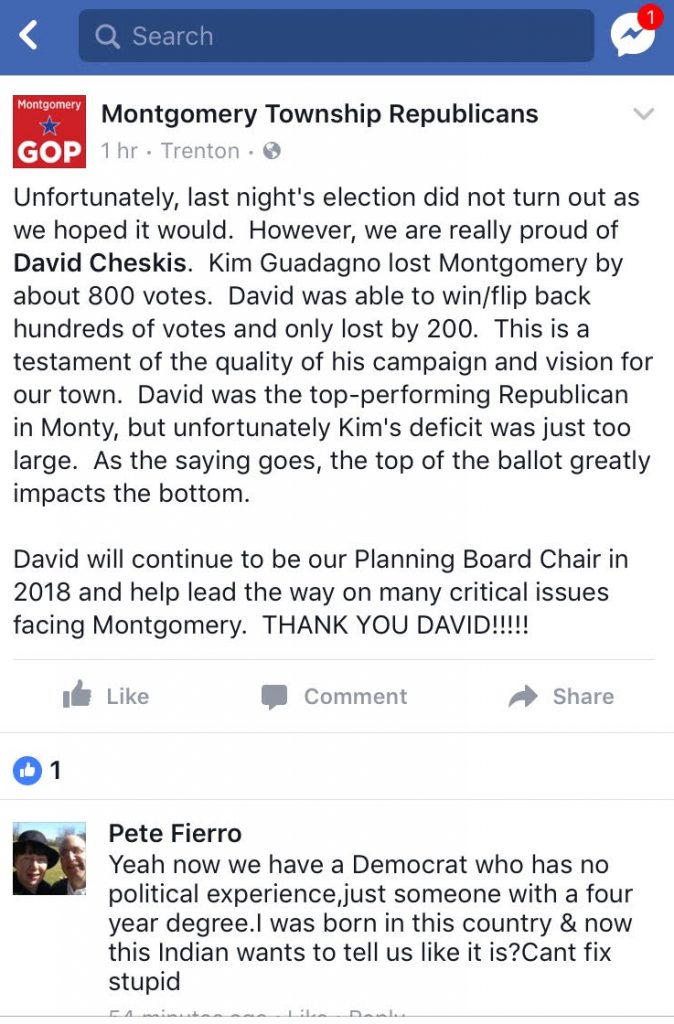 What do you hope to achieve in your one-year term as mayor? Do you have plans of running for higher elected office?
 My three main goals are:
1) Dedication to transparency: The public hasn't necessarily known the processes taking place in government. I created a budget and finance committee to educate the public on what we're spending money on.
2) Education: I've tried to improve communication by creating my own Facebook page where I can reach out to my constituents to inform them about what I'm doing and so they can also reach out to me.
3) Diversity and inclusion: In addition to Montgomery Mosaic, one of my primary responsibilities is appointing people to commissions, so I make sure diverse views are represented. For example, there were no women on the town's planning board before, but I made sure that changed.

As far as running for higher office, I am completely focused on my work as mayor and doing the best job I possibly can right now. For me, politics isn't about getting positions for myself but rather that my values and other people's values are being represented in the community. To me, that's really the calculation—can I serve the people in my community?
Not only are you the mayor of Montgomery Township, but you are also a mother, wife, human rights activist and postdoctoral researcher at Princeton University. How do you balance all of your commitments? Do you feel like there are extra pressures put on you, especially as a South Asian woman?
I would not be able to do this if it wasn't for the support of my husband as he takes on a lot of household responsibilities when I have meetings. We need to come to the point where people in relationships and families are able to make that adjustment, not only when men take leadership positions. I'm really lucky to have that in my relationship, to have that give and take where we can support each other in our professional aspirations.

That being said, there's still a lot of surprise in the community about how I manage my responsibilities. People ask how I cook dinner and I just say that I don't if I have a late meeting. Domestic labor isn't always possible— if we want representation of women in politics, then there are some sacrifices to be made.

Once in a while, I'll take my daughter to meetings. We need to be more comfortable with having children in spaces and accommodating this. That's what we need to do in order to support women in these types of roles.
What advice do you have for young South Asian women looking to get involved with politics and/or running for office someday? What do you have to say to those who are disheartened by the current state of affairs in America?
 Anything is possible and never listen to those voices who make you doubt your potential. I certainly had pushback when I decided to run— no Democrats had even run in the past few years and Montgomery was a Republican town.

The first thing to do is seek out training opportunities that prepare you to hold office. They're helpful to build your network and get some ideas about how to start your campaign. For example, 'Emerge NJ' helps Democratic women interested in running for office. 'Ready to Run' and 'She Should Run' are other organizations, too.

My second piece of advice is to connect with your municipal party and say that you're interested in helping out and running. There are so many roles out there and sometimes people are actually looking for candidates to run and hold office. Every county, every state has boards of commissions—serve on those! Non-profit boards are also a great step to getting into leadership positions. 

Let people know what you're thinking and oftentimes, you'll get responses to it. Don't be cynical—if I could become mayor after one year on the township committee, then anything is possible. Women win elections at the same rate as men, but they're just not running. That's where I try to step in—whenever I see a woman who has great values and is working hard, I ask them to run because we need that! Otherwise it's just going to be the same old, same old. 

Finally, it's not all about the money. I raised only $6,000 and primarily through small contributions, so it's definitely doable! Money shouldn't be a barrier to getting involved.

Politics isn't all dirty; there are a lot of people who are working hard and doing the right thing. We need to change our current situation and we're lucky we have a political system that allows change to some degree. We shouldn't take our system for granted.
You can follow Mayor Jaffer and her mayoral journey on Facebook and Twitter.