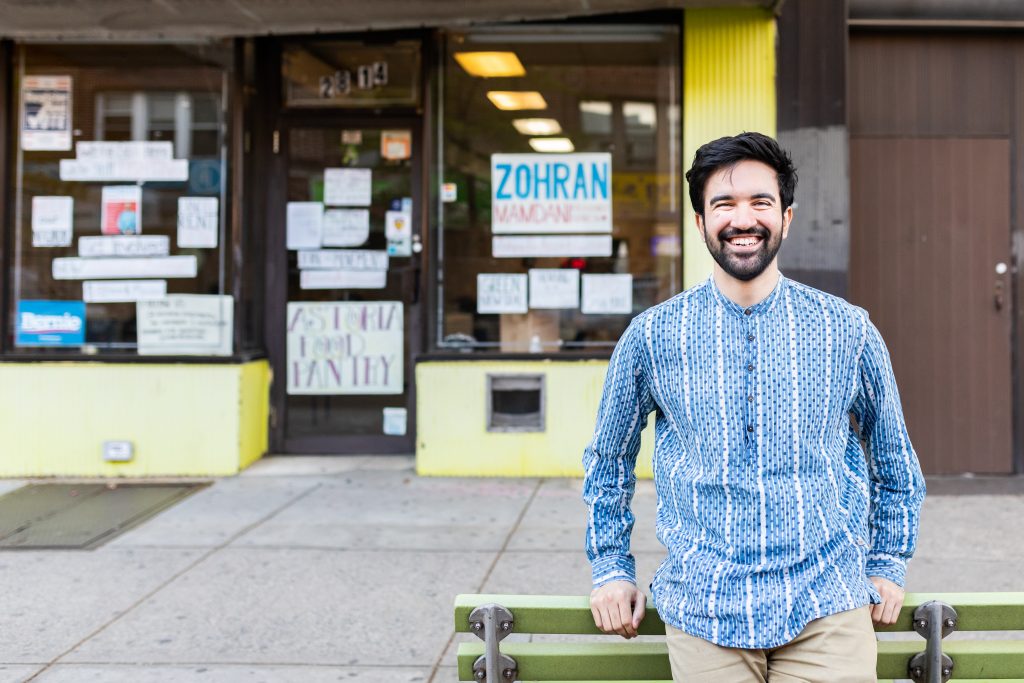 One would think that in a city such as New York where there are more than 300,000 South Asian residents we would have at least elected one South Asian candidate to local office already. And yet, if Zohran Mamdani were to be elected to the New York State Assembly, he would be the first South Asian elected official in New York City and State and the second Muslim serving in the Assembly today. Oh, and also the first elected Ugandan in the State. 
Indian-Ugandan New Yorker Zohran Kwame Mamdani announced in October that he was running for New York State Assembly District 36 comprising of the Astoria, Ditmars-Steinway and Astoria Heights neighborhoods in Queens. 
Having worked as a housing counselor fighting for immigrant families to stay in their homes and living in a district where 24 percent of tenants including himself are spending half of their income on their rent, Mamdani has centered his campaign around three core tenants: housing for all, justice for all and energy for all. 
View this post on Instagram
With COVID-19 forcing a state shutdown and causing mass levels of layoffs, Mamdani says the issues they've built their campaign around has only "heightened in their importance."
Although the State issued an eviction moratorium, many landlords are expecting back pay of rent if tenants fail to pay now. According to The Legal Aid Society, the current rate of infection in NYC jails including people in the Department of Corrections custody and their staff is 11.59 percent, 6.27 times higher than the infection rate of New York State. 
For Mamdani the pandemic "has clarified the necessity of a fight such as ours."
"We're telling people stay in your home and wash your hands and yet we are allowing the root of a mass housing crisis to take hold creating vulnerability and anxiety amongst New Yorkers thay they will not be able to financially stay in their homes. We are keeping people locked up in prison so they cannot come back to their homes. And then we are in a situation where once this pandemic is over, we're going to have all these mounting water and energy bills so we're disincentivizing the use of these utilities that should be encouraged so that people can stay safe."
Converting their office into a food pantry and partnering with Astoria Mutual Aid to assist residents in receiving groceries and medicine, Mamdani and his team have reoriented their campaign to not only focus on the long term needs of Astoria but also the immediate assistance their neighbors need to survive the crisis. Thus far they have delivered more than 400 bags of a week's worth of groceries to about 125 different families and for the month of Ramadan provided about 10,000 hot meals for iftar across the district. 
"It's irresponsible to continue to campaign as if nothing has happened," he said. "This pandemic is a natural occurrence but the response is entirely a function of political forces and power residing where it does now." 
View this post on Instagram
Mamdani thinks a challenge to Albany's handling of state affairs is long overdue.
"It was not fated that we would have more than 20,000 New Yorkers dead because of this disease and I think that in Albany we have had an abdication of accountability by the State Senate and the State Assembly." 
As a child of a father and grandparents who was expelled from their home in 1972, "the machinations of the state have always been very personal" for Mamdani. Still, it wasn't until 2017 that he felt like he could run when he canvassed for Khader El-Yateem, then-candidate for City Council.
"This man is a Palestinian Lutheran minister who is unapologetically himself and he strove to represent people who had for many decades not only been locked out of the process but actively demonized by the process."
Khader El-Yateem lost by only 8 percentage points. 
"For a long time I did not think that the political beliefs that I had and the places that I came from would allow me to run for office," Mamdani said. 
Very aware of his identity and the lack of representation in the state government, he commented that what makes representation "critical to me is not simply to have someone who looks like me but that they also know the struggles of the people and the places that I come from."
Mamdani attributes the disconnect between current lawmakers and minority populations to the delay in addressing the exploitation of taxi-drivers in NYC.
"Over 40 percent of cab drivers are South Asian, we've known the taxi industry has been in crisis for years but it took a New York Times investigation for all these local politicians to actually get active about it." 
He added that a similar lack of action is present in public school cafeterias with more than 38 percent of  NYC high school students being Muslim or Jewish but only five schools are currently in a halal lunch pilot program.
"Students should not have to decide between hunger and faith and yet we're forcing these students to make that decision."
View this post on Instagram

As a democratic socialist, Mumdani understands he will never win the rights we all deserve — rights to healthcare, housing, education, nutrition, childcare, and public power — without a grassroots movement of the working class rising up to demand them. That's why running for office now is more important than ever before.
"Growing up in this city and in this country as a desi kid, as a Muslim kid, we didn't have a lot of clear pathways of who we should be. In England, there was this clear identity of being an Asian kid in Britain and I remember Juggy D and Jay Sean. Then you come here and we didn't have an identity in the same way and as a result of that you also don't take pride in who you are and you start to want to be someone else because the boxes you're given to check off as who you are are very limiting. What's really exciting about this moment is that we are creating that identity and we have to fight to ensure that it's one that represents a world that we want to create."
From Saturday, June 20 through Tuesday, June 23, Mamdani and his team will be getting out the vote across Astoria and spreading the word about their campaign to "win healthcare for all, universal rent control and a justice system that's actually just." Find your polling location to vote on Primary Day this June 23rd.