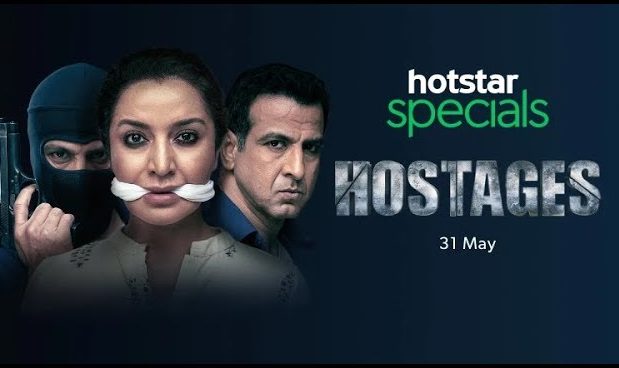 Watch Hostages and other Hotstar Specials on Hotstar — India's largest premium streaming platform that brings you the best of Indian TV shows blockbuster movies, cricket and live news in seven different languages. Learn more about Hotstar's offerings here. 
Doctors take a universal oath to save lives; but what if you had to choose between the life of a patient in an operating room and the lives of your loved ones?
Murder, mayhem and sex, all the ingredients for a great series, right? Walking into watching Hotstar Specials' Hindi iteration of the Israeli show "Hostages," I expected a standard crime show. However, I finished with what was a diabolical, entertaining, deeply intertwined thriller.  
What began as the horrendous kidnapping of Dr. Anand's family, quickly turned into a series of terrifying events.
Dr. Anand (Tisca Chopra) is a renowned surgeon who is scheduled to perform a career-defining operation on Chief Minister Khushwant Handa, a patient her kidnappers want her to kill.
Meanwhile, her husband, a school principal is hiding his own dirty laundry and their teenage son and daughter have loose ends that quickly begin to unravel. It is the story of every home and family; addictions, affairs and financial troubles right under the nose of an unaware mother, wife and surgeon being blackmailed.
This ten-episode series, directed by Sudhir Mishra, dives deep into the psychological flaws of humans. We've all seen a scary movie where we think to ourselves, "DO NOT OPEN THE DOOR, RUN!" Nonetheless, they open the door because it's human nature, am I right?!
Unlike many other series of criminal nature, "Hostages" is fast-paced and relies on convincing the audience that progress is being made in the greater storyline but also in each character's individual narrative. Dr. Anand's husband is a gambler, her daughter is pregnant, and her son is about to give in to the pressures of popularity and commit academic fraud by releasing a paper.
View this post on Instagram
While I was intrigued by the blackmail and mindset of the kidnappers, it was also unusual to watch their human tendencies come out in the form of casually visiting their children while holding hostages or taking breaks for a quickie in the closet. For just a few moments we were exposed to their more "normal" sides, it suddenly made them seem slightly less insidious. In desi fashion, the show has no shortage of drama, the lust between kidnapper and hostage, bickering and boatloads of moral conflict.
The show introduces a well known, on-the-rise cast– Tisca Chopra and the renowned Ronit Roy, who plays officer Prithvi Singh, among others adding some fresh faces.
All in all, "Hostages" sheds light on lesser discussed issues and normalizes them to a degree. It's a gentle, nuanced reminder that every "good family" has its own ghar ghar ki kahani (skeletons/ tribulations at home). We all know our fair share of broken homes and deceitful marriages that simmer beneath the sheen of ostensible perfection.  But, as "Hostages" proves so well, nothing is quite as it seems from the outside looking in.
Will Dr. Anand kill the chief minister? How does this end for the family? You'll find the answers to these questions in the show, of course. The one that'll definitely keep you wondering is, would you kill someone to save your family?