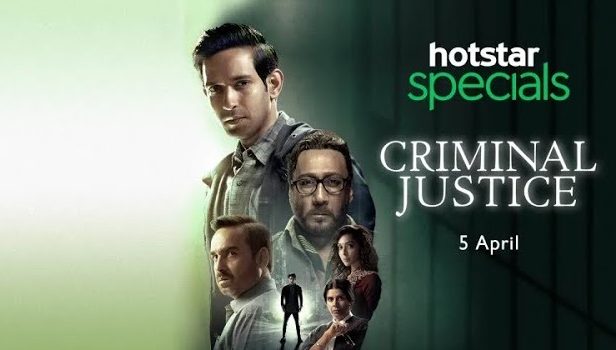 When Hotstar Specials launched their own adaptation of BBC's "Criminal Justice" and its HBO remake "The Night Of" featuring Jackie Shroff and actress Anupriya Goenka, I knew a binge-session was due.
View this post on Instagram
Pre-Criminal Justice Binge
Riz Ahmed, I love you, but my new favorite criminal subject is Aditya Sharma, played by Vikrant Massey, a young middle class, 24-year-old on his way to drop off a rider during his time as a fill-in driver, is accused of murdering his female passenger, Sanaya Rath.
Prior to watching Criminal Justice, I anticipated a show whose plotline would be similar to its predecessors, but little did I know the powerhouse cast and incredible dialogue that would be in store. With the likes of Pankaj Tripathi, Vikrant Massey, Mita Vashisht, Anupriya Goenka, Jackie Shroff and more, this was bound to become a guilty pleasure.
Post-Criminal Justice Binge
A drive down Mumbai's Bandra West, a forgotten cellphone, a side of MDMA and liquor later tides begin to change from sex and games to murder and mayhem.
What started off as the scene that would define the remainder of the series, ended up being so much more. The series deconstructs major social concerns such as religion, gender bias, more. The nuances and integration of banter in each scene spoke to relevant, global concerns but in the South Asian context. I was hooked.
Aditya explores the intricate and unfair realities of the justice system, as he quickly realizes not only does he not remember what happened that night, he is the perfect picture of a culprit…but is he truly guilty? We watch Aditya battle man versus self internally while his family scrounges for funds to keep him afloat and bears the consequences of societal judgment.
In Shroff fashion, Jackie who plays " Mustafa Bhai" goes from the jail's drug lord to a paternal figure we hate to love but can't seem to want the best for, (don't judge me, I know what you're thinking). Taking Aditya under his wing, we see what survival "thane ke andar" (inside the jail) is truly like. With dialogue referencing old traditions like quoting the great poet Kabir in group circles, even jail has family dynamics.
Between the strong female attorneys and judges, the multi-faceted drug-riddled criminal dynamic of jails, and the search for justice, "Criminal Justice" pivots every time we, the audience think we know the truth, but do we really?
View this post on Instagram

There is nothing quite like that feeling when you're reading a book or watching a show, where you become emotionally invested in the protagonist and the antagonist what started as you having a definitive stance on good versus evil becomes a battle of morality, and suddenly black and white turns grey.
Perhaps the most unexpected narrative I found myself growing attached to was the guilty conscious of the lawyers involved, and how they struggled to follow their intuition and make ends meet.
Courtesy Tigmanshu Dhulia's incredible direction, each scene is palpitating and channels each actors inner vakil (defense attorney) and mine! I found myself picturing what I would say or do in the courtroom and which pieces of evidence, I would have overlooked (obviously none because I'm secretly a detective—duh).  
The 10-episode season breaks barriers and challenges survival, who is #guiltyornot? Who is the real criminal? Is justice a real possibility? Can YOU be the victim and the perpetrator?"
Keep watching to find out who killed Sanaya Rath (Madhurima Roy)… Just don't blame me when you can't seem to stop clicking "next episode."