4
min read
From singing and acting to drawing immaculate figurines, Saheli Khan, 11, has made her debut in the North American Broadway tour as young Anna in Disney's musical "Frozen." As a first-generation Indo Caribbean, with roots in India and Pakistan, she continues to pave the way for young people with similar backgrounds.
Khan has always enjoyed entertaining those around her and she continues to have the motivation to pursue her passions. In school, she always sought to lead her class in songs and she was encouraged by her parents and teachers to enroll in music and acting classes, even at a young age. These ventures fueled her passions even more.
Continue reading to learn more about her journey!
What do you like about acting the most?
I like to portray different characters. Specifically, I like playing characters who have strong personalities and those who portray a sense of bravery, especially during problematic occurrences.
As a first generation Indo Caribbean actress, how do you feel about your journey as a young Disney princess? Do you feel that you are paving the way for other Caribbean and South Asians who want to pursue similar paths?
Diversity has always been important to me, but in today's society, I feel that most people would like to be accepted and encouraged. As a Disney Princess, I am simply helping to broaden the field for all young people to see that skin color should not matter.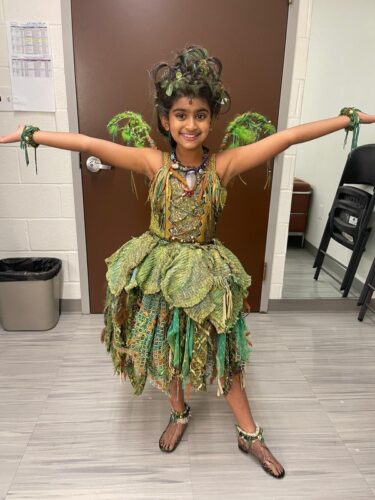 What do you like about your character, Anna? Is there anything that you may dislike?
Young Anna is a ball of sunshine! She is happy, funny, and a delight to be around. Despite having a troubled childhood, she grows up to be just as joyous, but she is also courageous as she goes on a journey to find her sister. I love everything about young Anna and she truly embodies who I am as a person.
Who is your inspiration and why?
My parents are my inspiration. My mom is beautiful, loving, and she works hard without ever giving up. No matter the task, she finds a solution and keeps on going with a smile on her face. She always tells me, "Whenever you feel overwhelmed, remember whose daughter you are and straighten your crown." And my dad is my best friend. He's insanely funny, caring and knows all the best places to eat! My parents are exactly how I want to be when I grow up.
If you had a magic wand, what show would you do next?
I would love to be Annie on Broadway or play the lead in a series or movie. 
What is the one last thing that you do before you step out on stage and the curtain goes up?
There are many things I do before I step on stage. I do fun and silly things quietly with my "Frozen" sister, Mackenzie Mercer, and play with my Anna pigtails for good luck.
What are your other passions?
I love to sing, act, and spend time with my younger cousin, Ayla. I also love to draw and color since it makes me feel relaxed. I was told I have a great ability to draw and make figurines ever since I was a child. And I love exploring new cities and eating at great restaurants with my family.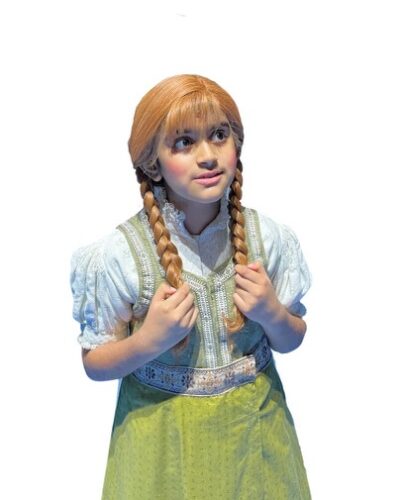 What advice do you have for young people who are just starting their careers, specifically within the field of musical theater?
To have a positive mindset, practice diligently, and enjoy every moment within the journey. I have learned that there may be some occurrences that may not take place the way that you want them to, but there's always an opportunity to learn from them.
 Aside from your career, how do you balance your schoolwork and acting?
I attend school virtually, which is essential when I am on tour. Each day I have scheduled school hours that allow me to focus and complete all school assignments. Once that is done, I have most of the day to work on extracurricular activities, go on outings, and hang out with my friends. Though performing takes a large chunk out of my day, it helps that I enjoy it, so it doesn't feel like work.
What types of roles do you see yourself playing?
I love to play humorous characters such as young Anna from "Frozen." I truly enjoyed this role as it captures who I truly am.
View this post on Instagram
What are your plans for the future?
To be the best version of myself regardless of what career path I choose.
Khan's debut marks the start of a budding career. With her array of talents and future goals, we are bound to see more of the young actress in the future and more representation of Indo Caribbeans in mainstream media. If you would like to purchase tickets for Disney's "Frozen," click here. 
Feature Image Courtesy: Saheli Khan