We're at a time in entertainment where being yourself can make you famous. Social platforms like Snapchat and Instagram enable you to put your personality on display for the world to see and all it takes is a simple 30 seconds of video to get the ball rolling. DJ Khaled, quintessential Snapchat sensation, is a prime example of the power of owning your personality.
Considering that Snapchat and Instagram are birthing a new star every few weeks, 28-year-old, Indo-Carribean comedian and actor, David Stephen Francis, better known by his stage name, Prnc Charming, is no different in that regard, however, he is groundbreaking in terms of his quick popularity, outlook, cultural representation and social conscious mind state, when it comes to his creative career.
"It amazes me how something as simple as social media can honestly change your life," Francis said. "Making people laugh has always been my passion and it's amazing that this all started with a few videos on Instagram."
He began making short videos on Instagram in 2014—his clips highlight situations every West Indian kid can relate to when it comes to relationships with their parents and cultural social settings, of course, with an added comedic twist.
Francis' comedic inspirations, cited as Will Smith and Michael Jackson, gave him a glint into who he wanted to be as an entertainer, but it was during his childhood in Queens, NY, where he picked up his knack for making people laugh.
"Originally what attracted me to comedy, other than what I was exposed to as a child on American TV, was my parents," Francis said. "They would entertain guests at social gatherings accompanied with good vibes and great laughs. That's what sparked everything."
There's a certain jocular nuance to finding an unconventional passion turned career through the link of our Indo-Caribbean parents. The cultural construct of the West Indies is loving, strict, resourceful and practical. Typical West Indian parents and families vie for their children to have stable careers, usually encouraging or sometimes creating the mandatory environment of entering the legal or medicinal fields.
"Growing up in a Caribbean household, our parents are stuck in that old-school mentality where we live, work, then we die. F**K THAT! Why should we hold back our passions and desires because mommy and daddy want you to do what they think is best, it's your life," Francis said. "You must get out there and pursue what your passion and hearts desires are."
This is a bold statement, one many first-generation immigrants living in the Diaspora are eagerly accepting and acting on. Our desires are wholly our own, just as our lives should be lived on our own terms. This notion does not decrease the value of familial bonds, which are inseparably important and a source of strength in any South Asian or Indo-Caribbean household, alike.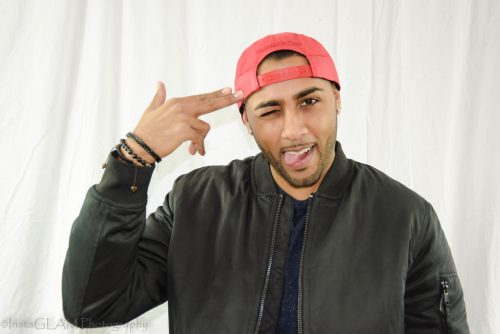 [Photo Courtesy/David Francis]
Francis' mother was very supportive of his decisions even when she may not have agreed with them, his father, however, was a different story he said.
"He's more of the 'get a government job with a pension, retirement and benefits so that in 20-25 years you'll be sitting pretty,' kind of guy" Francis said. "That's all good and I agree if you want to play it safe and live by the rules. I don't, I always felt there was something more out there than what I was doing on the daily."
Following his intuition proved to be the right call for the cultural phenomenon, in Spring 2016 he produced, composed and performed in his own comedy show. The "About Time Tour" was largely successful and encouraged the budding star to continue to follow his craft.
"It was this event that I learned so much from," Francis said. "A simple idea can and will turn into a reality if you push for it and make it happen. Every day is a learning experience and I'm growing every day."
Prnc Charming's impact should be recognized, especially with the growing conversation of fair representation in media hitting platforms like the Emmy's, specifically during Alan Yang and Aziz Ansari's big win for "Master's of None."
"I'm a strong believer in chasing dreams and asking the universe for what you want," Francis said. "My end goal, really and truly, is to make it in mainstream media, while still representing my culture, of course."
Although it is a smaller scale (for now), Indo-Caribbeans can look to Prnc Charming for fair representation within social media comedy. West Indian kids now have a role model they can look up to who not only looks, speaks and understands their cultural identities but who fiercely illustrates that our culture should be celebrated. A mention that has yet to be made on the big screen, or even, the little screen.
"I love how I grew up," Francis said. "When you really sit back and look at the bigger picture, we are all so much of the same. I try to keep my material 'family friendly' for the most part because kids watch and emulate what they see, so I don't want to be another jackass polluting their minds with either drugs, sex and alcohol like most 'entertainers' today do."
Ultimately, Francis' goals are larger than simple laughs and banter on the physical or digital stage. Unlike many entertainers, who begin their journey into this field with dollar signs in their eyes, Francis should be considered one of the more "woke" Indo-Caribbean quipsters–mainly because of his societal views and purpose.
"The only thing I would say that would set me apart from other comedians would be the fact that I like to address real life issues and talk about them on my social media platforms," Francis said. "I don't just do it for the laughs, I could care less about the attention and so-called 'Instafame' I want to eventually make a positive difference in people's lives."

"Once I continue to build my brand I want to use that acquired fame and fortune to then make a positive change in the world," he added. "Children are my weak spot, my goal is to help misfortunate children and families all over the world."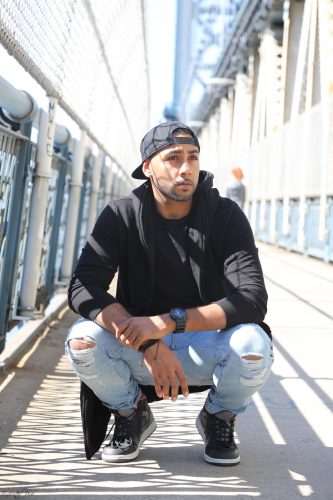 [Photo Courtesy/David Francis]
For those who want to follow their dreams, but are too scared or handicapped by the pressures they feel from parents or other external forces, Francis said he understands the struggles, but also encourages folks to overcome their fears.
"Believe it or not, I still have a full-time job. I pursue my passion on the side and can't wait to walk away from 'work.' And I know it WILL happen because I'm not stopping until I can," he said. "It's OK to make mistakes, it's okay to f**k up, it's OK to not know who you are and what you want to do with your life, but what's not okay is never giving yourself the opportunity to find that out. The most important thing in this world is to be happy. Make sure you find your happiness, and if you can, make a career out of it. You'll never work a day in your life."
For more insightful tips from Francis check out his Snapchat (username: prnc_charming) for "Prnc Talks," and don't forget to follow him on Instagram, where it all began.
After this article was completed, Francis, in a short interview with The Socalyst reportedly quit his full-time job, in a "leap of faith," and will pursue his comedy and entertainment career in full force.