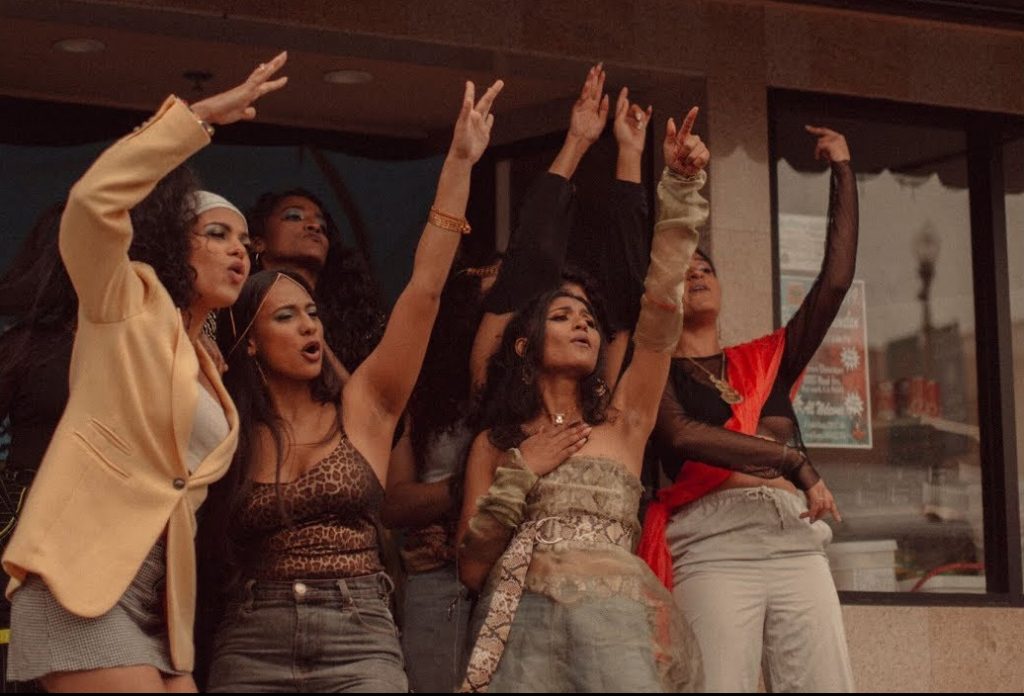 On Friday, June 28th, 2019, I attended the premiere of Bay Area, Indo-Fijian rapper Pallavi and her music video premiere: "IDENTITY." Pallavi, aka Fijiana, is a rapper from Richmond, Calif. She uses her music to speak on issues in the Fijian community, as well as fully embody her feminine nature and be proud within her body and space.
Why bring attention to the Indo-Fijian community? Many Indo-Fijians struggle with finding their place in the South Asian diaspora, especially those raised outside of Fiji. Part of this is due to lack of information available to understand how, when, and where the trauma of their diaspora began—with the displacement of their South Asian ancestors under British rule as slaves in the sugarcane trade. This brings to light the importance of representation, and the need for a wider discussion of discrimination, oppression, and racism felt by both the Indo-Fijians and iTaukei (native) Fijians.
This is where Pallavi comes into play; she strives to bring attention to the history of the Fijian people through her music and visual storytelling. "IDENTITY" is the NEW brown b*tch anthem. While Pallavi has Fijian roots, this song isn't just for Fijians. It's about owning who you are.
When speaking to the Indo-Fijian rapper Pallavi, she said:
I want people to be whatever QUEEN they want to be when hearing this song. Whether you're an Indian Queen, an African Queen, Malaysian Queen, whoever you are, this anthem should bring out that fierce queen inside you.
This project, led by women of color, aspires to celebrate the identities of black and brown females. This includes heavy South Asian and Indo-Fijian imager to portray a united Fiji, one that promotes diversity and inclusion. The video features a mid and deep skin-toned woman and includes non-binary femmes. All the work time was donated by local professionals committed to creating a product that enacts social change. Special shoutout to Anjali Chakravarti and Simran Nath for producing this amazing video, and of course, everyone's favorite Indo-Fijian rapper Pallavi, for killing the soundtrack!
The launch party consisted of a live performance of the song and screening of the music video along with an ART SHOW. The art show showcased work of local artists expressing what their identity means to them. I was blown away by how much depth each artist had in their work, it made me realize that a lot of people truly are still struggling and searching to find their identity and to be able to express that in a painting or photograph is amazing.
I had a chance to go behind the scenes and interview the artists about their pieces and here's what identity means to a few of them:
1. Sufi Malik (@sufi.sun)
My identity is who I am and what I represent, to myself and then to the world. I try to incorporate my experiences of being a Queer woman of color into my pieces of work.
2. Ann Liu (@acrylicpaintshorty)
Identity means the spirit and soul that a person radiates genuinely. The unabashed, confident persona, the things, and people that we love, and would always express if we did not fear judgment from the world.
3. Simrah Farrukh (@simrahfarrukh)
IDENTITY to me means being unapologetically myself in a white-dominated society. It is to take pride in being an American-Pakistani Muslimah without having to feel like I'm taking up too much space, or without feeling that my culture and religion's extensive rich history is too much and too time-consuming for someone else to learn about.
4. Kamakshi Duvvuru (@kduvvuru)
Identity is a feeling of being so deeply rooted and also soaring so high, beyond time, place, this life, and this body. I've felt it a few times. Sitting under a tree in Hammarskjold house. Walking through my grandfather's farm, strangers who've known my mother since she was a baby coming out from their homes and joining us.
Pallavi's message to Indo-Fijians and young women in Fiji alike is: We are stronger together. As a woman of color, you have so much power in the world. Share your stories, continue to meet new people who encourage your dreams and strive to help other people reach theirs as well. And, that is exactly what Pallavi tries to achieve with her new single "IDENTITY." Out now on all platforms.