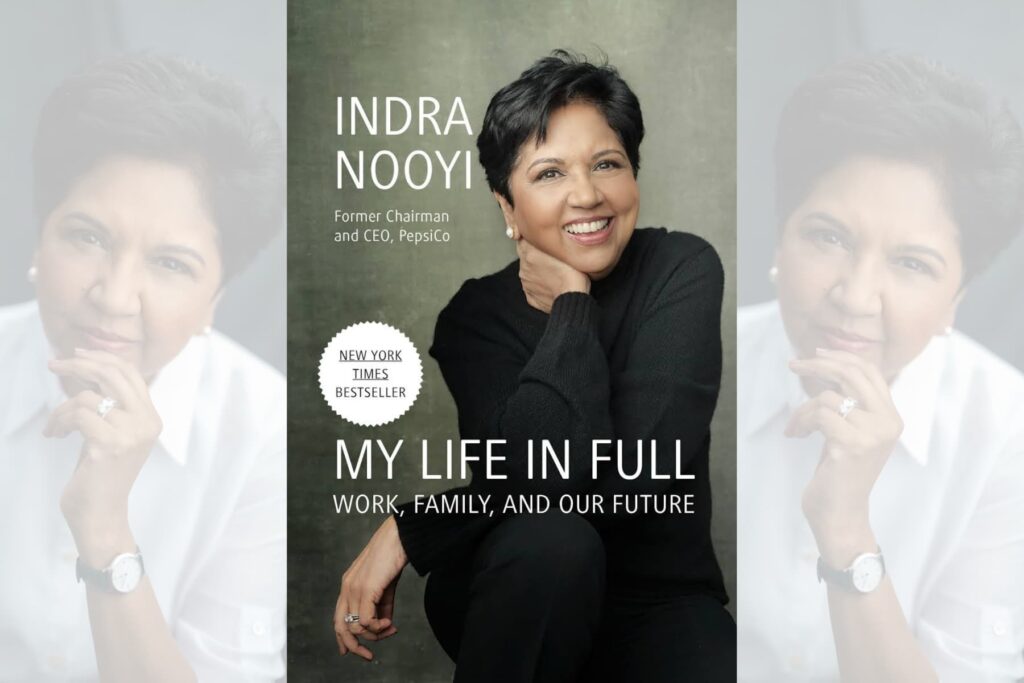 Indra Nooyi is one of today's most prolific South Asian icons — in addition to being an immigrant, mother of two, wife, daughter, sister, cricket player, rock band member, consultant, philanthropist, businesswoman, avid New York Yankees fan, policy advocate, and most recently, author of "My Life in Full."
Finally got my hands on the inspiring autobiography of @IndraNooyi She is hands down one of the coolest leaders of our times and has inspired an entire generation with her legacy.
Can't wait to read it cover to cover!! #WomenSupportingWomen #RoleModel #indranooyi #BookTwitter pic.twitter.com/N7hFvy5twm

— Sindhu Gangadharan (@gangadharansind) October 1, 2021
"My Life in Full" is not your traditional autobiographical memoir, in more ways than one. Not only is it a highly personal and insightful look into Nooyi's ascent to the position of Chairwoman and CEO of PepsiCo, it was written first to shed light on issues near and dear to Nooyi's heart. 
I never intended to write a memoir. I was just going to write some policy papers [about] what needed to be done to support young women to stay in the workforce, because women are such a big talent pool. As I co-chaired Reopen Connecticut, it became clear that our essential workers, nurses, and caregivers, have no flexibility and they have no support structure — especially young family builders.

So I wanted to write some papers about it. But then everybody said to me that nobody reads papers for the sake of papers, and a lot has been written on this topic. So this is not a traditional memoir. It's a story of the arc of my life leading to the moonshot, which is: How do we think about paid leave, flexible work hours and the childcare infrastructure, and help young families?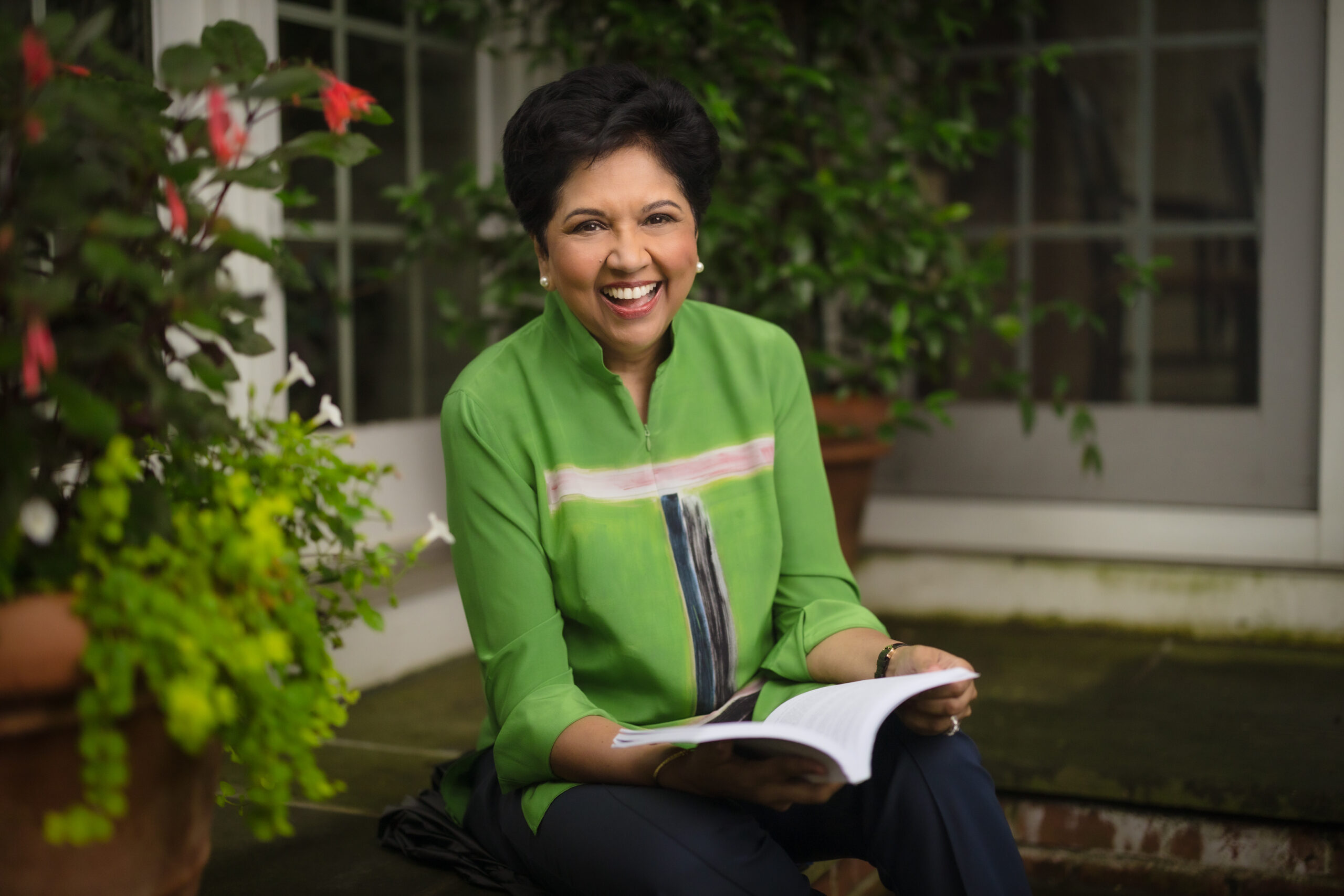 Nooyi's passion for these topics, and ensuring that childcare is available to all, stems from her own upbringing in Madras (Chennai), India, where she grew up in a multigenerational household and had the support to pursue her dreams, while raising her own family, especially without the modern technology we have today. 
I was brought up in the south of India with one foot on the accelerator and one foot on the brake — you know, dream as much as you want but don't forget your values. Don't forget your family, don't forget all of that stuff. And I think that kept me in good stead. While I progressed in my career, I still kept my values — I'm still vegetarian, a teetotaler, and live in a very traditional home. It kept me humble, if you want to call it that, even though I was moving ahead. 

When I came into the corporate world, there was no technology, there was no Zoom, there was no smartphone, nothing. So from my perspective, wherever I had to go, I had to go visit the country in-person, I had to go to my children's school. I couldn't text or FaceTime them. So my time was about juggling priorities and hoping that something didn't fall through the cracks. When I was growing up, I don't think I did a great job worrying about the family as much as I could have, because PepsiCo absorbed so much of my time.

Where my Asian values helped was that my multigenerational family — my husband's family and my family — all came in to help me take care of our kids. Had we not had that support structure, I don't know if we could have had kids and kept working. And so I'm deeply grateful to the family support structure.
Not only was Nooyi's family there when she needed help to take care of her two daughters, Preetha and Tara, Nooyi, who studied chemistry in college, may have never even become a businesswoman had it not been for her sister. 
I was fiercely competitive with my sister. So when she got into IIM Ahmedabad, I had to write the IIM exam and get into Calcutta. There was no two ways about it because I didn't want to be viewed as, "Look at her [sister]. She got into IIM Ahmedabad. She's fantastic. Indra was not very good." So I wrote the exam, I got in, and the rest of it is history.
The rest is history, indeed. As she details in "My Life in Full," after receiving her MBA from the Yale School of Management, and climbing up the ranks at numerous companies, Nooyi became CEO of PepsiCo in 2006, making her the first woman of color and an immigrant to run a Fortune 50 company. Understanding the significance of this historic moment, Nooyi did not take her position lightly. 
I felt the weight of the responsibility [of being CEO] because I was a role model for women, for immigrants, for people of color. Everybody was looking at me and I was terrified I would let them down. I felt the weight of the job, and I wanted to do it right. I knew everybody was watching me all the time, but you can't get bogged down by the attention you're getting. You've got to be invigorated by the attention you're getting and do a great job, which is what I tried to do as much as I could do. 

I will tell you, a lot of people are waiting for you to fail so that they can take your job. But I must say, South Asians were all rooting for me. I didn't sense any bad feelings. I didn't sense competition — it was more like, "She's doing it. We're so proud. Keep doing it so we can hold our heads up a little higher. 
View this post on Instagram

It goes without saying that leading PepsiCo has been one of Nooyi's proudest accomplishments, along with her 42-year marriage and two daughters. 
I managed to keep [PepsiCo] performing well for 12 years and under the umbrella of 'Performance with Purpose.' I'm just glad that I had the opportunity to lead this company and create a legacy that's lasting. From the personal sense, being married to my husband for 42 years and having two daughters, and the fact that they're my life, is my proudest accomplishment. They would argue that I haven't been around much for them but when I was around, I was hands on. And my husband has been simply phenomenal. I view my professional and personal accomplishments as two pillars of my life.
Nooyi has paved the path for women in business, specifically current South Asian women CEOs like Anjali Sud of Vimeo and Leena Nair of Chanel. She hopes to inspire other young people, and commented:
I hope they can look at me and say, "If she can do it, we can do it, too." PepsiCo is such a large global company — if a South Asian woman, immigrant could run that company, what's stopping this next generation from rising to positions of power in profound ways? I think that all young South Asian women, all immigrant women, all women — all groups — should feel emboldened by the fact that other people have done it successfully and therefore women have a chance."
Nooyi's working days are far from over. While she enjoys reading about Angela Merkel, cryptocurrency and global issues, listening to 70s music and binge-watching TV shows like "The Mindy Project," "Never Have I Ever" and "Ted Lasso" in her (limited) free time, she continues to lead with purpose. 
I want to try and use my platform to give back to society by working on care: childcare, eldercare, the care of infrastructure in our country. Whether it's working on the economic development of Connecticut, or working with Memorial Sloan Kettering as a board member, I'm figuring out how to give back to society. That's my primary goal right now.
To read more about Nooyi's path to PepsiCo and her policy objectives, pick up a copy of "My Life in Full" on Amazon or anywhere where books are sold. You can also watch the full interview below:
Feature Image Credit: Dave Puente