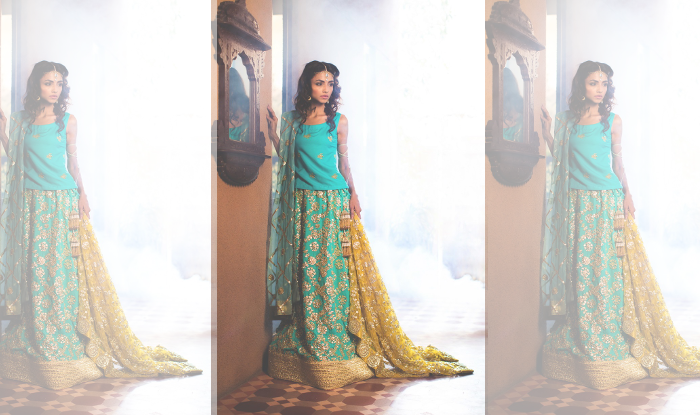 The following post is brought to you by our sponsor Indus Threads—a high-end South Asian designer wear rental company.
Your cousin's wedding is this weekend. It's your fifth South Asian wedding this season. You've already worn three of your favorite lehengas and two of your favorite saris. You don't want to pull out any of your old clothes that everyone in your family already saw last year, but you really can't afford to spend more money on a new lehenga.
Every South Asian woman can relate to this. Good quality Indian clothes are hard to find and so expensive! Not only do you end up spending hundreds of dollars for a pretty garment, but having your clothes tailored properly can empty your wallet.
Your solution now exists. There is a new online boutique, just like Rent the Runway, except for South Asian clothes, called Indus Threads. Indus Threads specializes in renting high-end South Asian designer pieces.
Founder of Indus Threads, Sumaira Nabeel, did not always work in fashion. She has a CPA and an MBA and worked as a consultant for 15 years before starting Indus Threads.
She said she always had an interest in fashion and tried incorporate trends into her personal and professional wardrobe. A year ago, Nabeel realized she wanted more from life than living deadline to deadline for work. After some travels, set was set to follow her heart to start a fashion brand. She saw a deficit in the Indian fashion market for accessibility to high-quality South Asian clothes in the United States.
"Last year, I chaired a school auction and picked Bollywood as the theme… that was when I realized how hard it is to access quality desi clothes in the U.S."
Nabeel said she was inspired to make high-end designer South Asian clothes accessible to a wider range of consumers. A lot of South Asian clothes are uncomfortable to wear. Although the fabrics are luxurious, the make is not always flattering. This frustration with the South Asian fashion market inspired Nabeel to be picky with the cut and construction of the pieces she carries. This also influenced her decision to exclusively carry high-end designers.
She says even the up and coming designers that Indus Threads features are superstars when it comes to making quality pieces.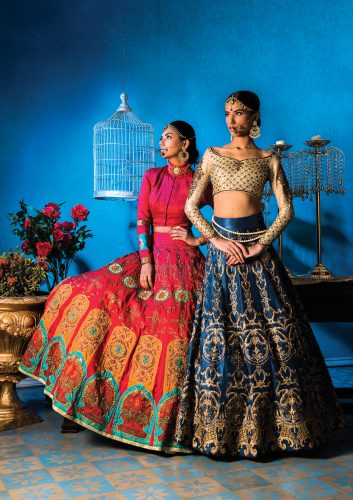 [Designer Wardha Saleem | Photography by Tapu Javeri]
In an effort to attract designers, she said she has done a lot of educating on the "collaborative consumption business model" or the sharing economy. Some other brands that follow this business model are Uber, AirBnB, and Rent the Runway. The renting business structure gives clients the opportunity to try clothes from different designers without having to commit to a purchase.
Indus Threads carries all different types of South Asian garments, by Pakistani and Indian fashion designers. These include saris, shalwar suits, anarkalis, and lehengas.
Nabeel said she tries to pull pieces that appeal to different sensibilities, from traditional to contemporary and alternative styles. She hopes clients will find something they love, while also getting exposed to styles that they might not have known existed in the realm of South Asian fashion.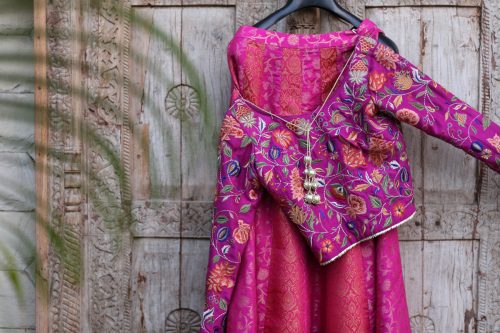 [Designer Nadia Farooqui | Photography by KBridals (Kashif Rashid Photography)]
Indus Threads has had success reaching women of all ethnicities and demographics, not just South Asian women, in the United States and Canada. Clients come in needing South Asian wear for events or are looking to repurpose South Asian clothes for non-South Asian occasions.
Nabeel said her greatest success so far is her extremely satisfied customers.
"Indus Threads has received positive feedback from clients because they are glad to see a service like this exists. Clients love the idea of wearing something new for each South Asian occasion, in an economic and closet space saving way."
As for the future, Nabeel said she sees Indus Threads changing the way people wear South Asian clothes in North America. She wants people to realize they no longer need to stock up on a second wardrobe to look good for South Asian events.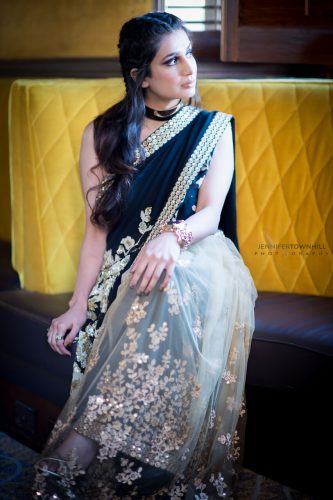 [Designer Sabyasachi| Photography by Jennifer Townhill Photography]
---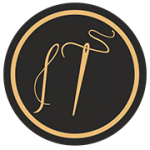 Indus Threads, by Sumaira Nabeel, is a South Asian designer wear rental company. A California-based fashion start-up with a technology soul, the company hopes to provide access to high-end South Asian design experiences, in both ethnic and western wear, without the burden of ownership. All orders can be shipped anywhere in the U.S., and a stylist is available at all times for fashion-related advice. Own your style, rent our clothes.
---
Sheena Pradhan is a 27-year-old actress, model, writer, stylist, nutritionist, fashion blogger, content creator, and self-proclaimed branding expert. She always thought she would be a buyer for a big fashion brand, but in her winding journey, she has fallen in love with acting and modeling, which she does full-time. Follow her personal journey on her blog, Tuline Tulip.