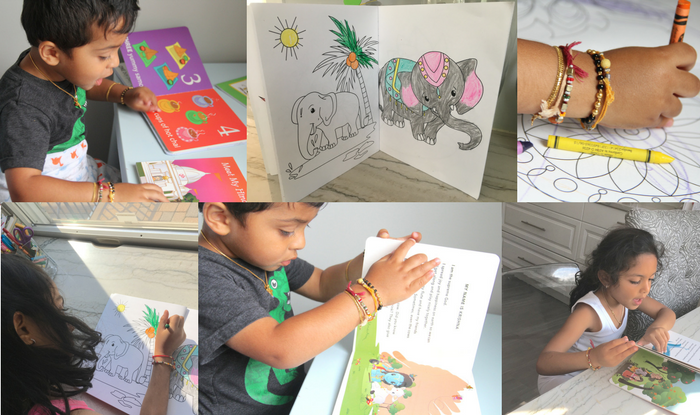 Desi Babies — An Online Shop Fulfilling all Your South Asian Parent Needs
by Runway&Rattles – Follow @sheenad29
The following product review is written by the sisters and founders of Runways & Rattles, Dipti Vaid Dedhia and Nina Raoji. Each one shares an honest recount of how their children reacted to books created by our newest partner, Desi Babies—Meet My Hindu Gods, My First Indian Coloring Book, and 10 Noisy Rickshaws. Receive 10% off your first order by using promo code BGMAG via DesiBabiesOnline.com.
NAYA NIVA NESA
Nina shared the My First Indian Coloring Book and Meet My Hindu Gods with Naya, Niva, and Nesa and the girls loved them.
The coloring book was fun for the older two girls because it peaked their interest in a way that Nina couldn't appreciate more. As the girls flipped through the pages, they asked about the different images they saw, what it was, what it meant, and more. That led to Nina sharing stories about our culture and religion and country that she hadn't had a chance to before.  She encouraged them to color the pictures in terms of what they thought the pictures would look like if they saw it in India, and seeing them get creative was such a pleasure to see! Nesa took to the coloring book and did her best in putting crayon to paper. Nina likes to let her to at least see the images and start getting familiar with them.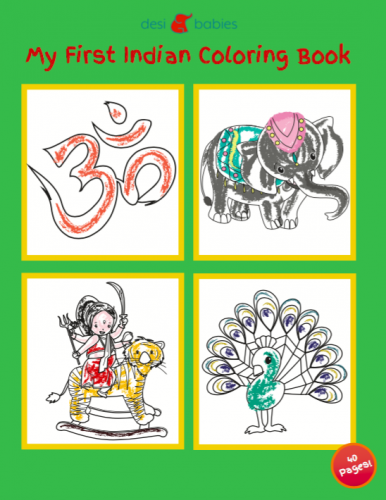 Meet My Hindu Gods was really sentimental as Naya tried to read it to Niva. Niva was fully engrossed in the explanations and had a million "why" questions. Naya did her best to explain it through the beautiful pictures and what she understood of the words, but when she was curious as well, they both came to Nina for a more elaborate story! The girls loved the baby depiction of the Gods as they were super cute and it made them giggle a little. Nina especially loved this book because of the simplicity in the wording—she really felt like the girls were finally starting to understand the stories just a little bit more.
DIAV
Diav is at the age where it is virtually impossible to get him to sit in one spot for too long. That's why Dipti loves anything that holds his attention for more than five minutes! My First Indian Coloring Book was just the solution! Diav loved flipping through the pages and coloring whatever he saw. He kept asking her what the image was and then would "color" (or scribble) all over it and move on to the next. He was excited to see what was on the next page as most of the images were brand new to him. Of course, there were the few familiar ones like Ganesha and flowers.
Dipti loved going through 10 Noisy Rickshaws with Diav. His bhabu had gotten him a toy rickshaw from their trip to India and he's been obsessed with it since. When he saw the cover of this book he got so excited to see his favorite rickshaws! Each page has fun, colorful depictions of the Indian culture that is also familiar to the kids. The cows and peacocks are just a few examples of the fun aspects of India that this book shows the kids. Diav especially loved the sari page as he calls those ladies his mommy and massi and bhabu and nani and dadi—so cute!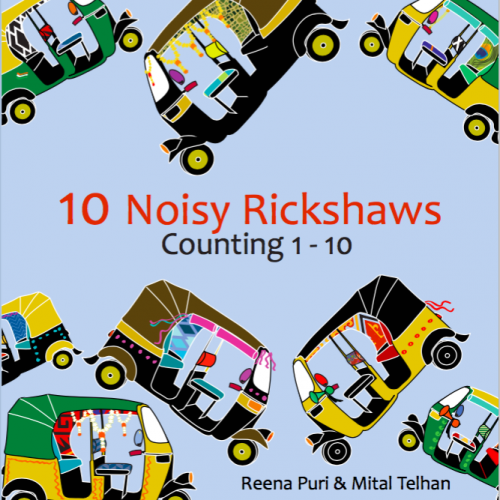 Meet My Hindu Gods was Dipti's favorite. She loved that the wording of each page was simple and something Diav understood. It was fun and light and had just enough education in it for the age group it's intended for. Diav knew a lot of the Gods from his other books and flashcards so when he saw the familiar faces it was exciting for him to hear a little story along with it. Dipti had her mother in law read the book to Diav as well and she loved it just as much as he did!
The books we received from Desi Babies were a hit with our little ones. They are the perfect mix of fun and learning. Meet My Hindu Gods and 10 Noise Rickshaws are hard pages, which are perfect for its age group as the kiddies love to rip apart pages! The coloring book is a fan favorite as it introduces the kids to new images while letting them get creative on their own!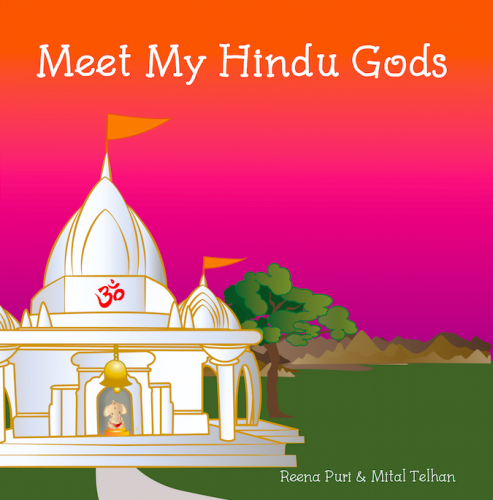 Desi Babies has done a great job in introducing and reintroducing young South Asian kids to our culture and religion, and we couldn't be happier with their books! They are the perfect gift item for the little ones, and we encourage you our BrownGirl community to place your order today by using promo code BGMAG for 10% off. 
The following giveaway is open to readers living in the USA, Canada and the U.K. One lucky winner will receive the three books mentioned above. To enter the giveaway, you must share your email address with BrownGirlMagazine.com and DesiBabiesOnline.com. By providing your email address, you acknowledge and agree that you have read, that you understand, and that you agree to the Privacy Policies and Terms of Use BrownGirlMagazine.com. Some users may receive a promotional email from either BrownGirlMagazine.com or DesiBabiesOnline.com in the near future. Users who no longer wish to receive a newsletter or promotional materials may opt-out of receiving these communications by clicking on the unsubscribe link in the e-mail. Please contact us with any questions at Trisha.Sakhuja@0mq.349.myftpupload.com.
[su_divider]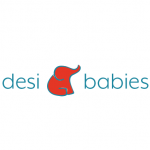 As parents, the founders of Desi Babies, Reena and Mital, continue to look for cool and modern ways to teach children about culture and the importance of God. Living in the diaspora, it is challenging to incorporate our South Asian heritage in a way that is meaningful to children. Desi Babies strives to create fun and vibrant products, which will stimulate the growth and creativity of the modern desi baby.