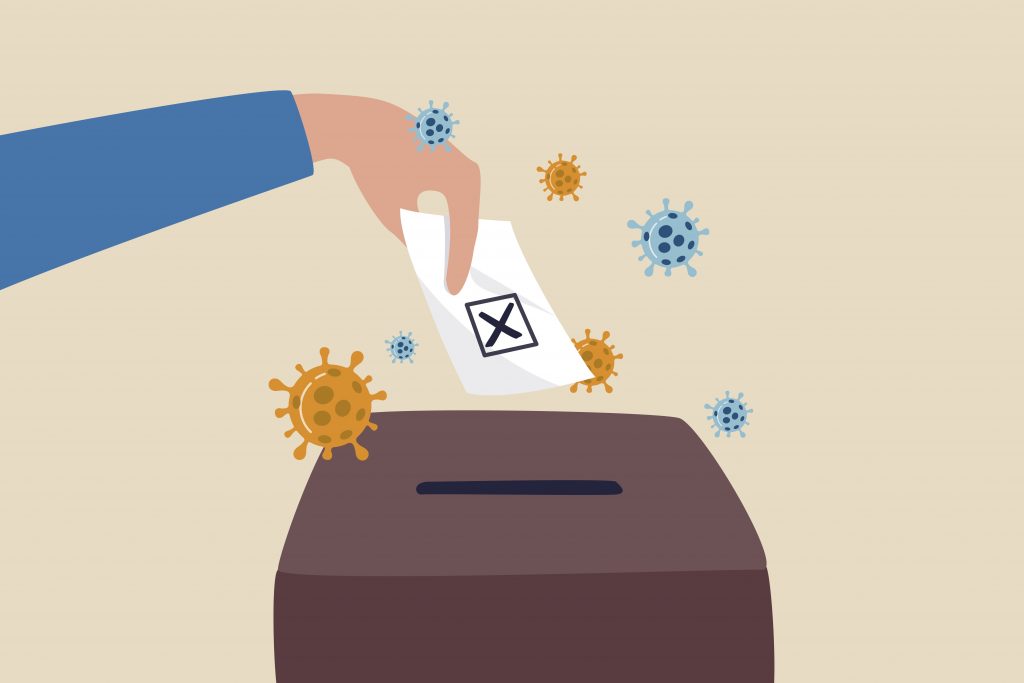 "The greater fear is that those who show up risk exposing themselves to coronavirus, especially if they have to wait in line for long periods."
Let's be honest. You thought 2020 was going to be just like any other presidential year, right? Wrong. The deadly COVID-19 has shifted attention from the 2020 presidential election to the disease and how countries are responding to the outbreak. This year, the United States is on track to vote for a new president, 35 Senate seats and all seats in the House of Representatives. There are also essential local races happening all across the country, in addition to the primary elections. However, COVID-19 has caused most of the country's political activity to grind to a standstill. Here are five ways the coronavirus is affecting the 2020 election:
1. Social distancing has upended in-person voting
The new social distancing protocols—put in place to safeguard people's health and avoid crowding—that have been adopted by U.S. states indicate that people will no longer be able to travel to the various voting booths located across the country. The intention behind this is to limit the number of people who could risk exposing themselves to the virus, especially if they have to wait in long lines to cast their ballot. Although the Democratic National Committee's Chairman Tom Perez has urged states who still need to hold elections to virtually vote through curbside ballot drop-offs, mail and no-excuse absentee voting the number of people expected to vote is predicted to fall due to people prioritizing their health above all else.
2. Manning the election stations
The shelter-in-place procedures mean that poll workers, who are usually more than 61 years old, need to be replaced. This process will likely take time as people are advised to stay at home and only leave their house for essential errands. Some experts have suggested designating election day as a state holiday so as to expand the potential pool of poll workers to younger people, students and teachers, especially as these individuals would be in a lower-risk category for COVID-19.
3. States have postponed mid-March presidential primaries
States like New York, Georgia, Pennsylvania and Hawai'i have postponed the presidential primaries that tend to happen in late spring/early summer. This shifts the timeline of voting, especially since the DNC's deadline for states to hold these elections is June 9, a date that some states cannot comply with due to the pandemic. A full list of the 15 states that have postponed due to COVID-19 can be found here.
4. Campaigning is suspended
According to reports by NPR, candidates can no longer host in-person fundraisers or events, which they heavily rely on for major donations, endorsements and publicity. Additionally, candidates' employees and volunteers are no longer able to go door to door to get the signatures they need or to canvass. These workers, whose jobs depend on social interaction, could soon be unemployed if they aren't already. There have also been changes to presidential democratic debates; a recent Democratic debate between Senator Bernie Sanders and former U.S. Vice President Joe Biden in March took place six feet apart and without a live in-studio audience.  
5. President Trump's chances of re-election could increase
With the American population now inside for long periods of time, more people are turning to their televisions for the news and entertainment. With this, President Donald Trump now has more opportunities to send messages to his voters across the nation. People also tend to rally around their president in a crisis. Sure enough, the President's approval ratings have recently increased. These higher ratings and increased television coverage can mean that people might want to re-elect someone they are familiar with, especially if Trump successfully deals with the pandemic.
---
Although the 2020 presidential election and voting is no longer top-of-mind for people as they focus their efforts on protecting themselves from COVID-19, one thing is clear: For the first time ever in an election year, people are not concerned with casting a vote for their new president or members of congress. With the global pandemic as the main issue, presidential candidates are now scrambling to revitalize their healthcare policy platforms in the hopes of drawing more people to their cause. No matter the outcome of this election, COVID-19 has dramatically changed the landscape of voting in 2020. It remains to be seen when or if people's attention will shift to politics after the pandemic subsides, and how it will affect election outcomes.