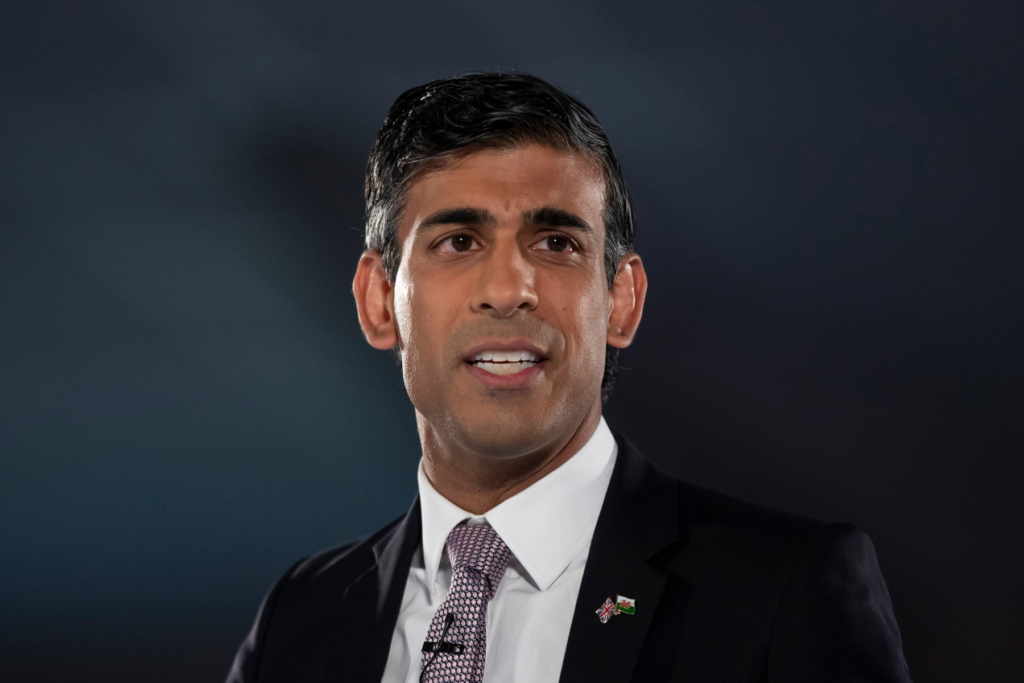 Since the publication of this article, on October 25 2022, Rishi Sunak became U.K. Prime Minister following former Prime Minister Liz Truss' resignation after serving in office for 44 days. 
Tax scandals, "partygate" and sexual misconduct allegations — no this isn't the 2022 series of "House of Cards" — but alas the current damming state of UK politics. Amid this drama, current Premier Boris Johnson was forced to quit and quickly made headlines for his dramatic final words to parliament "Hasta La vista baby," and the attention is now focused on who will replace Johnson on the 5 September 2022. 
Over the last few weeks, the British public sat through what could only be described as "car crash" televised debates where candidates from the Conservative Party battled it out and practically attacked each other vying to show their legitimacy as leaders. Current Chancellor, British South Asian Rishi Sunak is in the final two — along with Liz Truss for the coveted position. If Sunak clinches it, he will become the first U.K. Prime Minister that is a person of colour.
Viewed by many as heroic for his furlough scheme to support local businesses during the lockdown, for many ethnic minorities, this will feel monumental. But for others, as the U.K. reaches a state of economic crisis, Sunak is simply not the ideal candidate to mark this milestone in British politics. 
The U.K. Brown Girl Magazine team and fellow Brown Girl Magazine readers have been collating their thoughts on what Sunaks' ascension to 10 Downing Street means for them, and whether the country really is "Ready for Rishi."
From his wife being called out for avoiding nearly £20mil in tax to his outrageous bid to become Prime Minister by falling back on the immigrant story, Rishi Sunak is not only a slippery character, but he's also untrustworthy.
It's no surprise that Sunak fell back on the immigrant story to appeal to people. However, if he truly cared about immigrants or even really resonated with the story he tells of his family coming to England for a better life, then he wouldn't stand for the treatment current migrants face at the hands of the Tories. The Windrush Generation and current deportations to Rwanda are inhumane and abhorrent especially as the Gov.uk website says it has a 'proud record of helping those facing persecution, oppression and tyranny and we stand by our moral and legal obligations to help innocent civilians fleeing cruelty from around the world.
View this post on Instagram
Instead what he's in favour of is attracting "the brightest" minds from around the world to come to the U.K. So where does that leave people who are trying to escape dangerous situations? On top of that, the cost of living has skyrocketed. Sunak has done nothing to ease the strain on families as the Chancellor. What makes anyone think he'll help or make things better as Prime Minister?
The Conservative party has weaponised representation — Rishi Sunak being its latest artillery. Whilst he pushes the dreams of meritocracy and a sense of community, especially amongst working-class people of colour, we are ultimately reminded via his superiority complex, showcased in a previous interview where he says 'I have friends who are aristocrats, I have friends who are upper class, I have friends who are working class… Well, not working-class.'
How does Mr. Sunak plan on connecting with the potential electorate whilst consuming the largest beverage of privilege there is? We simply do not want a man who attended a £46,000 a year college and boasted about his besties at Eton. Brown people don't want a leader who thinks being South Asian isn't a defining factor of this character. Simply, Sunak's elitism isolates him. Whilst the hopeful view him as a capitalist-fairy-godmother, we know that magic wand of his is blind to the struggles of poverty, as he boasted so openly about diverting Labour's Urban funds to areas 'more worthy,' and already wealthy.
A leader must be aware of his context, and unfortunately, this country's 10% of elites don't even touch the surface of the backbone of the U.K. So away with his foolish support of the Rwanda policy, and away with his claims to help those in need; because one thing is for sure, if he can't acknowledge his race as integral to his identity, he perceives himself different on the basis of wealth, demonising those who don't reach the tax brackets.
In a utopian world, it wouldn't matter to have a South Asian Prime Minister, but of course, this will go down in history if Rishi Sunak is the U.K.'s first ethnic minority PM, as it rightly should. But it certainly won't be a cause for celebration for all people of colour. His campaign video featured his parent's story of migrating to the U.K., telling a British success story. As a government member, he has pushed through policy that's actively stopped people from coming to the U.K. to rebuild their lives. Personally, I will never understand why people who have benefited from immigration would begrudge others life-changing opportunities, you know, like becoming the PM!?
Nearly 40% of British Indians supported Leave in the EU referendum despite much public conversation focusing on white working-class people who voted Leave. In my opinion, having Rishi as our first South Asian PM will not mean the lives of minority communities in the U.K. and the world will improve at all. Still, we will be expected to be happy about it because we're a similar shade of brown. And, of course, current home secretary Priti Patel is another brown face used to implement the very worst of the government's policies. It's no shock that it's Patel who presides over Britain's increasingly racist immigration system. Having brown faces in high places means nothing if it's not backed by a genuine desire to change structural racism, rather than maintain the status quo and bolster the ruling elite.
View this post on Instagram
Rishi Sunak would make a great Prime Minister for our country. We are in unchartered waters with the cost of living crisis looming and Rishi has the experience, expertise and a smart economic plan backed by previous leaders, chancellors and economists. From the NHS crisis to international strategy, he knows what this country needs and he has a strong strategy to get us there. He is data-driven, hard-working, ethical and has strong values which are what we need in these turbulent times.
This country is going to face incredibly tough times over the next six months as a result of strains on the global energy market. Rishi is the only candidate with the experience to steer us through this time, and the honesty about just how tough it's going to be. Enough of the bold statements and lack of detail, we need certainty and competence.
Anand Unadkat — He/Him
I'm not a Conservative party supporter at all, yet I see only one upside of Sunak becoming Prime Minister and that is South Asian political representation; otherwise, I think he's a fraud. Like Boris Johnson, he lied about the party gate scandal. I haven't been following the PM race, but I definitely don't follow or actively support Sunak.
I'm not an avid supporter of the Conservatives by any means, yet I do see some inherent benefit to Sunak's prime ministerial appointment, in the way of increased political representation. Seeing people who simply look like you in positions of power which many will aspire to obtain, can be important in inspiring the youth of tomorrow. However; I do think it is important to equally recognise, that not all POCs will view his appointment as an advancement. Given his involvement and subsequent denial of Partygate –I'm sure Sunak will face much criticism if he is appointed, with many prioritising the urgent need for a clean slate and a PM who's trustworthy, over any need to have a cabinet that is diverse in representation.
---
The opinions expressed by the writer of this piece, and those providing comments thereon (collectively, the "Writers"), are theirs alone and do not necessarily reflect the opinions of Brown Girl Magazine, Inc., or any of its employees, directors, officers, affiliates, or assigns (collectively, "BGM"). BGM is not responsible for the accuracy of any of the information supplied by the Writers. It is not the intention of Brown Girl Magazine to malign any religion, ethnic group, club, organization, company, or individual. If you have a complaint about this content, please email us at hello@browngirlmagazine.com. This post is subject to our Terms of Use and Privacy Policy. If you'd like to submit a guest post, please follow the guidelines we've set forth here.