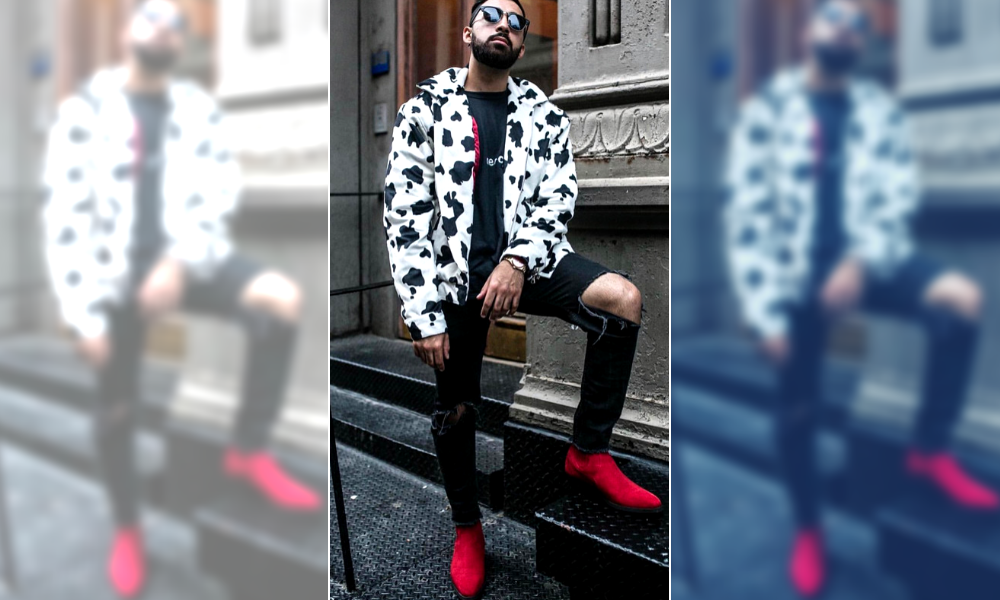 As New York Fashion Week wraps up another season of incredible shows, a slew of newcomers joined the ranks of regulars like Tom Ford, Jeremy Scott, and Kith. In typical fashion, RiRi had mouths agape with her Savage X Fenty show. But this year, Pakistani-American fashion designer Isaac Saqib deserves the honorable mention. On Sept. 7, Saqib made his New York Fashion Week debut with his high-end fashion brand, Mercy X Mankind. It goes without saying, Isaac Saqib is a fashion designer #OnTheRise.
View this post on Instagram
Here Are 8 Things You Need to Know About Isaac Saqib
He's a born-and-raised New Yorker. Born to Pakistani immigrants in Canarsie, Brooklyn, Saqib moved to Long Island in middle school, where he experienced a culture shock. In Brooklyn, Saqib lived in a majority immigrant and minority neighborhood where he felt comfortable in the diversity around him. In Long Island, Saqib quickly realized how much of an outlier he was among his peers.
"I was one of probably one of only a handful of brown people in a high school that was predominately white. Everyone had their own cliques that were cool in their own way, but brown people were usually looked at as awkward and not sociable. We didn't usually play sports, we didn't get invited to a lot of the after-school parties and we definitely didn't have a reputation for cool."
2. He used fashion to bridge the social divide. As he soon learned, his love of fashion was what connected him to the "cool kids." He always liked dressing up, and he became well known amongst his peers and even among his teachers for his trendsetting wardrobe. He even won "Best Dressed" in his graduating class.
3. His career trajectory hasn't been linear. While fashion has always been a big part of Saqib's life, he didn't view it as a tangible career path for years. A strong student and the son of a doctor, he enrolled in Stony Brook University to study pre-med and become a physician himself. But Saqib's dream hit a major roadblock when he failed his first college class, a chemistry course, despite his best efforts. While certainly very worrisome at the time, it led Saqib to question why he wanted to become a doctor at all.
"It was a waking up point. If I'm going to invest 10-plus years into this field, I better know what I'm getting myself into. I realized that this is not for me—this doesn't aline with my goals."
4. His father encouraged him to drop out of college. After enrolling in a web-development course administered by General Assembly New York, an experience he says "changed my life," Saqib was offered several well-paying jobs in New York City. But his heart was still tugging him towards his passion. With the support of his family, Saqib dropped out of school to work on fashion full time.
5. Mercy X Mankind launched in 2014. Saqib's brainchild meshes his love for high-end fashion with his penchant for streetwear. The extravagance and elegance of the brand can be found in Saqib's favorite piece, the simple black "DOOM" hoodie that spells out "REMEMBER YOUR DOOM" in bright red Swarovski crystals.
6. Several A-list celebrities have worn Mercy X Mankind. The first influencer to sport the brand, rapper Young Thug, wore the "Pony Hair Printed Coach Jacket" in a photo shoot only a few months after Saqib started the brand, stars like actor Cameron Dallas and NBA players Kyrie Irving, Karl Anthony Towns and Kevon Looney have also donned Mercy X Mankind on numerous occasions.
View this post on Instagram
7. The New York Fashion Week show was a moment for culture. Saqib wanted Mercy X Mankind's marquee event to be more than just a fashion show. He paid homage to his American, Pakistani and Muslim identities by serving Kolkata Chai Co's authentic chai instead of alcohol. DJ Roo was there to spin beats that seamlessly meshed sounds from Saqib's various identities. Many South Asian creatives were in attendance, as well as a mix of individuals from a variety of other backgrounds.
View this post on Instagram
8. Saqib wants to go global. While he tries to live in the moment and is just starting his journey, Saqib has big goals for the future of Mercy X Mankind and his legacy.
"I want the brand to be recognized on a global scale, to have a reputation that means something, not just to be a face-value brand that dies out within a couple of years. Financially, I'd want my grandchildren's grandchildren to be able to live off the income comfortably and for myself to basically eat whatever I want, no matter the time of day, and to be able to design and express my innermost emotions and thoughts freely, without the worry of what's to come."
To learn more about #OnTheRise fashion designer Isaac Saqib's brand, Mercy X Mankind, check out their Instagram and website and the conversation I had with Saqib for my podcast, What Muslims Look Like.