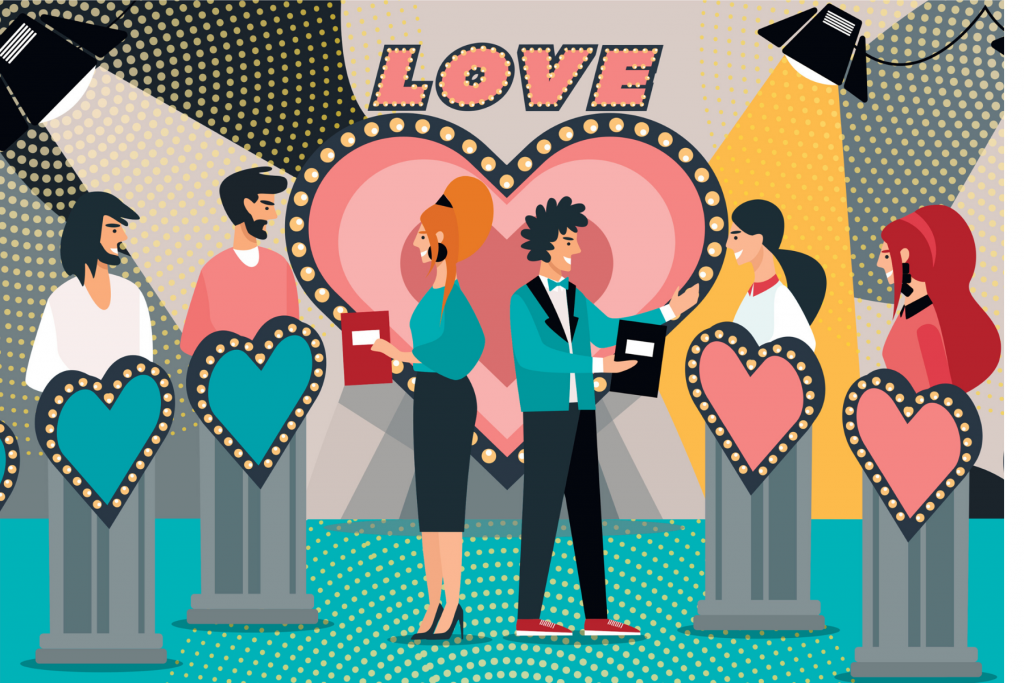 There is a very small window between "don't talk to boys" and "why aren't you engaged yet?" Brown girls, you know what I mean! Most of us remember being told not to even look at a boy while at school, only to be asked later, at 22 years old, why there was no wedding on the horizon. As with much in our lives, the expectations are high. But the dating pool is narrow and you've got to find a person who wants to date you too.
Then came along 32-year-old Meera Sharma, who is pushing the boundaries for brown girls by appearing on popular UK dating show, ITV's "Take Me Out." The show follows a panel of 30 single ladies who are presented with a potential man to date. During each round, they learn more about the bachelor and his personality, with the option to withdraw from the pool by turning off the white light on their podium, in a method best described by host Paddy McGuinness as "no like-y, no light-y!"
View this post on Instagram
The single man then gets to narrow down his pool to just two girls before ultimately choosing his date for a romantic getaway to the Isle of Fernandos (which is actually Tenerife). So how often did a man pick out the beautiful South Asian woman among all the equally stunning white girls? Sharma tells me:
I didn't get a date in the end. I wasn't really expecting one. I went on the show with the intention to show people that the stereotypes around South Asian girls all being timid and meek just aren't true. Bagging a date would've been a bonus.
It's no wonder Western audiences see us, brown girls, as shy, demure, unapproachable creatures. Representation of South Asians in the media is sorely lacking — they account for nearly 7 percent of the UK population, yet are rarely seen as main characters.
Most of the time, when people think of South Asians, they still think of films like "East is East" and "Bend It Like Beckham." These storylines don't represent every South Asian experience. While the narrative rings true for some, we're not a monolith. We don't all have the same experiences. But in the UK, viewers aren't exposed to stories outside of this narrative.
The classic coming-of-age films Sharma mentions follow strict South Asian families with repressed daughters whose families are only concerned with marrying them off. But narratives are slowly beginning to change, as are the realities of young brown women.
In mainstream American television, there is some prominent, successful South Asian representation like Priyanka Chopra in "Quantico" and Jameela Jamil in "The Good Place," whose character Tahani is a stuck-up socialite, excruciatingly posh and spends her entire life trying to prove herself worthy to her parents.
While the last point is something we can all identify with, it's refreshing to see a South Asian character whose personality doesn't revolve around her 'brown-ness.' That said, Tahani doesn't have much of a romantic storyline — she's too beautiful and too intimidating, keeping intact the myth of South Asian girls being 'undateable.' Sharma points out that in contrast, white people are shown in all types of storylines.
The same should apply to us. We need more South Asians at the table to commission stories so that we take control of the narrative and can change it.
Cue the UK's favourite soap opera, BBC's "Eastenders," which recently added the Panesar family — the first Sikh representatives on the show. The family is made up of a mother raising three sons and a daughter, Ash, who is the brown girl of 2020 —  bold, defiant and fiercely loyal. She is also in a relationship with, wait for it, another South Asian woman!
View this post on Instagram
Ash is the antithesis of a repressed, timid Asian girl and being part of an LGBT relationship gives another sector of our community some representation. Such stories bring dating to the forefront of conversations and hopefully contribute a positive change to cultural and family attitudes around dating in general, including dating 'outsiders' to the community.
Of course, many families don't have issues with dating at all: It's a natural fact when you want to find someone to spend your life with.
My family is super liberal. It's generational. My nanima always encouraged us to find the right person, regardless of their race or religion. She set the tone for the generations to follow.
There are countless stories of South Asian women being disowned by their families for going against the dating norms. Mindy Kaling's "Never Have I Ever" tackles this in Jaya, who is shunned by the Hindu community for marrying (and then divorcing) a Muslim. It seems that, even as we move forward as a community, religious stigmas still remain in certain circles.
Yet, we also see stories of partners from outside the culture being welcomed with open arms. Take another Kaling-produced show, "The Mindy Project", where the South Asian protagonist dates a string of white men. She's a successful doctor (every Asian parent's dream!) who just happens to date outside her race a lot. It's these moments that we need represented on screen, and Sharma agrees.
The problem is that the same narratives are perpetuated, even though a lot of people in our community have moved on. Take Love Island, for example. It was disheartening to watch someone like Nas, who was the only Asian guy that year, pied off as the 'best friend' all the time. Every girl wants 'tall, dark and handsome', but that doesn't seem to mean brown. Never forget – beauty is within you. Don't feel that you're not good enough just because you don't see yourself represented.